3 Stories You Should Know: Concussion Test, Rooney Rule, Sit-Ups
08:45
Play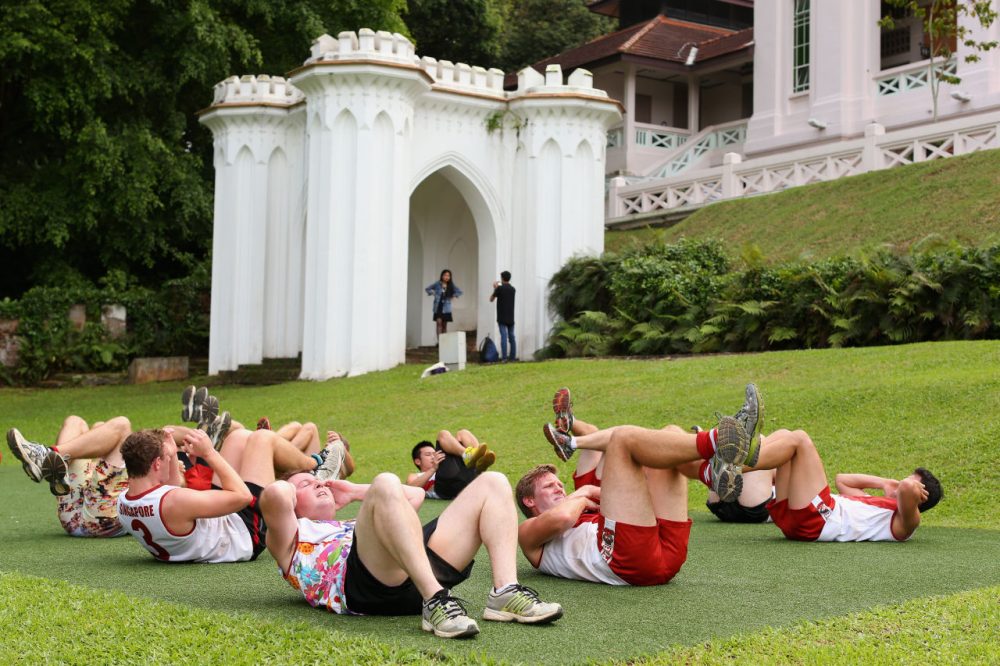 This article is more than 5 years old.
Diagnosing concussions can be difficult. Chronic traumatic encephalopathy -- the degenerative disease that's been found in the brains of 96% of the former NFL players who have been tested — can only be detected after death. But what if there were a fast and accurate way to diagnose the concussions that are associated with CTE?
That's where this week's edition of "3 Stories You Should Know" with Patrick Hruby, Rachel Bachman and Bill Littlefield begins.
1. Blood Tests For Concussions
[sidebar title="Complete Concussions Coverage" width="630" align="right"]For years OAG has tracked the latest news and research on concussions.[/sidebar]The NFL is investing in a company that says it's developing a blood test for concussions and other brain damage. If successful, that test could more accurately diagnose concussions on the sidelines during games. What would happen to the sport of football if serious head injuries could be detected with a pin prick?
PH: I think it's going to impact the sport profoundly in a couple ways. First of all, it's just going to be a lot harder to deny the problem. It's very much like the Ray Rice video — it's one thing to read a police report, but it's another thing to see Janay Palmer being knocked out. Secondly, it could be very positive in terms of studying or understanding this problem and coming up with better medical treatments and interventions. That's a really good thing. The flip side of that is that it could be pretty bad for the football industry, because instead of guessing what the extent of the problem is here, we're going to be able to see it and measure it in ways we weren't able to.
2. Should The Rooney Rule Expand?
The Rooney Rule mandates that all NFL teams interview at least one minority candidate for head coaching and senior official positions. It's been suggested that the NCAA and the English Premier League adopt similar rules (though neither organization has embraced it). Should more leagues adopt the Rooney Rule?
BL: First of all, it's shameful that in 2016 the NFL should need to nudge team owners and GMs this way. There's several qualifications to be an NFL coach: you have to take yourself far too seriously, you have to develop paranoia and you have to prefer sleeping in the office to sleeping at home. None of these characteristics has anything to do with race. Has any general manager ever said, "Gosh, we're only interviewing this minority guy 'cause the rule says we have to," and then, "My golly, we find out he turns out to be a great guy, and we're going to hire him!" It doesn't work that way, and the only way there's ever going to be a level playing field, so to speak, is for general managers and owners to not come from the old boys' club that has always supplied general managers and owners in the past.
3. Buh-Bye Sit-Ups
It seems like sit-ups could actually be doing more harm than good. The staple of military fitness tests and school exercise regimens is now believed to cause back injuries. Replacing the sit-up with the plank pose seems to be much more effective and safe. So is it really the end of the road for the good ole' sit-up?
RB: There are some fitness experts that say sit-ups are potentially dangerous to your back, they can cause pain and injury and a recent editorial in Navy Times suggested that the U.S. Navy kick the sit-up out of it's required fitness test. So there's a growing kind of ground-swell to kick out the sit-up. Of course, some critics say that this is just another piece of evidence of "The Weakening of America" and "We need to toughen up" and "I did sit-ups, so so should everyone else."
More Stories You Should Know:
This segment aired on January 9, 2016.