The Glasnost Bowl And The Strange History Of American Football In Russia
Play
This article is more than 6 years old.
On Monday in Glendale, Arizona, college football will crown a champion.
That game will happen. Some don't...
"There wasn't any 'aha' moment," says reporter Mark Dent, "but they thought, 'If Russia wants to open itself up and kind of ingratiate itself with the West as Gorbachev had been saying, why not have a football game there?'"
The first thing they did ask him was, 'How many people are killed in a game?'

Reporter Mark Dent
As Mark Dent discovered while writing about the adventure for Slate, questions emerged early in the process, and some of them were basic.
The Ill-Fated Glasnost Bowl
"The first thing they did ask him," Dent says, "was, 'How many people are killed in a game?'"
If you'd been Rick Ray, wouldn't you have been tempted to say, "Ah, no more than a handful. Six at the outside. And we'll dispose of them. No problem."
Anyway…
"Where they scheduled to have this game, at Dynamo Stadium, the field was for soccer," Dent says. "And they were also going to have to fly in field goals from Finland, I believe — like field goal posts, because there was nothing like that in the Soviet Union."
But let's not get ahead of ourselves, here. Before anybody could worry about goal posts or relining the field, Ray and his potential hosts had to trust each other. Or pretend they did. Because when Ray and his associates suspected that their phones were tapped…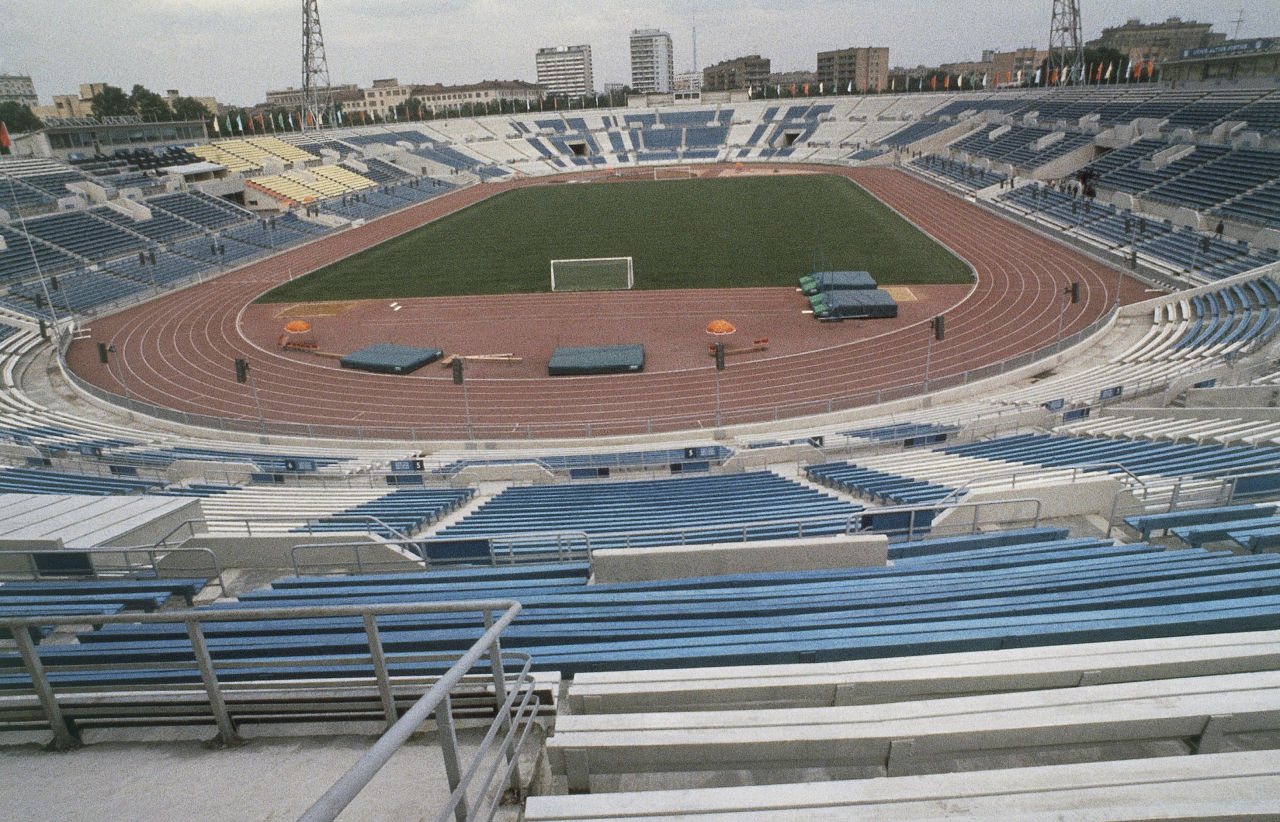 "They called each other and started to say, 'Oh, man! What a terrible deal. I really hope they don't accept it,'" Dent says. "And sure enough, about 30 minutes later, they did get a phone call from the Soviets, and they finally agreed to the terms that they had set out to to have the Glasnost Bowl."
OK, so why didn't it happen? Because it didn't. Apparently, it came down to accommodating the fans, some 3,000 of whom had expressed an interest in flying to Moscow to see USC play Illinois. Ray's own accommodations in Moscow alerted him to the potential problem.
"They get to their room," Dent says, "and there are cockroaches. And so he goes to the front desk and relays the message, 'Hey, there are bugs in our hotel room. We would like another room.' And they get another hotel room, and it's bigger, and it is still full of cockroaches and insects and everything else. Maybe more of them. And so what Rick Ray realized was that the guy thought that he meant 'bugs,' as in recording devices. So apparently this new room was not 'bugged.'"
Hence, even though ABC Sports was cranked up for the broadcast and somebody had asked somebody in the White House to see if Ronald Reagan would handle the coin flip, a couple of months before the Glasnost Bowl was to occur, Rick Ray backed away.
'Help Send Our Kids To The Soviet Union'
Which is not to say football never made it to the Soviet Union, because it did. Just months after arrangements for the college game in Moscow fell through, 90 high school players from all over Oklahoma made the trip to Moscow and beyond. And they paid their own way.
"We had fundraisers," says Jeff Vause, a center and punter for one of those teams. "We had a softball tournament. We had buckets around town just accepting donations."
"I can't help but sort of get this image in my mind," I say. "You know: 'Big car wash on Saturday. Help send our kids to the Soviet Union.'"
"Yeah, it sounds pretty funny when you say it like that," Vause says. "It does. I mean, for a small town just outside of Tulsa, Sand Springs, a lot of the town really supported it and got behind it. I think we had a pancake breakfast."
So it was high school rather than college, modest rather than ambitious, but on the Soviet end, some things hadn't changed.

"The translated communications we were getting," Vause says, "was that they were asking, 'How many people were going to die during the game?'"
See, if Rick Ray had just said, "six…"
Anyway, Jeff Vause recalls that he and his teammates were closely monitored during their 1989 visit to the Soviet Union, and no surprise. The Berlin Wall wouldn't come down until a few months after their trip. But Vause also remembers how much the fans enjoyed the spectacle, never mind that they didn't understand what they were watching.
"When the game was over," Vause says, "it got a little uncomfortable, because they literally stormed the field. And it became a security concern. And really all they wanted was to bang on our shoulder pads, bang on our helmets. They wanted to put our helmets on. They wanted our gloves. And people started giving stuff away."
American Football In Russia Today
So, adulation of a sort. But did football take root in Russia? Jeff Vause tells me that the closest thing he saw to quarterbacks or linemen were some guys who'd driven 2,000 miles to show up at that game in Moscow wearing motorcycle helmets. But what about now?
Ilya Kravtsov is the linebackers coach for the Russian national football team. He also coaches the local championship club, the St. Petersburg Griffins.
Coach Kravtsov, who started the Griffins about 10 years ago, learned his football on a visit to Florida.
"And that was the time where the movie 'Ace Ventura' was out. The one with Jim Carrey and Dan Marino," Kravtsov says. "Since that time, I had some interest in American football."
OK, but when I ask Coach Kravtsov where American football ranks with sports fans in Russia today…
Most of [the fans] are girlfriends and the moms and the friends of the people actually playing the games on the field.

Griffins coach Ilya Kravtsov
But what if, say, USC and Illinois got cranked up to re-energize the Glasnost Bowl idea? Would Moscow be comfortable with lots of fans arriving for the show? And would those fans find bugs as well as "bugs" in their hotel rooms?
"I hope not," Kravtsov says. "But this is the sort of thing you can never be too certain about, can you?"
I guess you're right, Ilya. Kind of like the games themselves. You can never be certain…which is at least part of why they keep playing them there, and here, and everywhere else.
Are you a former Sooner Stampede player? Check out the alumni group here... (Or just stop by to see more photos!)
This segment aired on January 9, 2016.