Why Donald Trump Will Be The Next FIFA President
04:02
Play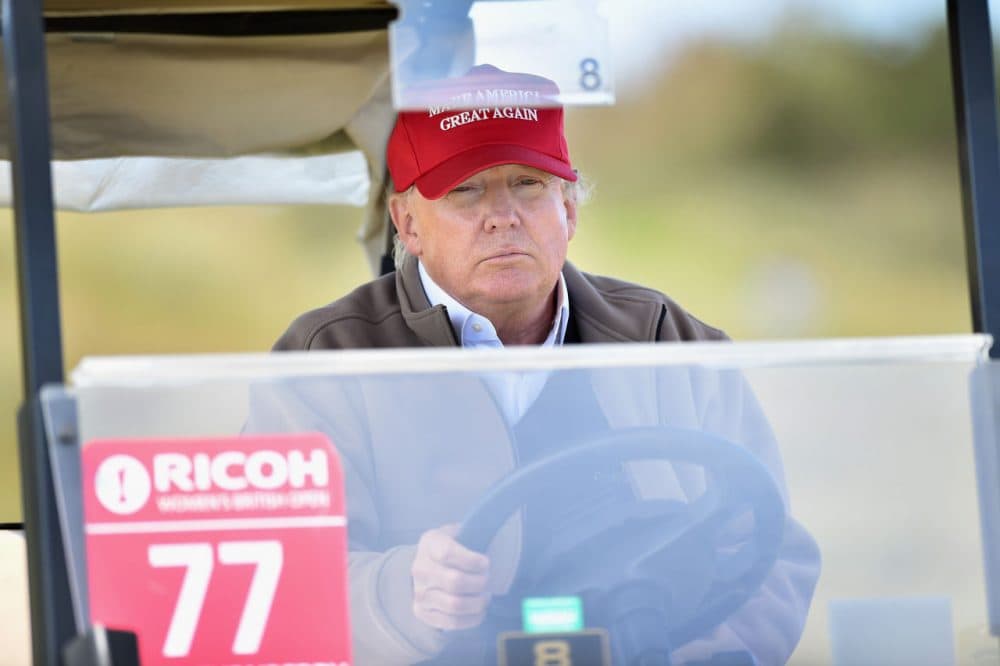 This article is more than 5 years old.
NPR's political editor Domenico Montanaro has been hot on the 2016 campaign trail for a while now. So, which one of this year's candidates does he think offer voters the most "continuity?"
"I guess the closest thing to that would be Hillary Clinton," Montanaro says, "if you consider her the closest thing to an heir apparent to Barack Obama. Although, Barack Obama, I don't think has been quite accused of some of the things that Sepp Blatter has been accused of."
Maybe if Prince Ali could graft an exclamation point onto his name, then he would have more of a chance.

George Vecsey
Ah, yes. Sepp Blatter. The election to replace him as president of FIFA, soccer's governing body, will be held next month. And those "things" that Sepp Blatter has been accused of include "criminal mismanagement" of FIFA funds. This explains why he has been banned from the sport for eight years.
Five candidates are vying for the honor of succeeding Mr. Blatter, and we thought comparing those candidates to the U.S. presidential hopefuls might help us make sense of it all. Ken Shulman, a long-time contributor to Only A Game, is the executive producer of "Away Games," a television series about sport and politics.
"The candidate who most closely resembles Hillary Clinton is the current front-runner, and this is the Swiss-Italian Gianni Infantino," Shulman says. "He's a consummate insider, he's respected, he's intelligent, but he's not going to upset the apple cart."
Too bad. FIFA is one apple cart that needs upsetting.
Over the past couple of months, more than a dozen of Mr. Blatter's confederates and colleagues have also been indicted, arrested or otherwise prevented from further feeding at the FIFA trough.
Despite his close association with Sepp Blatter, or perhaps because of it — FIFA being FIFA — Gianni Infantino has emerged as something of a front-runner. This is perhaps why his candidacy intrigued George Vecsey, former New York Times sports columnist and author of the recent book, "Eight World Cups."
"This Gianni Infantino was described by somebody in the British press as 'a cipher,'" Vecsey says. "And I said, 'Jeez, somebody who says goofy things and is a cipher.' Well, the Republicans have somebody like that, whom I like to think of as El Joven: Marco Rubio. I would compare Infantino to Rubio."
Perhaps George Vecsey had given this silly exercise more thought than it might merit. Perhaps. Anyway, he'd even considered one of the longshots for the FIFA throne.
"Prince Ali Al Hussein of Jordan — Now, he seems like a nice guy, and he went to an Ivy League school. But he's a bland interview in public. Well, we know where this is going: there's no doubt that he reminds me of Mr. Jeb Bush, with the exclamation point. Maybe if Prince Ali could graft an exclamation point onto his name, then he would have more of a chance."
Maybe. Dave Zirin, sports columnist for The Nation, feels that with regard to potential change in the organization, it won't matter who wins.
"Well, there's certainly no Bernie Sanders. You've got nobody who's going in there filled with sort of idealistic possibilities for reform. You've got several utter bureaucrats who you think are just going to do horrible things if they're granted power. And then you've got people who are just absolutely raving people who, if they didn't have huge bank accounts, they'd be pushing a shopping cart in Times Square. And that describes people running for FIFA President and Donald Trump."
Has it begun to occur to you that this exercise is preposterous? Part-way through my conversation with Ken Shulman, I think it occurred to him.
"We're trying to draw parallels between these candidates and the U.S. Presidential primaries and elections, but the parallel I would like to draw rather is between the FIFA system and the U.S. system," Shulman says. "Both are just completely governed by money at this point."
OK, but let's not conclude on a note so glum. Instead, we look to NPR lead political editor Domenico Montanaro to bring order out of...whatever.
"I might have a better idea who's going to win the FIFA election than the U.S. political election," Montanaro says. "The usual things that would take someone down just don't, at this time, with Donald Trump in particular."
So there you have it. Donald Trump will be the next President of FIFA. Heaven help soccer.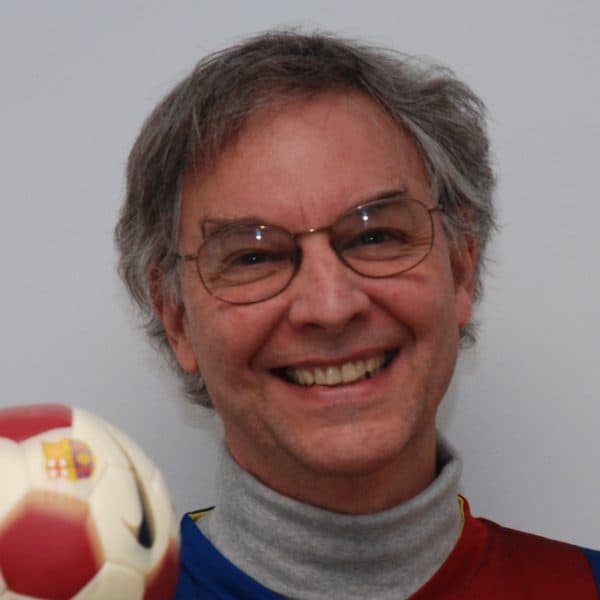 Bill Littlefield Host, Only A Game
Bill Littlefield was the host of Only A Game from 1993 until 2018.