Super Bowl 100: A Look Into The Future
Play
This article is more than 6 years old.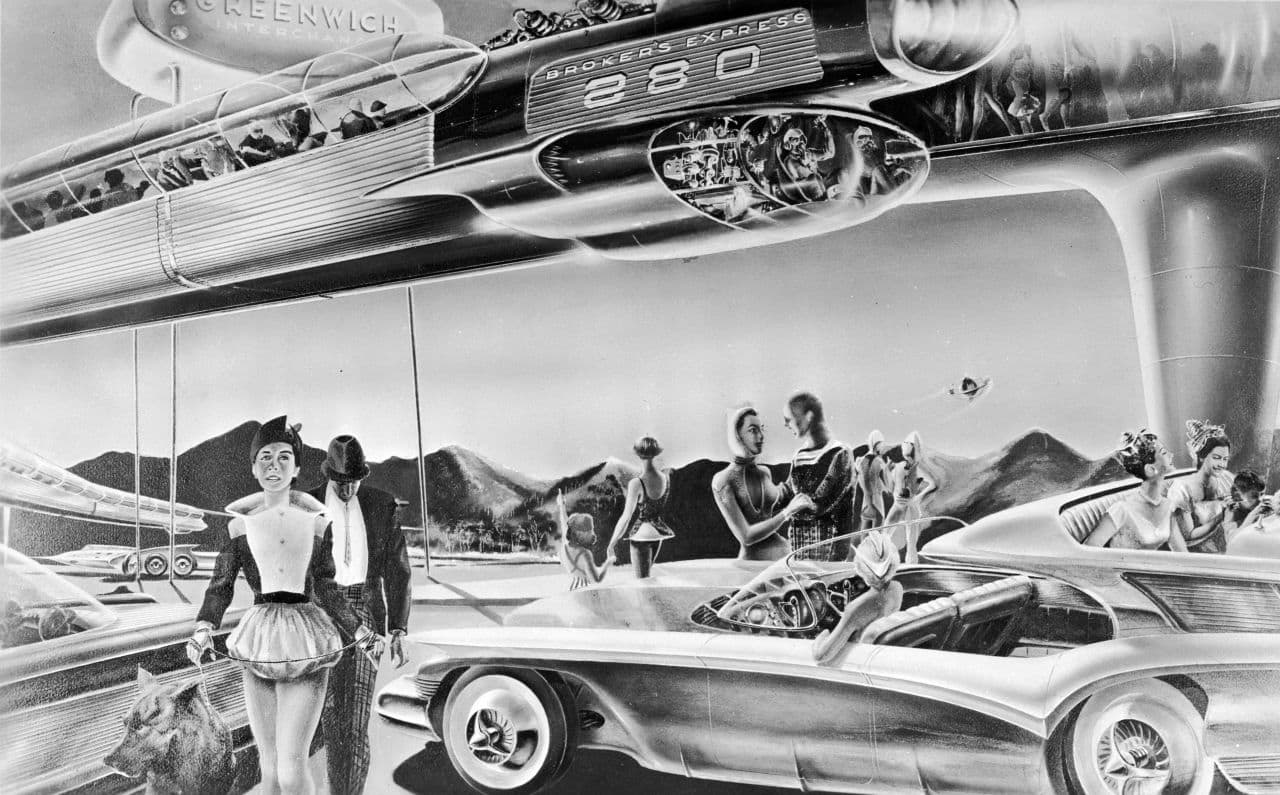 Super Bowl 50 is in the past and Super Bowl 100 is in the future, except for Steve Rushin of SI.com. In a "Special Report From The Future," Rushin imagines the 100th edition of the game — one featuring teams from two countries and players of various genders.
Rushin joined Bill Littlefield.
BL: Steve, set the scene for us at this centennial game. 
SR: Well, this is 2066. The game is in Las Vegas, a long stronghold of the NFL, and people are arriving from all over the world and points beyond.
BL: Including Spain. One of the teams is arriving from Barcelona, right?
The referees will be sort of unnecessary, but [football] will still be recognizable from its ancient roots in 2016.

Steve Rushin
BL: There will still be scalpers at Super Bowl 100. But they won't be scalping tickets, right?
SR: Well, yes, human nature hasn't changed in the next 50 years, I'm sorry to say. So, while fans are retina scanned on the way into the Macau Palace, those fans will also be offered the option on the [Las Vegas] Strip by scalpers of wearing retina-scan-fooling contact lenses. Human nature will not have changed by 2066.
BL: Though by Super Bowl 100 the technology will offer all sorts of currently unimaginable — except to you — ways to experience the game at home, numbers of people will still want to be there. A Ticketmaster official predicted this outcome in 2015, and you find that he's clairvoyant. Please read the section from your essay.
SR: "He was right, of course, which explains all those people arriving at the stadium hours before kickoff in all the usual ways — by autonomous cars that dropped them off and then valet-parked themselves outside of town, but also on the transcontinental Hyperloop, gliding at 760 mph on a cushion of air through a low-pressure pipeline, as if each passenger were an enormous bank slip tucked into a pneumatic tube at a drive-through teller in 1967."
BL: OK...
SR: The self-driving cars will be hooked up to your fitness wearables so that if you haven't met your fitness goal for the day, that car will, by programming, drop you off a mile from your destination and make you walk the rest of the way so you get to your 10,000 steps.
BL: It's more than a little discouraging that, according to you, on the occasion of Super Bowl 100, "the only thing science knows for certain is that football remains brutal and will never be made fully safe." But tell me a little about the various attempts to make the game safer.
SR: Well, we will not undo what we know about concussions and CTE. There will be advances in materials that will make helmets part of the solution rather than part of the problem, materials that harden on impact or repair themselves. There will also be EEGs built into the helmet so that concussions can be diagnosed on the spot. So, all of these advances presumably will help, but really the game will remain a dangerous, brutal spectacle.
BL: Maybe it's an unanswerable question, but will Super Bowl 100 offer fans a better experience, all things considered, than any of the first 50 have provided?
SR: I think going to the game will be a better experience because the Super Bowl and NFL football in general is so catered to the person watching on television that being at the game often feels like being in the studio audience of a television taping. So being there, just imagine the seats will change during the course of the game so that you can upgrade and downgrade your tickets as you get up and walk around the stadium. All of the sidelines and first down lines and goal lines will be motion-sensored so that we will know immediately if a guy was out of bounds or if he scored. The referees will be sort of unnecessary, but it will still be recognizable from its ancient roots in 2016.
BL: Before we let you go, who wins Super Bowl 100?
SR: Well, the home team wins Super Bowl 100. Spoiler alert, I should have said, but the home team does win Super Bowl 100. Las Vegas beats Barcelona in the waning minutes, and the MVP is presented with the keys to his autonomous car and then the Lombardi Trophy is handed over by our 51st commander-in-chief, President Robert Gronkowski.
BL: I'm speechless at that particular suggestion.
SR: Well, considering that the Raiders want to move to Las Vegas and that we could have President Trump before President Gronkowski, I think all of these things are happening much sooner than I'd anticipated. Some of them could be here by Super Bowl 52.
This segment aired on February 13, 2016.