3 Stories You Should Know: Sports Idols, UConn Dynasty, Adidas Ad
07:59
Play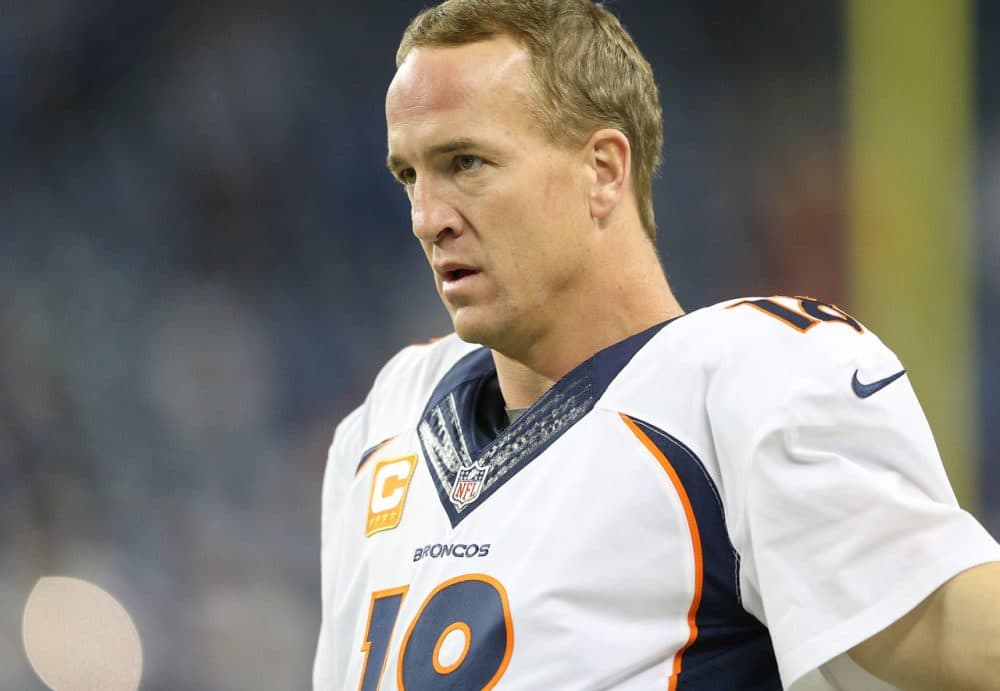 This article is more than 4 years old.
How much do fans really know about their favorite athletes? Fans hum along when Peyton Manning sings the Nationwide Insurance jingle. But with sexual assault allegations against Manning resurfacing, and with an FX show bringing the infamous O.J. Simpson trial back up, the question remains: do we really know our athletes? That's the first story in this week's edition of "3 Stories You Should Know."
Will Leitch of Sports On Earth and sports writer Erik Malinowski join Only A Game's Karen Given.
1. Athletes As Idols
Allegations are resurfacing that Peyton Manning sexually harassed a trainer while attending the University of Tennessee. The alleged 1996 assault has come up multiple times in the past. The allegations against Manning, plus the retelling of O.J. Simpson's murder trial makes Will Leitch remember that we don't truly know "our" athletes.
WL: We claim that we are a jaded people, that we are questioning, that we are totally skeptical — until we're like, 'Oh, he was funny in that commercial!' It is amazing — 20 years later, all the lessons that we should have learned from the OJ Simpson trial — we still are shocked by everything all over every time again.
2.  Appreciating UConn's Dynasty 
On Wednesday, the UConn women's basketball team beat Cincinnati, 88-34. The Huskies improved to 25-0 on the season and are winners of 62 in a row. This also marks the 23rd consecutive year that the team has won at least 25 games. Erik Malinowski wonders if we're really appreciating the team's dominance. 
EM: I feel like this is maybe a pretty good time to ask ourselves, is the UConn's women's hoops team maybe the low-key best sports dynasty of our generation? And, on a similar note, are we even capable in the current context of appreciating how good they are? The flip side of this is that it actually becomes an indictment on women's college basketball. You can't sort of look at it and not think about the fact that there's this enormous talent gap at play which you don't often find in a lot of sports.
3. Adidas And Same-Sex Couples
Adidas marked Valentine's Day by posting an image that appeared to show two women — in matching Adidas shoes — kissing. Some Internet users were outraged by the company's move, and the sports-apparel giant was quick to respond. Adidas also recently announced that it will preserve its endorsement deals with any athletes who come out as LGBT. Karen Given thinks there's more to this social media campaign than just love.
KG: By creating this really slick marketing campaign around it, I really think Adidas is trying to make money off doing the right thing. Homophobia really backfires in American society right now, I know it hasn't always been the way. So, how about we all just agree to not be homophobic and not try to make money off doing the right thing?


The love you take is equal to the love you make. pic.twitter.com/VMBRJUhHOb
— adidas (@adidas) February 14, 2016
More Stories You Should Know: 
This segment aired on February 20, 2016.