3 Stories You Should Know: Medical Privacy, Golden State, Court Storming
08:27
Play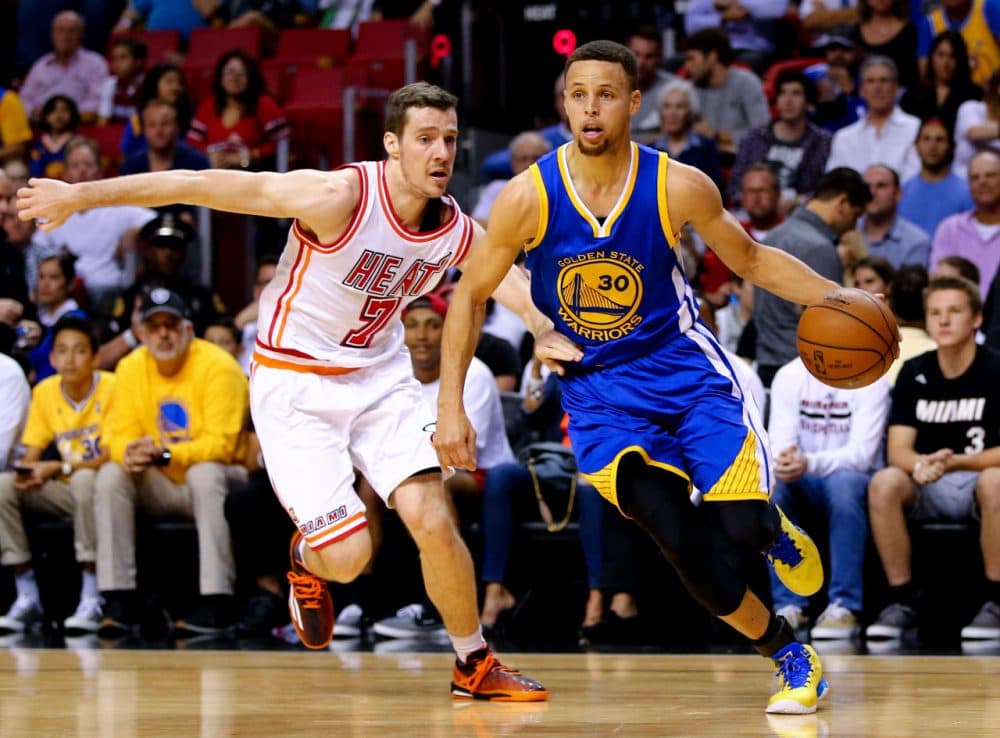 This article is more than 4 years old.
New York Giants defensive end Jason Pierre-Paul is suing ESPN and reporter Adam Schefter for alleged privacy violations. Schefter tweeted an image of Pierre-Paul's medical records last July. That's just one of this week's "3 Stories You Should Know."
The Boston Globe's Shira Springer and Yahoo! Sports' Michael Lee join Bill Littlefield for this week's roundtable.
1. Pierre-Paul's Lawsuit Against Journalistic Overreach?
New York Giants defensive end Jason Pierre-Paul says a tweet from ESPN reporter Adam Schefter was a violation of his privacy. The tweet was a picture of Pierre-Paul's medical records showing he had his right index finger amputated after a fireworks accident. Pierre-Paul's lawsuit alleges the records were "improperly obtained." Schefter says he should've handled the incident better. Bill Littlefield agrees.
BL: My concern is with the reporter's actions. I hope Pierre-Paul prevails, because even in these days when, in most respects, privacy is regarded with a nostalgic sigh, records of medical treatment should not be published without the permission of both the patient and the doctor. I don't care whether the patient is a congressman or a professional football player, it just shouldn't happen.
2. Golden State Refuses To Stop Winning
On Thursday night, the Warriors' Steph Curry broke the NBA record for scoring a three-pointer in consecutive games, and the Warriors' record improved to 52-5 on the season. At this pace, the Warriors' are favored to break the 1997 Chicago Bulls' record of 72 wins. Michael Lee thinks the team should set their sights even higher.
ML: They're on a pace now to win 75 games, and I think they've embraced this chase. Are they going to top the Bulls? Are they going to get 72 wins? And I think that we need to change the question and ask them how many wins are they going to get, because they found the antidote for pressure--and that's fun. They've embraced having fun, and nobody else even matters in the NBA this year.
3. Storming The Court: A Dangerous Tradition?
On Wednesday, fans stormed the court after the University of Colorado beat the Arizona Wildcats 75-72. This was the 10th time in Arizona's past 11 road losses in which fans rushed the court. Arizona head coach Sean Miller called out the court storming phenomenon, saying it's only a matter of time before an Arizona player punches a fan out of self-defense. Shira Springer thinks court storming is dangerous.
SS: I agree with Miller and I think the Pac-12 should show stronger leadership in this instance. It really is a safety issue, and there have been incidences in the college ranks where people have been injured, including a reporter who broke his leg when he was covering an Iowa - Iowa State game.
More Stories You Should Know:
This segment aired on February 27, 2016.