3 Stories You Should Know: Aroldis Chapman, Brandi Chastain, MLS
07:34
Play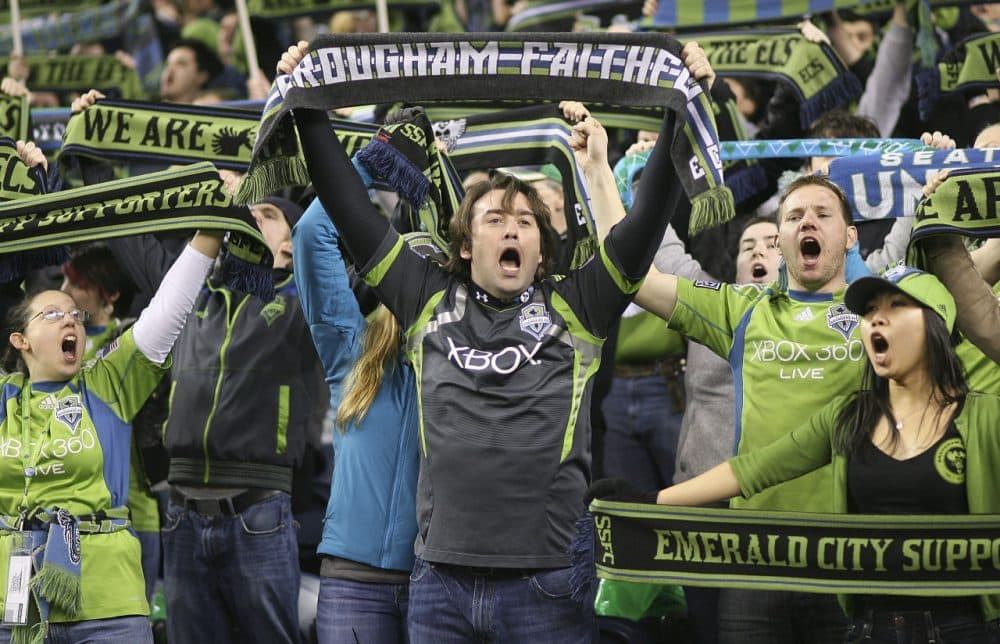 This article is more than 5 years old.
World Cup-winning, jersey-throwing, retired soccer player Brandi Chastain announced she will donate her brain to the Concussion Legacy Foundation and researchers at Boston University. Chastain's decision could be important to establishing a greater understanding of the way head trauma affects women. That's just one of this week's "3 Stories You Should Know."
Patrick Hruby of Vice Sports joins Bill Littlefield and Karen Given for this week's roundtable.
1. MLB's Stance On Domestic Violence
Tuesday, Major League Baseball commissioner Rob Manfred handed down a 30-game suspension to Yankees' relief pitcher Aroldis Chapman. Chapman is the first player to be punished under the MLB's new domestic violence, assault, and child abuse policy. Chapman admitted no wrongdoing, but accepted the suspension without appeal. Karen Given thinks Manfred is handling domestic violence issues more rationally than his NFL counterpart, Roger Goodell.
KG: It's a big win for Rob Manfred and I think there are some lessons, maybe, that could be learned by the way this thing was handled. First of all, Major League Baseball negotiated a policy with the players' union so that everyone knew how domestic violence would be defined and so that everybody had some sort of stake in making sure that this policy worked. And, there was some behind-the-scenes negotiation to make sure that Chapman's camp could live with the suspension so that this policy wouldn't be under fire the very first time it was used. Was this a perfect response? No. There is never a perfect response to domestic violence, but I think  it was a great start. And, if we compare it to the NFL's handling of Ray Rice or Adrian Peterson or Greg Hardy, or, or, or... I think we can give Major League Baseball a thumbs up on this one.
2. Brandi Chastain Donates Her Brain To Concussion Research 
Chronic traumatic encephalopathy, a degenerative brain disease linked to repeated hits to the head, has been diagnosed in the brains of deceased NFL players like Ken Stabler, Junior Seau and Frank Gifford. But it has not yet been found in a female athlete. Of the 307 brains currently in BU CTE Centers' brain bank, only seven belong to women. And very little is known about the effect of gender on head injuries. That's why Patrick Hruby thinks Chastain's donation is an important step in this regard.
PH:  I was at a female concussions summit here [in Washington] D.C. last weekend, and the big takeaways from the studies and the information they presented is that women actually may be more susceptible to concussions. They may be more likely to experience longer and worse post-concussion symptoms. But, the other takeaway was that there is whole lot that the medical community just doesn't know about these gender differences, and they don't know it because very few people have studied this.
3. Will Soccer's Doubters Ever Come Around?
Major League Soccer's 21st season kicks off this weekend. The league has experienced steady growth in popularity since its inception. Total attendance surpassed the 7 million mark in 2015, and average attendance rose 12.7 percent from the previous season. Ten clubs average more than 20,000 fans per game, highlighted by the Seattle Sounders, who draw in an average of 44,247 spectators.  Still, there are those who maintain that the beautiful game is destined to remain a second-tier sport in the U.S. Bill Littlefield wonders if they'll ever change their tune.

BL: There are more games on TV. You don't have one guy owning all the teams. Almost all teams now play in actual soccer stadiums. Seattle draws about 45,000 fans to each game. Maybe Frank Deford is not the only sports commentator who thinks pro soccer cannot succeed in the U.S., but I submit that he has less company than he once had.
More Stories You Should Know: 
This segment aired on March 5, 2016.