'Skate Brothers' — How One Honduran Man Keeps Kids Off The Streets
04:28
Play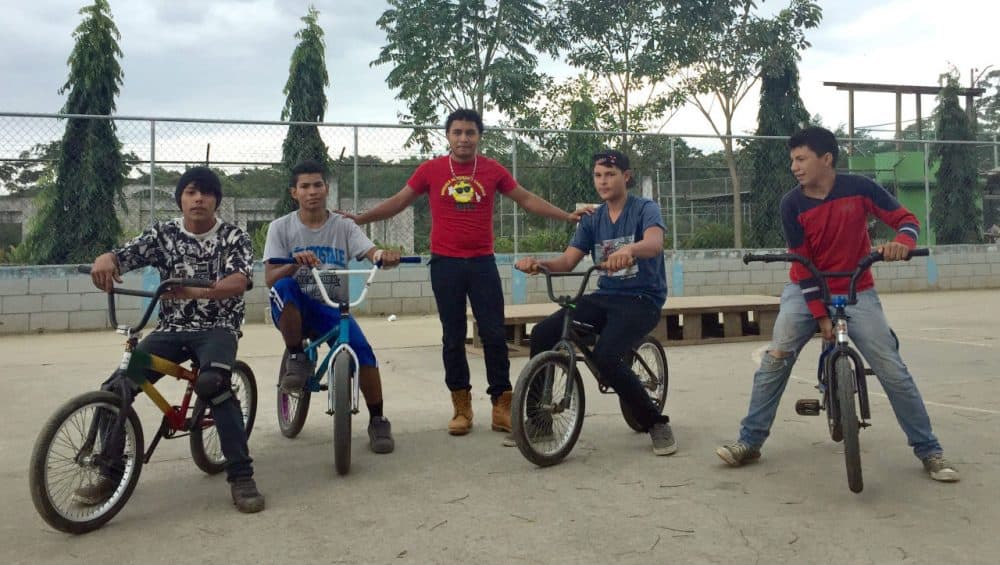 This article is more than 5 years old.
"When I began to skate, it wasn't a club. It was only friends skating," 25 year old Jessel Recinos says in Spanish. "But I stopped skating to do other things, like hanging out with bad groups in Cofradía."
I think that I am in this world with one more opportunity, and this opportunity life gave me I use to rescue the kids here ... so that they don't live the difficulty I lived.

Jessel Recinos
"At what age were you," I ask, "when you started to feel pressure to hang out with bad people?"
"Fifteen-and-a-half," he says.
"How did you get out?"
"When they shot me."
The Birth Of Skate Brothers
Cofradía is on the outskirts of San Pedro Sula, a city that's virtually run by gangs. Honduras has, on average, the highest homicide rate on Earth.
"They shot me because someone in our group got in trouble with another gang here in Cofradía, and he put the blame on me," Jessel says. "And so they searched for me to kill me."
But living, and almost dying, in this environment hasn't dimmed Jessel's personality. As his girlfriend Meagan told me, "You just can't be sad around him."
"I think that I am in this world with one more opportunity," Jessel says, "and this opportunity life gave me I use to rescue the kids here — and the teenagers — so that they don't have to live the difficulty I lived."
Five years ago, Jessel turned his skateboarding hobby into a club at the church community center. Today, the club has 60 members and calls itself Skate Brothers.
"Why the name Skate Brothers? Because we are a group of friends, and we love like brothers," Jessel says. "And we decided our name is Skate Brothers because we are more than a club. We're a family."
Meeting The Skate Brothers
"How old are you?" I ask one Skate Brother.
"Eleven!" he says.
A year ago, this boy was an elementary school dropout. Now, he's learning how to rollerblade.
"With the help of Jessel, I spend less time on the street," he says. "He helps my brother, too. He's teaching me how to skate and keeping my brother and I in school."
"I joined the club because I didn't like the streets," 16-year-old Jeison tells me. "It has helped me a lot physically and mentally, because when I'm not here, I think bad things. And thanks to Jessel, who told me, 'Join, Join!' I joined. And, now, I'm off the streets more."
On April 7, he and other Skate Brothers will take a bus to the Honduran capital of Tegucigalpa for an international rollerblading competition.
"And if you weren't in Skate Brothers," I ask, "where would you be?"
"I would be on the streets," Jeison says. "I don't know. Maybe robbing or in the gangs."
Honduras' First Skate Park
"For me," Jessel says, "each person in the club has become a part of my life, like children I don't have."
I ask Jessel if Skate Brothers has faced any trouble from the local gangs. He says "absolutely not" and quickly changes the subject. He says he's focused on one thing: expanding the club.
Jessel takes me to an empty lot in Cofradía, that, with help from local government and the United States Agency for International Development, will soon become a full-size skate park.
"I feel happy," Jessel says, laughing. "Yeah, I feel happy because Honduras don't have a skate park, but Cofradía, it's the first town in Honduras to have a skate park."
"So, this could be called the Jessel Skate Park," I say.
He laughs again.
"Yes, I think so!" he says. "I will! I never imagined — I never imagined that I would come to love, appreciate this great project. Never imagined it. But it's something I made with love. I think when we make things with love, it all turns out OK. I think that, as human beings, we have the capacity to achieve great things as long as there is the will to do it."
This segment aired on March 12, 2016.