3 Stories You Should Know: LaRoche, Spring Training, NFLPA
08:02
Play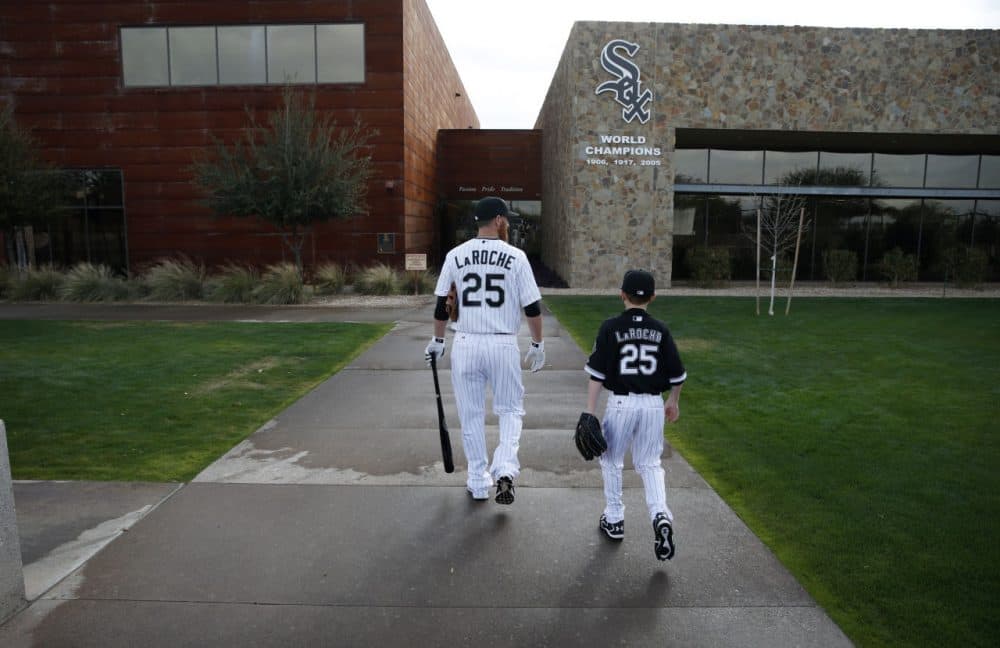 This article is more than 5 years old.
White Sox designated hitter Adam LaRoche suddenly retired Tuesday after he was asked to cut back on the amount of time his 14-year-old son Drake was spending with the team. Some players around the league sympathized with LaRoche, but Shira Springer has a different take. Where do we draw the line when it comes to kids in the clubhouse? That's the first topic in this week's "3 Stories You Should Know."
The Boston Globe's Shira Springer and Craig Calcaterra of NBCSports.com join Bill Littlefield for this week's roundtable.
1. LaRoche's Retirement
Since LaRoche's unexpected retirment, the White Sox held a contentious two-hour meeting between players and executive vice president Ken Williams, and the team nearly boycotted Wednesday's spring training game. And the MLB Players' Association has now reportedly stepped in. But Shira Springer believes that the White Sox might not be entirely in the wrong.  
SS: Now, while baseball is a game, it's also a job. The field, the clubhouse, they're workplaces and you have to respect that. Limiting the clubhouse access of a player's son seems entirely reasonable to me, and in this situation it seems like the players are the ones who need to grow up.
2. Is Spring Training Dead?
Years ago, spring training was a haven for serious baseball fans who travel to Arizona and Florida in search of a laid-back atmosphere, player access and cheap games. But much has changed in recent years. The Chicago Cubs new facility holds 15,000 people. And ticket prices are on the rise, too. Craig Calcaterra doesn't see the trend reversing. 
CC: I'm here to inform everyone that spring training is dead. Well, not really dead, it is just not what you think it is if you haven't gone to spring training anytime in the last 10 or 15 years. And I do have a lot of readers who, when I go, talk about, 'Oh I would love to go to Arizona or Florida. I want the laid-back atmosphere. I want to be up close and personal with the players. I want lower-cost baseball. It's cheaper to go to these lazy games in Arizona and Florida.' And I'm here to tell you that doesn't exist. The way you idealize spring training if you haven't been there in the last few years is pretty much over and was probably over even in the 1990s.
3. NFLPA Takes Aim At Roger Goodell
The NFL Players' Association and the NFL held discussions this week regarding league commissioner Roger Goodell's disciplinary authority. Goodell might soon either give up, or be forced to give up, his power to be the person who both disciplines players and hears the appeals of that discipline. NFLPA head DeMaurice Smith told the Wall Street Journal there is a "common ground" and he's optimistic that the two sides will come to an agreement. Bill Littlefield believes that would be a good thing.
BL: No system in which the convicted fellow's appeal goes to the same guy who charged, convicted and sentenced him makes any sense at all. But I think the even more significant development here could be a stronger players' association because historically, unlike Major League Baseball's Players' Association, the NFL union has been weak. It's never adequately addressed the medical problems of former players, and I hope the association's involvement in these current discussions will give it the opportunity to grow into a more responsible, more effective stronger union.
More Stories You Should Know:
This segment aired on March 19, 2016.