Are The UConn Women Too Good?
Play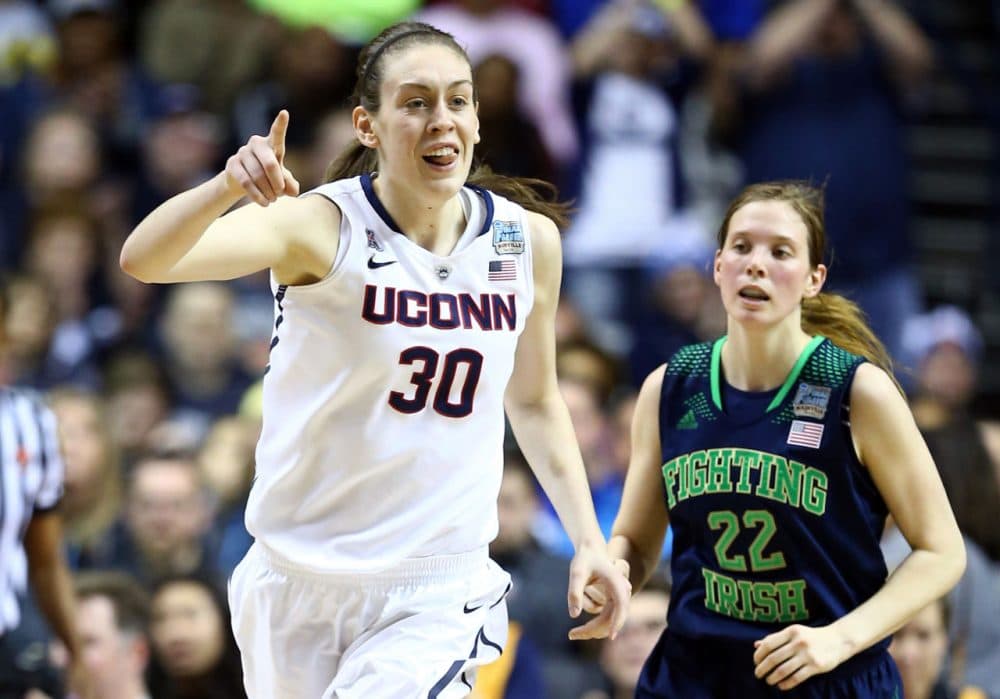 This article is more than 6 years old.
One school of alleged thought has it that the prowess of the UConn women's team is bad for women's basketball.
Dan Shaughnessy of The Boston Globe recently stepped to the blackboard at the front of that school's cyber-classroom to tweet that UConn wins too often by too much.
He maintained that competition, of which UConn has had little, is the reason we watch games.
He is partly right. Some people watch games because they crave competition.
But some watch to be entertained, and entertainment is in the eye of the beholder. Dan Shaughnessy isn't entertained by the consistent excellence of the UConn women's team, but the sellouts at their home games suggest that lots of people are.
Then there's the simple thrill of watching others do what we can't do. The individual act of a brilliant athlete may be less consequential if the outcome of the game isn't in doubt, but it's memorable anyway. The reverse layup in tall traffic and the lunging, fingertip save of a penalty kick are beautiful, and their beauty is not dependent on the scoreboard.
That our culture has at least begun to appreciate women who perform these wonders not only as gymnasts and skaters but also as members of basketball and soccer teams is reason for celebration, I think.
But the reasons don't stop there.
I've known men go to the ballpark or the arena just to get out of the house. When they come back, they're less grumpy, whether or not they've witnessed a close game.
Years ago, I met a woman who cheerfully acknowledged that she went to Red Sox games and sat behind home plate because she enjoyed the way Boston catcher Carlton Fisk filled out his baseball pants.
And what about gambling? Gamblers go to games to monitor their investments. Blowouts that go the right way are perhaps especially welcome. They provide more time for handicapping the next game.
Our games invite us to enjoy them for all sorts of reasons, another of which is the attraction of historical significance. This UConn team may be the best ever to play their game. Dan, you want to tell your grandchildren you didn't watch them because they won by too much?