What To Do While Waiting For The Inevitable Spurs-Warriors Matchup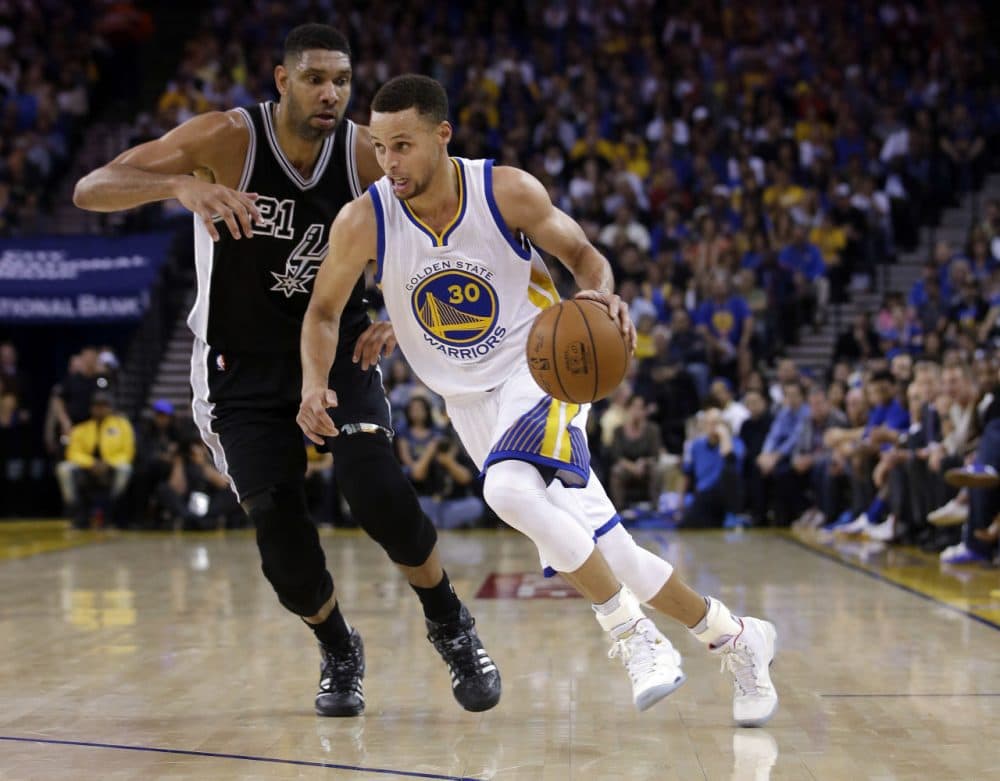 This article is more than 5 years old.
Thus far, the Western Conference NBA Playoffs have been, for lack of a better team, a snooze-fest. The two favorites, the Golden State Warriors and the San Antonio Spurs have each thrashed their opening-round opponents by an average of more than 20 points. And, after the Thunder's latest fourth-quarter collapse, it doesn't look like third-seeded Oklahoma City will be able to put up much of a challenge.
The four regular season meetings between the Warriors and the Spurs were the clear highlight of the NBA season, and who knows what kind of mind tricks Gregg Popovich has up his sleeve for a seven-game series. Though we won't be able to see this matchup for another four excruciating weeks, don't fret. Here's a list of things you can do while waiting for the inevitable Spurs-Warriors Western Conference Finals.
---
1. Catch Up On Netflix
Netflix just released a brand-new season of Unbreakable Kimmy Schmidt and it's also re-added classics like The Princess Bride and The Shawshank Redemption. And, hey, isn't it time to finally watch the last season of Mad Men?
2. Start Training For Next Year's Boston Marathon
It's never too early to log those base miles.
3. Learn The Native Languages Of All The Players On The Spurs Roster
That's Spanish (Manu Ginobili), French (Boris Diaw and Tony Parker) and Serbian (Boban Marjanovic). And you'll also have to pick up some Aussie slang to hit it off with Patty Mills. If you're looking for a true challenge, take on Portuguese so you can chat with Golden State's Leandro Barbosa and Anderson Varejao.
4. Learn An Instrument
Four weeks is just enough time to master that instrument that you've always wanted to play. Maybe you could be like the Spurs and star in your own super-weird-but-still-awesome music video.
(Side note: I have no idea what's going on here. Kawhi Leonard's drum solo is pretty nice, though.)
5. Read Infinite Jest
David Foster Wallace's 1000-plus page dystopian novel should get you pumped for that potential Leonard-on-Steph matchup.
6. Earn Enough Money To Actually Be Able To Attend A Warriors Game
Tickets in the Oracle Arena nosebleeds for Game 1 of the Western Conference Finals are currently running for the low, low price of $369 (plus taxes and fees). Of course, that does not include potential travel expenses or the cost of living in the Bay Area.
7. Watch Some Playoff Hockey
Unlike in the NBA, there are tons of fun Stanley Cup Playoff series to choose from. Unless you're a Bruins fan.
8. Get Really Into Coffee
Macchiato, doppio, affogato, cortado — what does it all mean? Gourmet coffee is all the rage nowadays. Plus, if you're on the East Coast, you'll need some caffeine to stay up for those 10:30 p.m. games. If you're really dedicated, like Boris Diaw, you can install an espresso machine at your desk so your next cup is always on hand.
9. Do That Home Improvement Project You've Been Putting Off
With the weather warming up, now's the perfect time to spruce up that patio, fix that leaky faucet or do some spring cleaning.
10. Try Out A New Hairstyle
Why not take inspiration from Varejao's luscious curls or Leonard's braids?