3 Stories You Should Know: Harbaugh, The End Of The Running Boom, Zika
08:04
Play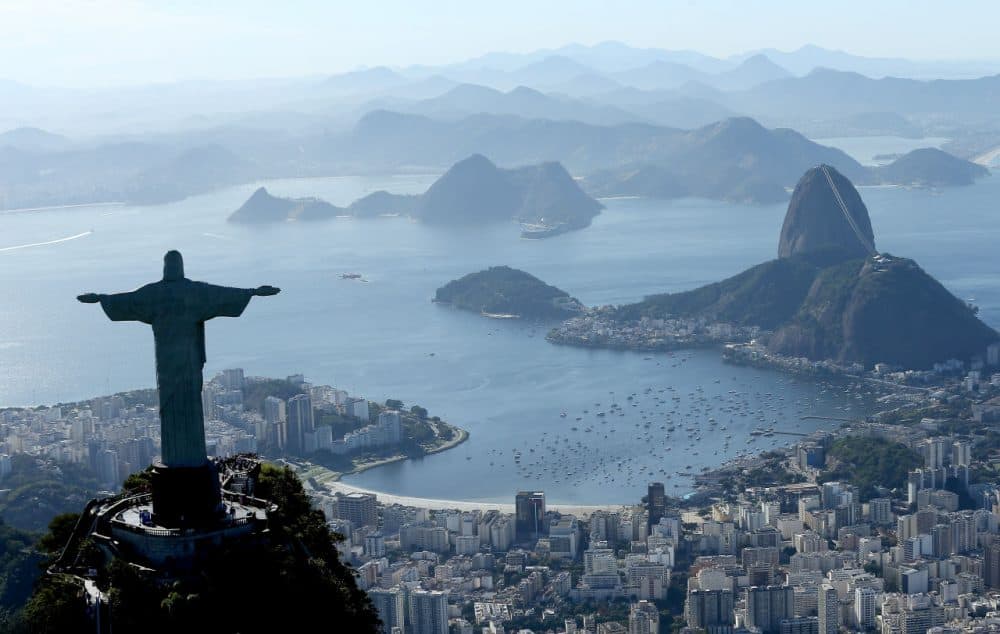 This article is more than 5 years old.
The Michigan Wolverines are leading the charge on staging satellite football camps across the country — and globe — to build their team's brand. Not everyone is pleased with head coach Jim Harbaugh's plan, though. And after increased participation in footraces for the past two decades, Americans have officially slowed down and are running less. Are fitness boot camps, yoga classes and CrossFit to blame? Also, with the Rio Olympics on the horizon, concerns over the Zika virus are growing. Should the International Olympic Committee consider moving the Games from Brazil?
John Niyo of the Detroit News and Rachel Bachman of the Wall Street Journal joined Bill Littlefield to discuss.
1. Jim Harbaugh's World Tour
On April 28, the NCAA Board of Directors overturned the Div. I Council's ban of satellite football camps. This move allowed college football coaches like Michigan's Jim Harbaugh to continue making plans for camps around the country — and world. This summer, Michigan has established camps in Australia, American Samoa and Hawaii. Of course, not everyone is thrilled by the Wolverines' initiatives — especially not coaches at schools in the South, another target location for Harbaugh's camps. John Niyo wonders how big of a deal these camps are.
JN: I mean these camps do serve a purpose for families searching for college scholarships. ... Now Harbaugh's gone all Phileas Fogg with I think it's up to 30-something stops now — 16 states, including Hawaii and Australia and Samoa. So I guess the question for you, Rachel and Bill, is: is there a problem here? Or is this just another sort of tax-exempt sitcom?
2. Millennials Have Ended The Running Boom
A recent study from the research group Running USA reports that the number of finishers in footraces declined by nine percent in 2015. Millennials make up the largest living generation, but their presence in running has decreased more than any other age group. Rachel Bachman explores some of the theories for this decline. 
RB: The jury's sort of out on why this happened. One theory is that there are more and more other things to do to keep yourself in shape — anything from CrossFit to Yoga. Another theory floated is that Millennials just simply are not as competitive as older generations and didn't really like entering races. So, let the debate ensue.
3. Zika Concerns Grow Ahead Of 2016 Olympics
The Olympics stories continue to roll in — and almost all are troubling. From multiple state-run doping scandals to bribes from Tokyo organizers to Brazil's presidential impeachment. Yet another concern is the Zika virus. Will the Games in Rio de Janeiro help spread the virus worldwide? Bill Littlefield wonders if it's time to move the 2016 Olympic Games from Rio.
BL: The bribery and the doping stories feel, to me, like business as usual. They're sad, but the Zika thing, more dire, I think. Is it time to call Rio and say, 'Hey, look, sorry, this isn't going to work out? We're gonna start a new precedent — we're gonna spread the Olympic events around, say, half-a-dozen countries. Nobody goes broke, everybody gets a chance to be on TV, and that's the way we'll do it from here on in.' What do you think?
More Stories You Should Know:
This segment aired on May 14, 2016.