New WBUR.org Launches June 9th!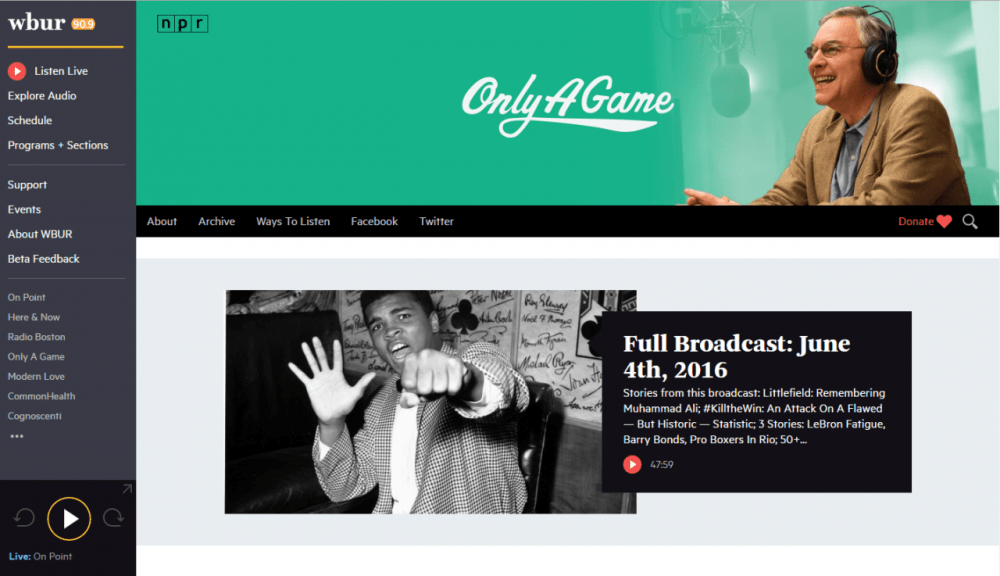 This article is more than 6 years old.
Coming June 9, 2016, WBUR will release some exciting changes to our website, wbur.org. We've reimagined how you experience public radio, especially digital audio, no matter where you are or which device you use. Want a preview? Please check out the site in beta form at beta.wbur.org.
What's changing?
A celebration of audio. This new platform looks and feels more like an audio app because it's built like an app. You can listen live or on-demand while browsing the site and the audio will stay with you. We wanted to make audio front and center, easy to find, and most importantly, infuse the digital experience with some of the serendipity found in the best of public radio.
We wanted something made for your phone. We wanted our experience on mobile to be modern, exceedingly fast and frankly, just work. That's why we created a responsive design and built it for speed. You should never have a problem loading wbur.org. Try us on your phone first!
A new look for some of your favorite sites. Some of our digital properties have dramatic new looks; some have more subtle enhancements. All the podcasts, programs, blogs and articles are still here, including our full archives. However, some things have been organized differently, in what we hope is more simplified way to listen, read and interact with WBUR.
Rolling improvements. With this new site, we'll be continuously working on it and offering new features and fixes every two weeks. We're planning a series of events this summer to gather more feedback from the public, if you have anything you want to share with us about this site, please fill out this feedback form here.
What hasn't changed:
All your favorite WBUR programs, blogs and content can still be found on this site. We've got everything organized in our "Programs + Sections" page on the left navigation; new logos are bigger and displayed as album art to help you browse.
Live streaming is still core to WBUR. The WBUR live stream will start immediately from the wbur.org homepage when you click 'Listen Live' in the top left corner. The player at the bottom is a guide to all audio on our site, and anytime you hit a play button, it will be reflected there.
We wanted to take this journey with you, our members, listeners and readers.
Public radio's mission is about all of you, after all. We can not build a great website without the full, ongoing support of our members and their opinions. We need to know what you think, what you want, and what you need from us. We felt the best way to do this is to design and build out in the open, showing our work, and have you weigh in.
We want to hear from you! Our site has been in beta form for four months; we've received an enormous amount of commentary that has helped us create the site you see now. But we're just at the beginning, and your notes and ideas matter. We promise to read everything you send. We have more work to do, but we hope you'll enjoy the updates and additions we've made to wbur.org. Ideas? Questions? Comments? Please  fill out this form. You can talk to us on Twitter @wbur or @OnlyAGameNPR or on Facebook; you can also send an email to beta@wbur.org.