A Ken Griffey Jr. Card Collection Fit For The Hall Of Fame
Play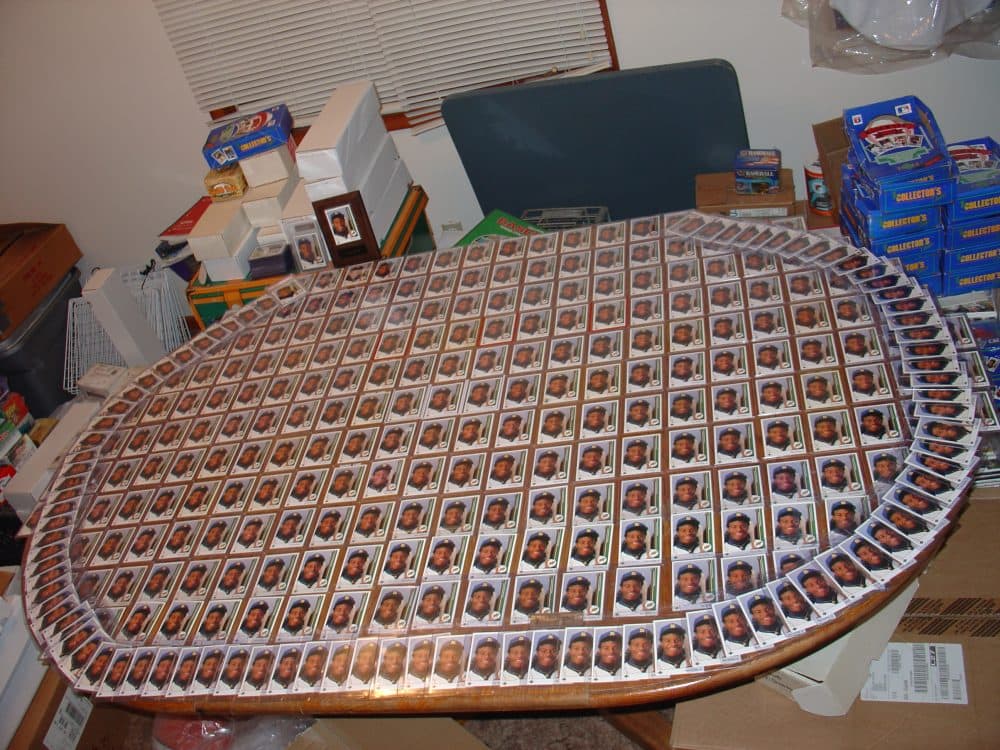 This article is more than 6 years old.
When I was a child I collected baseball cards.
But I wasn't serious about it. I clipped some of them to the spokes of my bicycle, because they made a great noise. I flipped a lot of them with my friends, which meant I bent them in the middle, and that they landed in the dust of the playground and sometimes, if there was a dispute over who'd called odds or evens, they got stepped on.
Lucas Stallbaumer, who works as a lab engineer at an aviation company, also enjoyed collecting baseball cards when he was a kid. But he was serious about it, and he remembers the first time he thought, albeit briefly, that the hobby might pay off.
"Well, I was in either second or third grade, and a kid came up and said that he'd give 20 bucks for a Ken Griffey Jr. card. So I went home and rummaged through all my baseball cards and I found one," Lucas said. "But it was a '91 Topps card. And when I brought it to him in school and showed it to him, he was, like, 'No, that ain't it,' and then he walked away."

The kid who walked away wanted a 1989 Upper Deck Ken Griffey Jr. rookie card. Lucas didn't know why that card was special to the kid, or to anybody else. At least not yet.
But another child in his circumstances back in the second or third grade might have been discouraged. Another child might have walked away from his baseball card collection and allowed it to gather dust in the corner of his closet, until his mother threw it away, in which case the story of Lucas Stallbaumer's baseball card collection would be the same as mine.
But that's not the way it worked out. Because for whatever reason, Lucas Stallbaumer, now 33, kept thinking about that 1989 Upper Deck Ken Griffey Jr. rookie card and the smiling fellow it featured.
"Well, after I heard about him, I did all sorts of research and other things on him, like book reports, whenever we had to write a paper and that sort of thing," Lucas said. "And I learned how great of a player he actually was and all the things that he could do."
One of the things Ken Griffey Jr. did was serve as the inspiration for what became this especially significant baseball card. But I'm getting ahead of myself again. When he was in high school, Lucas acquired the card he hadn't had when he was a little kid. He paid $56 for it on eBay. When it arrived, he was not disappointed.
"To me, it's just simplicity. It's just his smiling face, the blue hat and his smile," Lucas said. "Of course, it's the 1989 Upper Deck, which was the game-changer of all the cards. You've got the hologram on the back so the card can't be counterfeited. So it was a complete game-changer for the entire industry."
And, as it would turn out, for Lucas, who would keep buying.
The monetary value of a 1989 Upper Deck Ken Griffey Jr. rookie card, like the value of any other card, or the value of a share of stock in General Electric, for that matter, can be calculated, day to day. It was probably especially high last week, when Ken Griffey Jr. was inducted into the Hall of Fame.
But what about the non-monetary value? The non-monetary value of a share of G.E. stock is probably nil, right? Not so with the Ken Griffey Jr. card, at least if you're Lucas Stallbaumer.
"Yeah, they're kind of like my little babies," Lucas said. "That sounds weird, but I'm attached to 'em. I'm addicted to 'em. I just like 'em or love 'em, I guess."
"How many have you got as we speak?" I asked.
"Well, I got 312, I think, that are raw, and like two or four that are graded," Lucas said. "And I've got three unopened cases, which there's about 20 to 60 in each case…"
Just to skip ahead a bit, Stallbaumer has at least 400 and perhaps as many as 500 Ken Griffey Jr. Upper Deck Rookie Cards.
"Is there a special room in your house for all of this?" I asked.

"Yeah, I got one bedroom just dedicated to cards."
"And a little annex in the room for Ken Griffey Jr. cards, I guess," I said.
"Yeah, one big corner," he replied.
Stallbaumer does not own all of the 1989 Upper Deck Ken Griffey Jr. rookie cards. He estimates as many as 2 million were made, which leaves a lot of room for his collection to grow.
"I got three bedrooms I could fill up if I wanted to, I guess," he said, laughing.
And so ends the story of a fellow who — back when he was in the second or third grade — didn't have the right card. Now he's got so many of them he doesn't know exactly how many he's got, and neither does anybody else. And he's not selling them. And nobody's throwing them away. And if Ken Griffey Jr. is listening, now he knows the identity of his biggest fan, or at least the biggest fan of his 1989 Upper Deck Ken Griffey Jr. rookie card.
"Does Ken Griffey Jr. know you're doing this?" I asked.
"Not that I know of. I've never met him or talked to him," Lucas said. "I'd like to meet him someday, though. That would be pretty cool."
You see why I hope Ken Griffey Jr. is listening, right? Because if he and Lucas were ever to sit down together in that room full of Ken Griffey Jr. rookie cards, wouldn't it be fun to see which of them was the more astonished?
For more on Lucas Stallbaumer and his collection, follow this link to Vice Sports' in-depth profile of the Griffey Jr. card collector.
This segment aired on July 30, 2016.