3 Stories: Kaepernick, Tebow's Baseball Dreams, Olympic Medal Justice
09:13
Play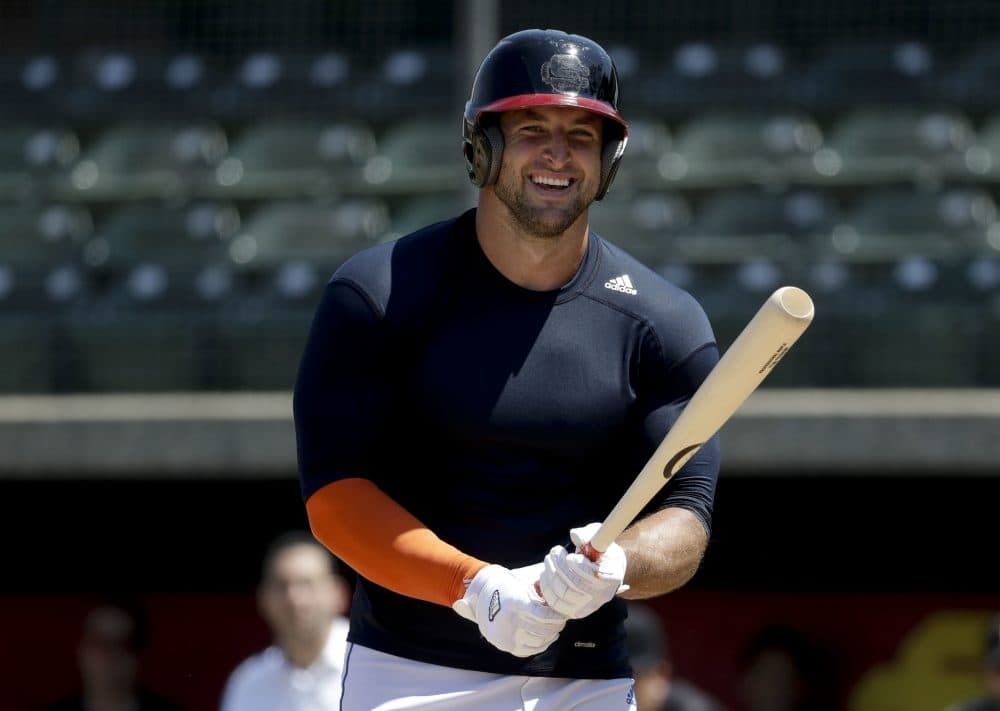 This article is more than 4 years old.
Former Heisman winner and NFL quarterback Tim Tebow hosted a workout on Tuesday for MLB scouts. It still remains to be seen whether or not his showcase will result in more than an independent league contract offer. But one thing's certain — it got the spotlight back on Tebow. That and more on this week's "3 Stories You Should Know."
Craig Calcaterra of NBCSports.com and ESPN The Magazine's Mina Kimes join Bill Littlefield.
1. The Past And Present Of Anthem Protests
The controversy surrounding Colin Kaepernick has hardly let up since the San Francisco 49ers quarterback refused to stand for the national anthem during preseason games last weekend, and, most recently, on Thursday night. The protest, Kaepernick says, is a stand against institutional racism in the United States, though many have deemed his actions unpatriotic and disrespectful. Craig Calcaterra noticed parallels between Colin Kaepernick's protest and statements made by Jackie Robinson.
It doesn't take one of Jackie Robinson's stature or experience to see and take issue with injustice and inequality, which manifestly still exists in America. However, if you're not Jackie Robinson, I guess you're just not allowed to note that, and that is the fundamental conflict I see with the way people are approaching Kaepernick. He's saying it now instead of 30, 40 years in the past, and, for some reason, that bugs people.
2. Tim Tebow's Brand Building
Tim Tebow has picked up one offer to play baseball in the wake of his showcase — though it's from an independent league team in Connecticut. Tebow's workout drew scouts from all but two major league ballclubs. So far feedback does not suggest he's got a real shot at making the jump to the big leagues, though some defend his choice to pursue a dream. On the other hand, Tebow's already profiting from the endeavor. For Mina Kimes, this begs the question: what does Tebow's latest drama reveal about celebrity in sports?
Both sides are kind of right, but neither have really landed on what bothers people about Tim Tebow. It isn't his intentions — which may be pure or they may be cynical — but rather that his success reveals to us that sports and celebrity are more intermingled than we'd like to believe. And that none of this is really a meritocracy in the traditional sense.
3. Rectifying The 1976 Olympic Swimming Scandal
Olympic swimmer Shirley Babashoff was poised to capture gold across the board in the events at the 1976 Games. Instead, she — and many other swimmers — were cheated out of the opportunity by a state-sponsored doping program from East Germany. This week, the California Senate took a step aimed at changing that. Resolution 88 urges the International Olympic Committee to strip the East Germans of their medals and award them to those who played by the rules in Montreal. Bill Littlefield hopes this action will bring attention to all those affected by the East German doping program.
Babashoff would like to have those medals. It still matters to her. I know that. She told me. So I hope Resolution 88 prevails. But I also hope that this story acquaints or reacquaints people with what was done to the women's swimming for East Germany those many years ago. Some of them had no idea what the coaches and trainers were injecting them with, and some of them suffered very, very grim side effects. I hope that becomes part of the story.
More Stories You Should Know:
This segment aired on September 3, 2016.