Latest Show: Kaepernick, Half-Marathon In A Suit, And More
46:43
Play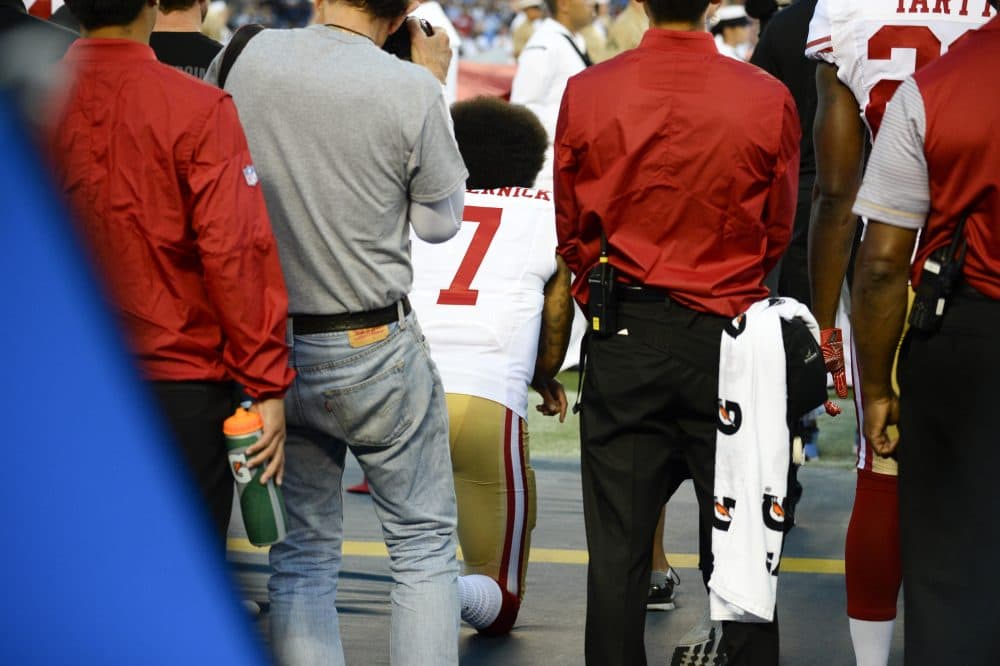 This article is more than 4 years old.
Colin Kaepernick is choosing not to stand during the playing of the national anthem. This week on Only A Game, we'll compare the quarterback's protest to statements made by Jackie Robinson. And we'll explain why Fragile X syndrome, a genetic condition, inspired one man to break the world record for running a half-marathon — in a suit. And former tight end Ben Utecht played in his last NFL game seven years ago, and he's been struggling with memory loss ever since. Join us for Utecht's story and more.
---
'Why Can't I Remember That?' — Former NFL TE Ben Utecht, Age 35
Former NFL tight end Ben Utecht still remembers what it's like to play in front of a crowd of 70,000. But he can't remember singing at his close friend's wedding. At 35 years old, Utecht has written a book to try to preserve his life's memories.



3 Stories: Kaepernick, Tebow's Baseball Dreams, Olympic Medal Justice
How do Colin Kaepernick's statements compare to those made by Jackie Robinson? What does Tim Tebow's baseball workout prove about fame and celebrity in sport? And how might the International Olympic Committee finally rectify a 40-year-old injustice? Craig Calcaterra and Mina Kimes join Bill Littlefield.

From Ghana To Marquette: How Soccer — And Luck — Changed C. Nortey's Life
At age 15, James C. Nortey got the opportunity to leave his home in Ghana to pursue a soccer career in the U.S. Now playing professionally in Denmark, C. Nortey wants to help his siblings and others back home.

Charlie Pierce: The Week In Sports
Vikings quarterback Teddy Bridgewater is done for the year after suffering a knee injury. Only A Game analyst Charlie Pierce joins Bill to discuss that news — and the impact made by one Florida State football player just by sitting down for lunch.

A New Half Marathon (In A Business Suit) Record For Son With Fragile X
For Mike Tozer, running has become a way for his family — and his whole community — to cope with what could have been a difficult diagnosis.
This program aired on September 3, 2016.