Boxer Adonis Peguero Fights For Dominicans Of Haitian Descent
Resume
They say that poverty makes the fighter. But not too many fighters come from a place as poor as Guanuma. A hamlet on the northern fringe of Santo Domingo, the Dominican Capital, Guanuma used to be a sugar town. Half the people who live here are Haitian migrants who came to cut cane. But the nearby plantations have all shut down. And these days most of Guanuma's men play cards or stare into space. Women, if they're lucky, board early morning buses for day work as maids. The less fortunate ones work nights in the sex trade.
For Adonis Peguero, the son of Haitian migrants, Guanuma was an easy place to get into trouble.
"I was a bit of a hothead when I was younger," he says in Spanish. "I was always getting into fights. I guess I had a problem with some of the people here. I just couldn't control myself or my anger. It made me very aggressive."
Dreaming Of Something Better
Adonis lives about half a mile off Guanuma's only paved road. Like many Dominican boys, he dreamed of making it to the major leagues, like David Ortiz or Adrian Beltre. But he threw more punches than strikes. One day, about four years ago, a neighbor invited him and a few other local toughs to lace up gloves and don headgear.
"He told us that boxing wasn't really a sport. It was an art," Adonis says. "He told us that in order to be a good boxer, you first had to be a person of good character. A person of quality, who can control his anger and his fear."
"When I started boxing, it never crossed my mind that I would become a spokesperson for a cause. But I have."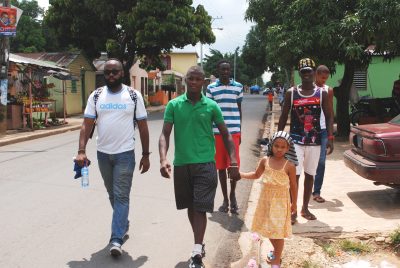 Adonis was the most promising boxer in the group — a tall boy with a long reach, good balance and a mean streak that helped him win his first few fights. Then, in his first regional tournament, he stepped in with a more experienced fighter. Nothing he tried that night worked. He left the ring bloodied and embarrassed. But he also learned an important lesson.
"Until that match, I'd always been the aggressor. Now you need aggression. But you have to learn to control it," Adonis says. "After that fight, I understood that it was just as important to move well, to stay balanced, to out think your opponent. That's how you win in boxing."
Adonis became a different fighter after that loss. And he became a different person: disciplined, driven, even nice. He began getting up every day at 7 a.m. for the first of two long daily runs. At 5 p.m., sporting his silver lame trunks, Adonis, his 5-year-old niece, Alba, and his entourage parade through town on his way to spar. With his left, the fighter holds his niece's hand. With his right, he slaps high fives with his buddies at the barber shop, knocks impishly on the window of the town's lottery booth and snatches a mango from a rickety fruit stand. He even steps out into the street to stop traffic and escort two little girls safely to the other side.
"I was born here. I've never lived anywhere else. I don't even know anyone in Haiti if they send me back there. This ruling makes me feel real bad. Like I've been erased."
About a year ago, Adonis was selected for a spot in the national boxing program. It was a big deal for the 20-year-old welterweight — and for his town.
"If I were to represent my country at an international competition, like the Pan Am Games or the Olympics or fight for a world title, the people here would hear my name, and hear the name of their town spoken on television for all the world," Adonis says. "It would give this community a reason to rejoice.
Suddenly Stateless
It seemed like Adonis was on his way. Then, something strange happened.
"In order to train with the national team and compete in state tournaments, you need to prove that you're a Dominican citizen," Adonis says. "But when I went to get my identity card, they told me I wasn't a citizen. So I can't represent my country."
So here's the rub. Adonis Peguero was born and raised in Guanuma. But his parents are among an estimated 1 million Haitians who live in the DR. Most of the Haitians crossed the border to take jobs that Dominicans shun. Most of them are undocumented. It used to be that anyone born on Dominican soil was considered a citizen. But recently, the country changed its laws. Overnight, close to 300,000 Dominicans of Haitian descent have been rendered stateless.
The Dominican government did offer a path for them to apply for residence. But for undocumented migrants without birth certificates — let alone passports or lawyers — that path led nowhere. Rumors of mass deportations and real threats from Dominicans have caused close to 70,000 Haitians to leave for Haiti, where many live in squalid refugee camps.
"I was born here. I've never lived anywhere else. I don't even know anyone in Haiti if they send me back there," Adonis says. "This ruling makes me feel real bad. Like I've been erased."
There's a long history of discrimination and violence against Haitians in the DR. Part of that's because many of the migrants are poorer than their hosts. Part of it's because many of them are darker than their hosts. In 1937, Dominican soldiers massacred an estimated 20,000 Haitian men, women and children living in the DR.
It's still rough for Haitians in the DR today, even those who are citizens. Luisito Pie, a Dominican of Haitian descent, won his country's only medal at this summer's Olympic games. Just after the 22-year-old naval cadet received his bronze for taekwondo, Dominican media trolls started smearing him. One television commentator called him a "damned black man" and "a disgusting Haitian."
Adonis' New Mission
These days Adonis spars in an outdoor cement pavilion in Guanuma's main — and only — square. The space is octagonal and tight. But at least there's shade. Facing off today against a local heavyweight, Adonis slips a pair of left hooks, then sets his feet to counter with a three-punch combination — stumbling as his back foot skids on the sweaty tile floor. About 20 people watch the action, fanning themselves. It's hard for anyone, Adonis included, to see a way from this pop-up boxing gym to the Olympics or a world title shot. But Adonis has a new mission now: He tells his story to people like me.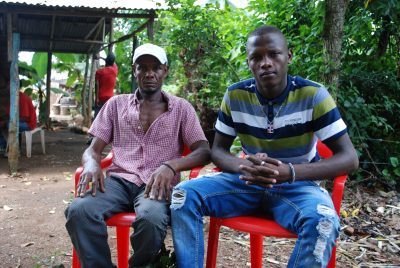 "When I started boxing, it never crossed my mind that I would become a spokesperson for a cause. But I have," he says. "Almost every Haitian family in the DR has been affected by these new laws. I'm not the only one. But you won't read about the others in the newspapers. I'm in the spotlight because I'm an athlete. And I feel responsible to help find a solution."
Back home, his training over, Adonis sits with me and his father, Nelson, on the front porch of their modest house. It's still too hot to think. Celina, Nelson's wife, brings us mineral water and crackers on a stained blue plastic plate. Nelson and Celina came here 27 years ago from Haiti. He can't remember the last time he worked.
In the middle of my interview with Adonis, Nelson interrupts to ask, his eyes trained on his toes, if I might be able to help him get his residence papers. I mumble something about how someone who could help might hear this radio piece. Adonis squeezes his father on the shoulder, lovingly, almost paternally.
"My father always told me that there two things you can never control. La muerte y la suerte. Death, and destiny," Adonis says. "This may not sound like the kind of advice a father would give to inspire his son. But it works for me. We have no idea what's going to happen to us today, or tomorrow, or the day after. We don't know if we'll ever get to the place we're trying to reach. I can't say I have a timetable. All I know is I have to be ready."
This segment aired on October 8, 2016.