The World's Shortest Pro Basketball Team And Its Big Impact On Sports
Play
This article is more than 6 years old.
Like lots of youngsters, Tony Cox enjoyed playing basketball while he was growing up.
"I played elementary school ball for a while. And after that, I get to high school, it's all over with, you know. 'Cause of my height."
Unlike lots of youngsters, Tony Cox stopped growing up when he reached three feet, six inches.
"Then I started just keeping scores for the high school team," Cox says.
After high school, Cox moved to LA to look for work. There were jobs for little people in the entertainment industry, but most of them involved dressing in costume. Cox wanted to be taken seriously as an actor.
So he went to see the head of an acting school. Cox describes that trip in a recent documentary film titled "The Hollywood Shorties."
"And the guy looked at me. I'll never forget. He said: 'So, you think you can act, huh?' And I said, 'Yeah, I know I can act.' He said, 'Look at you: you're short, you're black, you got a strike against you already.' He said 'Turn around. You know what? You'll be in a costume the rest of your life.'"

"And I'll never forget that, and some of the hurtful things I had heard. And I remember my aunt looked at me and she said: 'That man don't know what's in your heart. That man don't know who you are. You're from Uniontown, Alabama. And nobody talks to you like that. And if I was you, I would prove it to him.'"
"When my aunt said those words to me, it was like 'OK. I'm gonna show him,'" Cox said during our interview.
Building The Shorties' Roster
Cox would eventually get the opportunity to act — and to play basketball again — thanks in part to a man named Billy Barty.
Barty was also a little person, and also determined to show people who doubted his potential that they were wrong to do so. Barty's career in film and television spanned more than 70 years. And he was an activist. In 1949, he founded The Little People of America. The LPA's goal was to create career and social opportunities for people affected by dwarfism.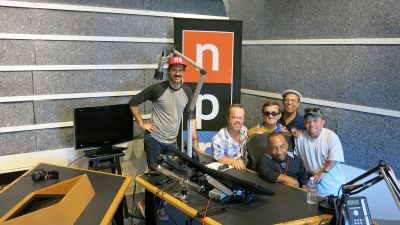 The creation of the LPA eventually led to the formation of a basketball team called the Hollywood Shorties. Tony Cox was the team's star player during their glory days — in the early 80s — and many other actors played on the team as well. A documentary about those days has given the surviving players an opportunity to relive their triumphs on the court, which is how it came to be that we asked two of the Shorties to join us in a studio in Los Angeles. Instead … four Shorties showed up.
"We could field a basketball team right now," says Kevin Thompson, one of the Shorties.
First, they'd have to get organized. Thompson can't remember exactly what position he'd played for the team. Joe Gieb was a forward and a guard, he thinks, and Jimmy Briscoe claims he'd played goofball. And you already know Tony Cox:
"I played the two guard and the one guard."
"Closest thing I've heard yet to a straight basketball answer. I'm impressed," I say.
"Well, thank you very much," Tony says.
The Hollywood Shorties ranged from 3-foot-6 to 4-foot-not much.
According to Joe Gieb, recruiting talent was no problem.
"Anytime you get some dwarves together that could play ball, yeah, there was always a game going somewhere. And a lot of us could play basketball really well, and when the opportunities started coming up, it just started rolling. The ball started rolling."
But why did all these little people choose a sport dominated by big men? Kevin Thompson says that's an easy one.
"I think we went, 'What would be the farthest thing from the little guys to play? And that would be basketball.' And that's why we chose that. To show that we can do anything."
'We Were Real Players'
The Shorties mostly played for charity, entertaining crowds who had bought tickets in support of a good cause. They combined hoops with shtick, especially when they showed up at schools to play against the faculty:
Jimmy Briscoe: "Well, I was in the circus. I was, like, the boss clown for two years, and I said 'OK. We can't play straight basketball. We need to break it up and do gags or something.' And it turned out pretty good. The best part was when we'd play the faculty and the teachers and all that, and we'd whip 'em. The kids from the school, they loved us."

Kevin Thompson: "They would point out which teacher to get. 'Get him!' 'Cause he was the mean teacher, nobody liked him. So when we did that, the whole crowd would go bonkers."

Joe Gieb: "It would be up to me to kinda go over and kinda de-pants him in front of the student body, or something. You know, I mean, something the kids can remember the rest of their lives … be scarred by the rest of their lives."

KT: "Well, we'd just show them his shortcomings."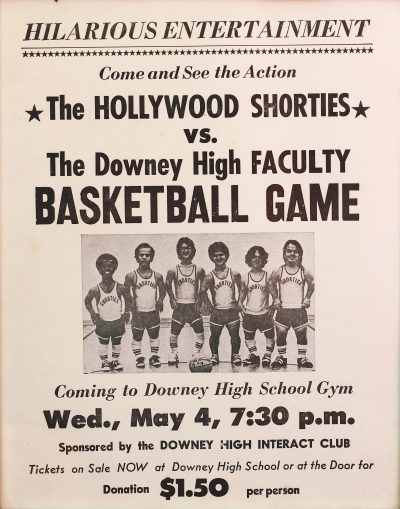 The clowning delighted everybody in the gym, but the Shorties probably wouldn't have kept everybody in their seats if they hadn't also been able to run, dribble and shoot.
"Oh, most definitely. We played ball. I mean, real ball," Thompson says. "And we'd throw in some comedy in between. But we were real players, man."
But, as Thompson recalls, the Shorties weren't playing basketball merely to amuse audiences and fill the time between their other jobs.
"Our coach, Glen, always would say, 'If we give them a good show, there might be an employer out there. A little person may come in for an opportunity, for a job. And then realizing, 'I've just seen this group of little people beat the snot out of these other tall guys and doing things that I never thought they could do, I might as well give this little person a chance at this job.' And then they may do wonderful things for that company. And they would have not had that opportunity had that employer not watched that game."
Making It On The Big Screen
It's perhaps safe to say none of the Hollywood Shorties lost money playing for the team. It's absolutely safe to say nobody got rich, and the Shorties all had other careers, or at least other employment, mostly in show business. Especially the man we met at the beginning of our story.
"Tony was unstoppable, and he just took off," Thompson says.
"Yeah, for the record, Star Wars, Willow, Spaceballs, we don't have time to list all of Tony's screen credits, but there were a lot of them," I add.
"Yeah, I'd like a few of his screen credits," Thompson says.
Not all of the other Shorties worked as steadily as Tony Cox did, but they had their star turns. Joe Gieb appeared in the movie "Weird Science," on "Seinfeld" and in lots of other productions over nearly four decades in the business. Jimmy Briscoe got to kiss Cindy Williams in a 1979 episode of "Laverne & Shirley." Kevin Thompson was cast in "Blade Runner."
But while the team's stars were acting in big time movies, the big time eluded the Shorties until Dec. 5, 1982. On the evening of that day, after years of charity games, the Shorties landed a gig on the biggest of NBA stages, playing the Laker … cheerleaders.
"And that was fun. Oh yeah! Oh boy," says Jimmy.
"I think we went, 'What would be the farthest thing from the little guys to play? And that would be basketball.' And that's why we chose that. To show that we can do anything<em>."</em>

Kevin Thompson
During that game, before a packed crowd at the L.A. Forum, home of the Showtime Lakers, Tony Cox unleashed what would become his signature shot: an underhanded toss from half court.
"I remember looking at the bench, George going 'No!' The Bench going 'No!'" Cox says in the documentary. "And then the ball goes in, and George goes 'Yes!'"
"When he makes it, they go 'Oh!' But, knock me down," Thompson says.
"The audience went crazy. I think I hit nothing but net," Cox says in our interview. "You know, I'm 3-foot-6, the smallest guy on the court. And I guess, you know, to hit a shot like that from where I was shooting it, I was blessed to be able to do that by God, and I'm just happy I was able to do it."
Perhaps it was that glorious moment that led to other gigs the Hollywood Shorties — and their fans — found thoroughly enjoyable.
"Oh, and we played against the Playboy, uh, Playmates …" Thompson says.
"Bunnies! Bunnies! There's a difference," says Ryan Steven Green, director of "The Hollywood Shorties."
"Playboy Bunnies. But we played also against the Penthouse Pets. The hardest thing was keeping your eye on the ball," Thompson says.
The Shorties' Legacy
The laughs and celebrity notwithstanding, eventually some players grew weary of shtick.  They formed the LA Breakers, a team that took the game of basketball much more seriously.
A rift grew between those who valued basketball over clowning and those who felt the two could continue to compliment each other. In the long run, the original Shorties lost, and showtime for them ended in the early '90's. But Green says the legacy of the little ball players lives on in a big way.
"Today, little people all over the world have the opportunity to play sports. And not just basketball, but all kinds of sports, thanks to organizations like the DAAA, the Dwarf Athletic Association of America. It's like the Hollywood Shorties are still there. Even though they're not an entity anymore, their DNA is infused in that organization," says Green.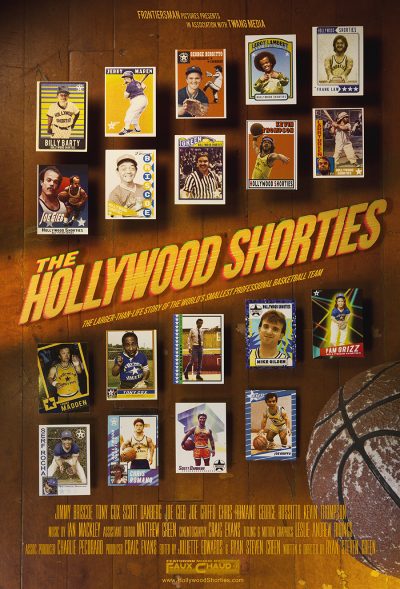 Entertainment in the pursuit of equal opportunity is part of the point of the story of "The Hollywood Shorties," but Green doesn't want that notion to obscure the joy the Shorties embodied.
"This isn't a film about dwarfism," he says. "This is a film about a team of dudes who are in their 20s having the time of their life. And they had names, and they had fun."
As the Shorties kidded and interrupted each other during our conversation, it became apparent that they're still enjoying themselves and the memories of their triumphs over the Laker Girls and others. But they're also still working to pay their bills. That, says Kevin Thompson, is the ongoing challenge faced by little people.
"Well, the wolf is always at the door, so we're always looking for roles. Got anything, Bill?"
No, right now I don't have anything for them, though if any of my books get sold to Hollywood … well, nevermind that. I will say that from the office window, I can see a couple of basketball courts, should the Shorties wish to put together a reunion tour and take on the Only A Game staff for purposes of fun, good will and the joy of watching Tony Cox launch one more underhanded fling from half-court.
The documentary titled "Hollywood Shorties" will be available on iTunes, Amazon, Google Play and other video streaming platforms starting Nov. 22. You can see Tony Cox in Bad Santa 2, in theaters on Nov. 23.
This segment aired on October 15, 2016.