Droughts, Curses And Loyalty: Who Deserves The World Series Title More?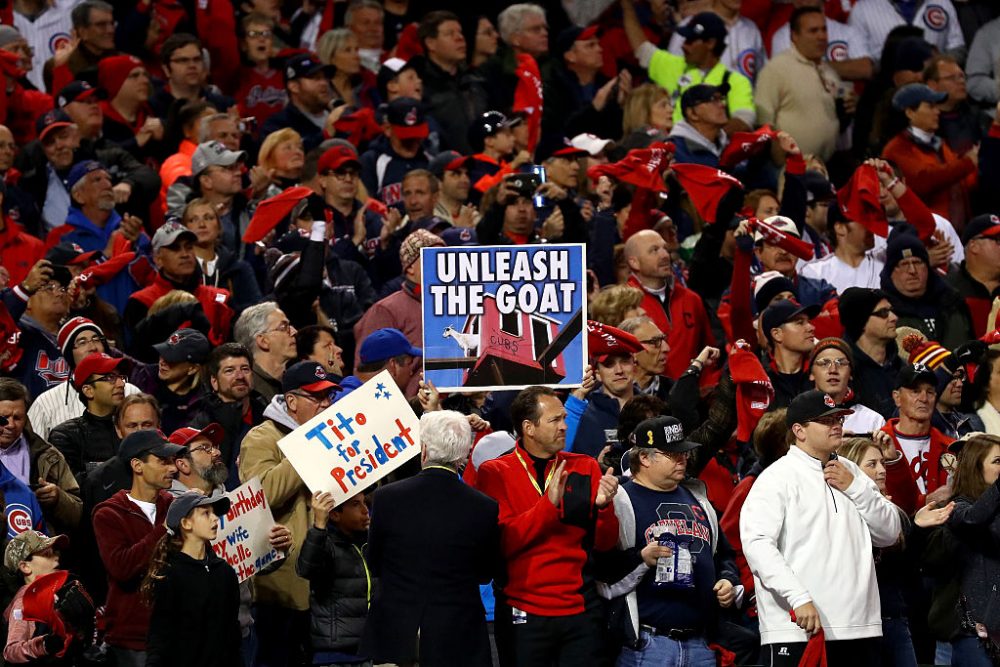 This article is more than 4 years old.
Cubs or Indians? Chicago or Cleveland?
This year's MLB postseason is down to two teams, both in the midst of lengthy World Series title droughts. Which should you root for? Here are some reasons each team deserves to take home the Commissioner's Trophy at the end of the series.
Long Droughts
A few dates to consider:
1908: The last time the Cubs won a World Series title.
1945: The last time the Cubs took a National League pennant.
1948: The last time the Indians won a World Series.
The Cubs have the longest World Series drought in MLB history and in any major American sport. The second longest World Series drought goes to the Tribe.
Curses
Fans from both camps point to curses. The Cubs need to break the infamous Curse of the Billy Goat. As Jack Dickey of Sports Illustrated writes, "What's more bizarre than the idea of an area saloonkeeper, vengeful after being ejected with his goat from Game 4 of the 1945 World Series, putting an eternal pox on the Cubs?" Bizarre, sure. True? ...maybe.
The Indians have their own, lesser-known curse: The Curse of Rocky Colavito. A fan favorite and star player from 1955 to 1959, Colavito was traded to the Tigers in 1960s. Fans blame the Indians General Manager Frank "Trader" Lane for ensuing decades of futility.
Fans Have Been Loyal For A Long Time:
One-hundred-and-four-year-old Indians fan Emily "Nana" Serian was in attendance the last time the Indians won the title in 1948.
Dorothy Farrell is a 90-year-old Cubs superfan. She's had VIP seats at Wrigley since '84:
To Put Things In Perspective...
 Prior to the Cavaliers victory in June's NBA Finals, the city of Cleveland hadn't won a championship in any major sport since 1964 (when the Browns beat the Colts in the '64 NFL Championship Game — two seasons before the first-ever Super Bowl).
And the last time the Cubs celebrated a World Series win:
In 1908, sliced bread hadn't been invented yet. (President Obama had some words about that.)
Teddy Roosevelt was president.
The Ford Model-T began production.
There were only 46 states.
TV hadn't been invented yet.
But one fan's prediction from years ago might finally pay off: