3 Stories: Sports Reacts To Trump, Chapman's Negotiations, 3-Point Record
10:03
Play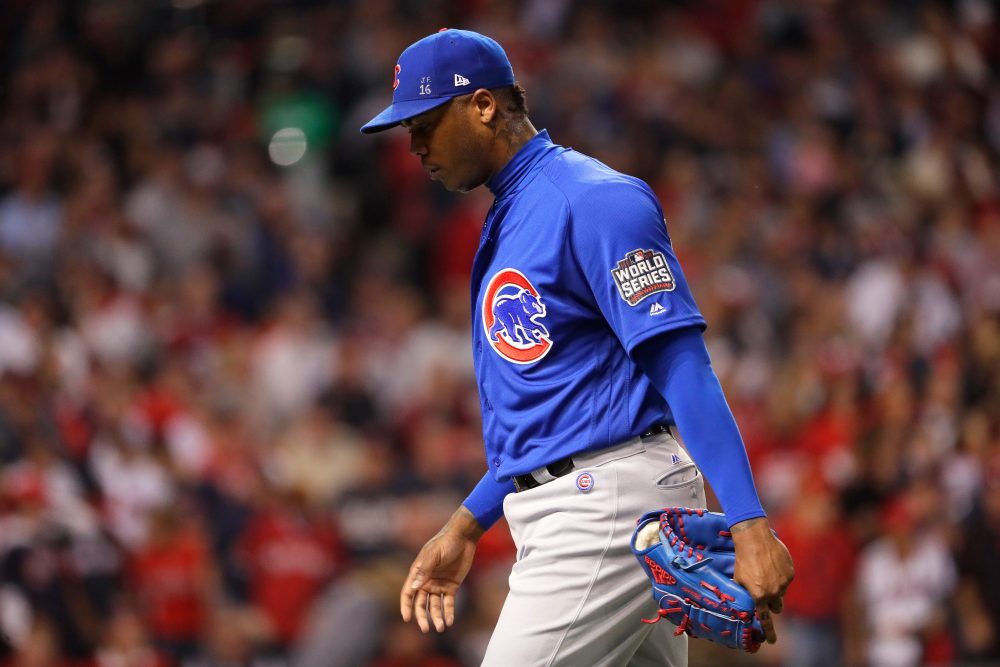 This week's edition of 3 Stories You Should Know begins with a look at an area where sports and politics intersect. Mike Pesca of Slate's podcast The Gist and Erik Malinowski of Bleacher Report join Bill Littlefield to discuss how the sports world reacted to the presidential election, Aroldis Chapman's contract negotiations, and the NBA's 3-point record.
1. The Sports World Reacts To President-Elect Trump
Mike Pesca sees reason to pay attention to the way coaches in two American sports leagues reacted to the election of Donald Trump.
We seem to have very much missed the phenomenon that seems to have driven Trump into office. These disaffected, downwardly mobile, white voters--white men. But maybe they show up in a place like the NFL, which is still the dominant cultural force in America. And the difference between NFL coaches' reactions and NBA coaches reactions were illustrative. The NBA was saying one thing about Trump, and the NFL was saying something different.
2. Free Agent Aroldis Chapman And His Reputation
Relief pitcher Aroldis Chapman is a free agent, and there are talks of him going to the Dodgers or the Yankees for as much as $100 million. Last year, Chapman was accused of choking his girlfriend. He admitted to firing a gun in the incident and served a MLB suspension. Bill asks: Was Chapman's value diminished at all?
Erik: Pretty much all elite athletes, they really kind of don't make the amount of money that they actually should be making if you look at it sort of like a however many millions of dollars per win added is actually worth.

Mike: Does Aroldis Chapman's 100-mile-an-hour fastball warrant his contract? No, but he does have a 102 with movement, and that might.
3. Donyell Marshall's 3-Point Record Broken
Steph Curry hit 13 3-pointers on Monday, breaking Donyell Marshall's previous record of 12. Erik Malinowski thinks Marshall, who was knocked from the NBA record books, reacted graciously and respectfully.
You would think that he would have every right to be bitter or upset about that, but he tweeted:



Waking up to the news of @StephenCurry30 breaking record with 13 three's. Congrats. Knew it was only a matter of time. #itwasagreat11yearrun
— Donyell Marshall (@Dmarsh42) November 8, 2016

Maybe we should have a little bit more Donyell in today's sports.
More Stories You Should Know:
This segment aired on November 12, 2016.