The Rise Of Nike — And One Former NBA Player Trying To Change Sneaker Culture
08:26
Play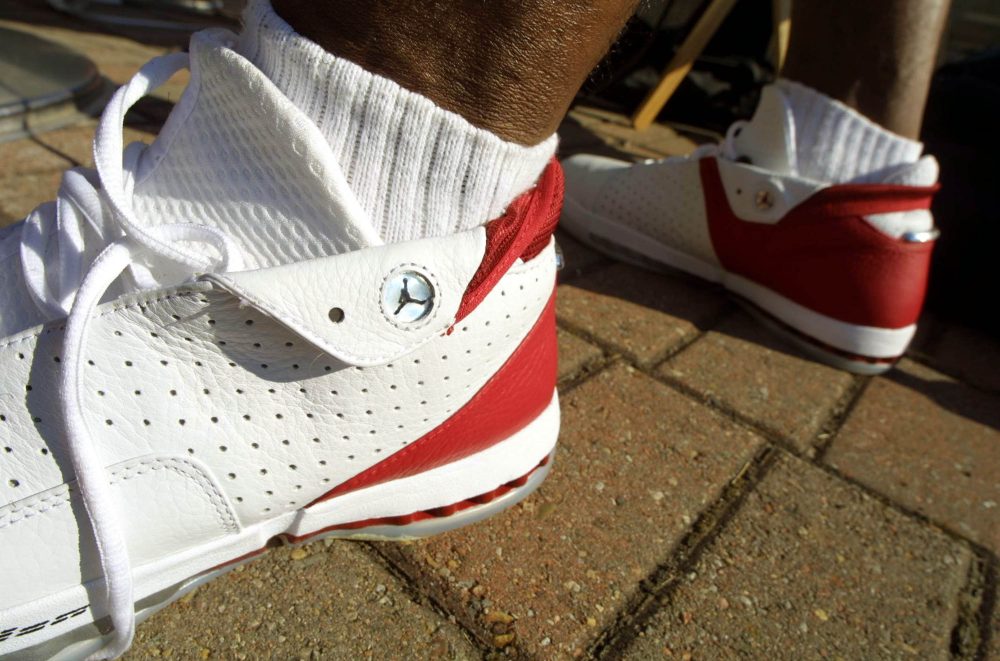 This article is more than 4 years old.
"When I was a kid, you got Keds. If you were playing basketball, you got Converse, and that was kind of it," says Rick Telander, late of Sports Illustrated, longtime recreational basketball player. "And if you ran track, you just took whatever, say, the school gave you, or whatever they had at the sporting goods store."
Fast-forward to the present. Over the past 40 years, the shoes in which famous and wealthy men play basketball in the NBA have become desirable to people who play basketball at a much lower level … and to people who don't play basketball at all, and that has led to some grim results.
The Birth Of Nike
But first things first, and one of the first things of note in this story is Phil Knight. As a young man in the mid-'60s, Knight saw a need for better track shoes. He built a partnership with manufacturers in Japan, where the labor was less expensive.
Knight had decided that without an Olympian in his shoes, his company would lack status. In 1976, Frank Shorter stepped to the Olympic marathon starting line to defend his gold medal. Shorter was supposed to be wearing what Knight was selling. But when the camera zoomed in on Shorter's feet, he wasn't. In a new book, "Shoe Dog," Knight recalls how he slipped from his recliner to the floor, drew the curtains and switched from water to vodka.
It was a rare setback. By the mid-'70s, at an industry conference in Chicago, Knight was able to crow that he wasn't in the shoe business: he was in the entertainment business.
It followed that Knight had to have more entertainers in his shoes.
In 1977, somebody from Nike got a pair of shoes called the "Senorita Cortez" to Farrah Fawcett, then starring in a TV show called "Charlie's Angels."
The shoes showed up on screen. And according to Knight, by noon the next day, every store carrying the Senorita Cortez had sold out.
Even that was small potatoes compared to what Phil Knight and Nike would eventually accomplish in terms of creating a need.
'Gotta Be The Shoes'
In 1984, Nike established a partnership with a basketball player who had failed to make his high school team as a sophomore, and then had a pretty good run at the University of North Carolina. But when he came to Chicago to begin his pro career, he was not exactly a celebrity.
"He didn't even have a ride to pick him up to take him to the hotel where they were staying," Rick Telander says. "And a guy, a limo driver named George Koehler, happened to be there. He recognized Michael. Michael was just standing there on the curb with his bags. And George said, 'Hey, man, you're Michael Jordan. You need a ride?'"
Jordan initially had no interest in Nike. He'd worn Adidas shoes in college and saw no reason to switch, until Nike and Jordan's agent provided him with about 7 million reasons. Phil Knight was able to bankroll that kind of agreement because he'd been building his shoes in ever-less expensive places, all of them free of the labor laws in countries like the U.S.
Michael Jordan didn't ask any questions about that, and he no doubt relished the opportunity to become an influential presence in the lives of lots and lots of people who might not have known a Chicago Bull from a Detroit Lion, but who were ripe for a salesman's pitch based on a fellow who could fly.
"Very early on, they had Spike Lee. Spike Lee used his brilliance with Michael Jordan," Telander explains. "That classic line: 'Mike, is it the shoes? Is it the shoes? It's gotta be the shoes!' And the question was obviously it is the shoes for you, kid, that makes Michael Jordan so special."
The company's profits soared.
But Rick Telander was beginning to notice something ominous.
The Ugly Side Of Sneaker Culture
"This is back when the internet was pretty new, so I would collect, actually, as I traveled around the country, I would read newspapers and I'd cut the clippings out," Telander says. "They'd be on the crime page, or whatever."
Before long, Rick Telander had enough clippings to convince his editors at Sports Illustrated that there was a story. Children without new sneakers were mugging — sometimes even murdering — the kids who had them. But for the story to resonate, Telander felt he'd better include Michael Jordan himself in the narrative. Fortunately, they had a relationship.
"I'd known him. We talked to him whenever we wanted," Telander says. "So after practice, we went into this little room. And I just broke it down for him."
"They're selling a false reality in the game of basketball, if you think that you're going to take flight like Jordan. It's an illusion."

Stephon Marbury
Telander told Jordan about a ninth-grader found strangled in a Maryland high school, killed by a basketball teammate for his Air Jordans. He told Jordan about a 13-year-old shot dead in Detroit for his sneakers, and a 17-year-old in Georgia, robbed of his money and murdered for his shoes.
"And I bring up this issue and said, 'What do you think? This is for real. Do you take any responsibility for this?' We talked for a long time," Telander says. "He started to come to tears. I think they were authentic. I think they were genuine."
"I thought I was helping out others and everything would be positive," Jordan told Telander. "But when it comes to kids killing each other, then you have to reevaluate things."
But no "reevaluation" was apparent. Jordan continued to partner with Nike, and Nike  continued to manufacture the shoes for very little and sell them for a lot. Sometimes over $200 per pair.
The $15 Shoes Trying To Change The Game
Among those impressed by those ads was a young man in the projects in Coney Island, New York.
"Easter was a time when everybody got new clothes," Stephon Marbury recalls. "Everyone would wear their best outfits to church and then they'd go and wear their best outfits after church to go to the amusement park and to get on the rides. You really wanted to have the newest trend in shoes, which were the Jordans."
Marbury had six siblings, and his mother was having none of his pleas for new Nikes.
"Jordan, those $200 sneakers you're selling? Kill it, man. Stop poisoning the hood, man. It's time for change, man. Let it go, man."

Stephon Marbury
"Oh, there wasn't no convincing her," Marbury says. "I'd beg her, but I already knew it was pretty much an automatic 'No.'"
But, who knows? Maybe the "No" helped motivate Marbury to become a good enough basketball player to make the NBA. Because that's what he did. He played for 13 years. And by that point, he'd seen the ads for the shoes for what they were.
"They're selling a false reality in the game of basketball, if you think that you're going to take flight like Jordan," Marbury says. "It's an illusion."
Marbury was also aware of the illusion that went beyond basketball. He began publicly challenging the man he felt was responsible.
"Jordan, those $200 sneakers you're selling? Kill it, man. Stop poisoning the hood, man. It's time for change, man. Let it go, man," Marbury said in a recent video.
For the last several years, Stephon Marbury has been playing pro basketball — and winning championships — in China, where he has become something of a hero. He's also gone into the shoe business by relaunching the Starbury, a $15 sneaker he first marketed 10 years ago. He sees himself as kind of an anti-Jordan.
"For kids to kill another kid for a pair of Jordans, I think that's brainless," Marbury says. "But the people who are behind that and knowing that this is going on, it seems to be a little heartless."
The Starbury brand has already provided Marbury with encouraging stories.
"It's cool. One kid saved his money and went and spent his $15 to buy a pair of shoes," Marbury says. "It was one of the cutest little things, seeing a kid actually saying, 'I have $15. My mom doesn't have to buy my shoes anymore. I can buy my own shoes.'"
Starburys haven't got Phil or Michael shaking in their Air Jordans. But the relaunch has given youngsters and their parents an alternative. This time around, Stephen Marbury hopes it will be an alternative that will last.
"This is something that's needed, because I was one of those kids," he says. "It's not to go against Jordan or to go against Nike. It's to actually set an example for them. This is forever."
"Forever" might be a stretch. It might be a start.
This segment aired on November 12, 2016.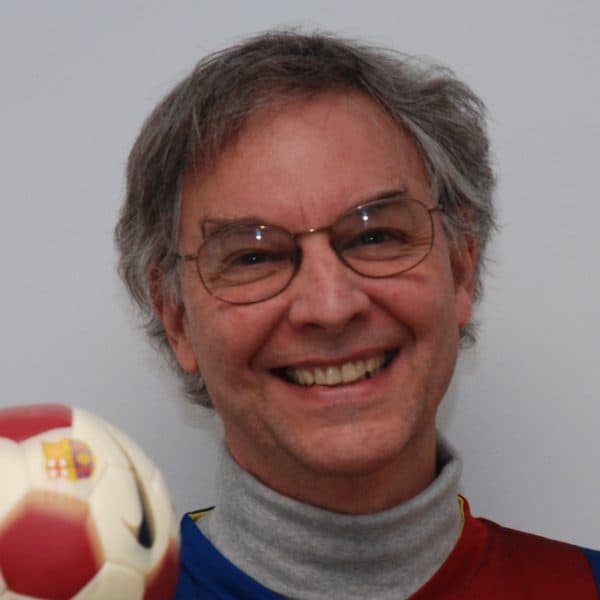 Bill Littlefield Host, Only A Game
Bill Littlefield was the host of Only A Game from 1993 until 2018.