Latest Show: The 0-26 Yuks, Nike Vs. Marbury, A Hardwood Mystery
47:42
Play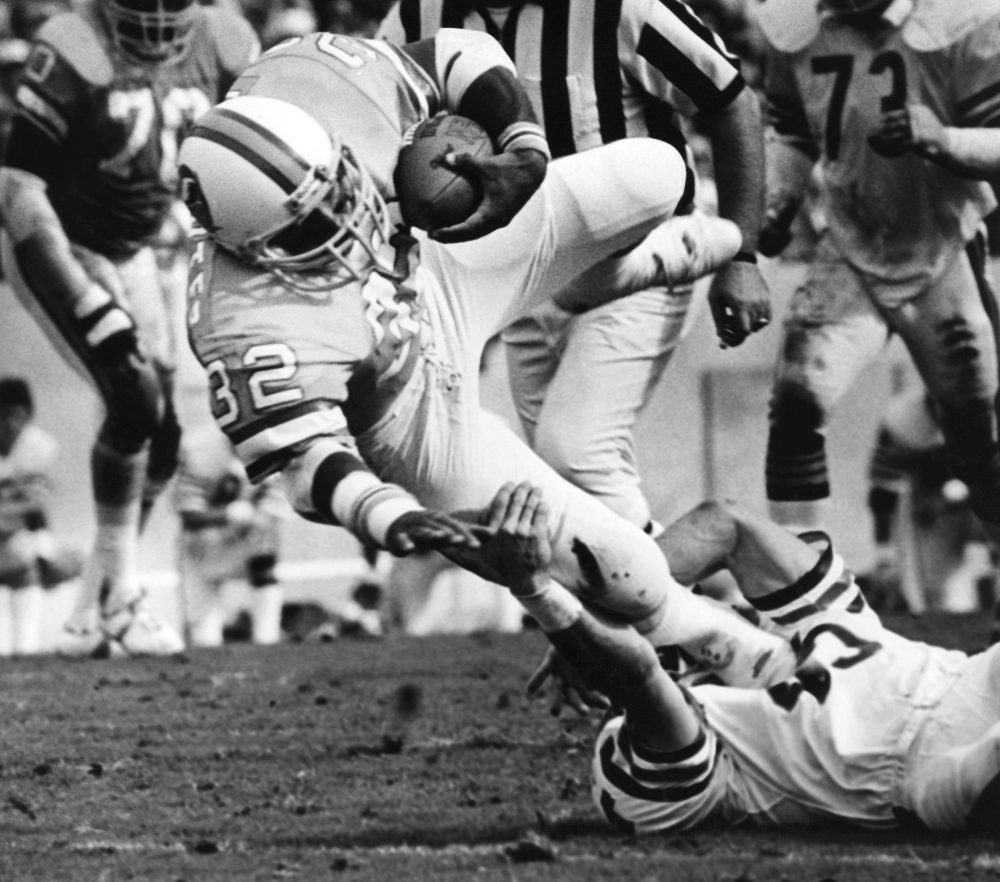 This article is more than 4 years old.
Forty years ago, the Tampa Bay Buccaneers entered the NFL as an expansion team. They lost their first 26 games. This week on Only A Game, former Bucs players share stories from those early years. Also, basketball sneakers used to just be basketball sneakers. Now they're status symbols. From Oregon to Japan to Chicago, we trace the history of Nike — and meet Stephon Marbury, who's trying to change the sneaker game. And the USC basketball court is named after a former player who never averaged more than 10 points a game. Why? Find out on this week's show!
Find out how to tune in live here — or subscribe to the podcast on iTunes or Stitcher.
---
The Rise Of Nike — And One Former NBA Player Trying To Change Sneaker Culture
Basketball sneakers became more than just shoes with the explosion of Nike and Michael Jordan. Following that rise came sneaker-related crime and violence. Former NBA All-Star Stephon Marbury is trying to change the game with a $15 sneaker.
Bill Littlefield Once Hit A Home Run
"My youth league baseball career was dotted with humiliations," Bill Littlefield writes. But, one time, he hit a home run. Littlefield recalls that Saturday afternoon when his father and grandfather watched him run around the bases... perhaps a bit slowly.
3 Stories: Sports Reacts To Trump, Chapman's Negotiations, 3-Point Record
What can we learn from the different ways coaches in the NFL and the NBA reacted to Trump's election? Does Aroldis Chapman's reputation de-value his free agency? What happened to Donyell Marshall's three-point record? Mike Pesca of Slate podcast The Gist and Erik Malinowski of Bleacher Report join Bill Littlefield.
The Story Behind The Name: USC's Jim Sterkel Court
Jim Sterkel played USC basketball for two seasons in the mid-1950's. He never broke any scoring records, and his team didn't win any titles. He didn't even graduate. So why did USC put his name on their basketball court?
Charlie Pierce: The Week In Sports
Bill and Only A Game analyst Charlie Pierce sift through reactions to Donald Trump's election from around the sports world. They also discuss recent votes for new, publicly funded sport stadiums — and look at the latest pack of animals to invade a golf course during play.
26 Straight Losses: Two Seasons With The '76-'77 Tampa Bay Bucs
After the Bucs joined the NFL in 1976, the team lost 26 games in a row and became a laughingstock. Still, some members of the early Tampa Bay teams say they would never trade those years away.
This program aired on November 12, 2016.