How A Phone Call Helped Turn An Olympic Letdown Into A World Record
Play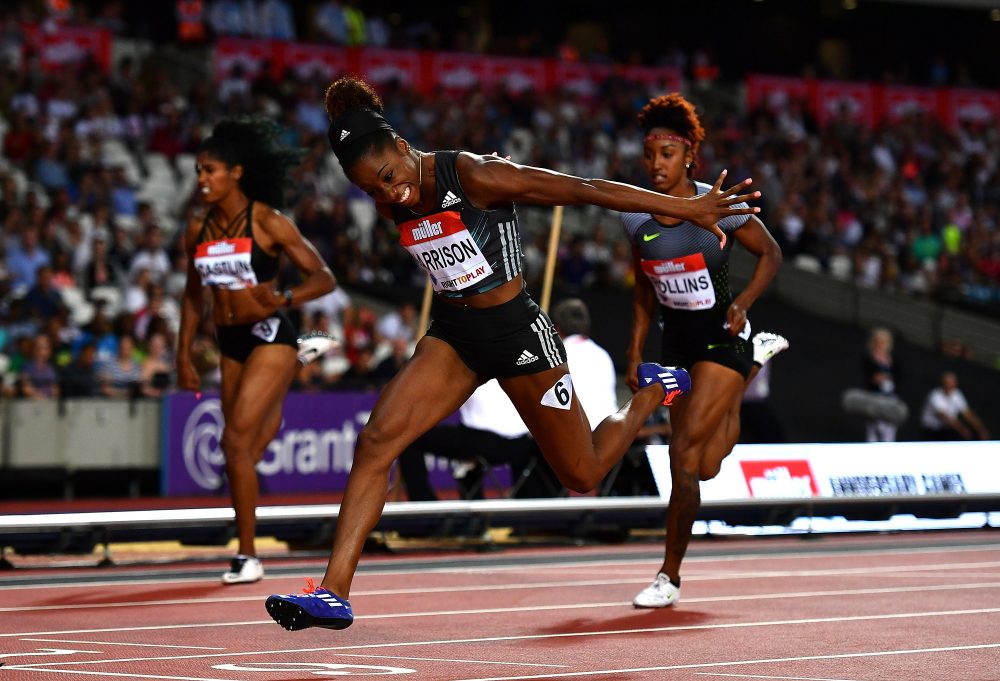 This article is more than 6 years old.
In March of 2015, University of Kentucky track and field coach Edrick Floreal had a problem. His most promising hurdler, senior Kendra Harrison, kept folding under pressure at big meets. Coach Flo, as Harrison calls him, had an idea.
"Right before my indoor nationals my senior year, he told me that I was kinda like Superman," Harrison says. "You know, off the track, Clark is a quiet person — he has glasses on, nobody really knows who he is. But, you know, when he puts his cape on, then he just transforms into a superhero. And he was like, that's what I need to do. I need to take my glasses off and I need to get on the line and run like the way that he knows I can and just having that confidence."
And the crazy part is — it actually worked. Harrison won her first NCAA title. Then the track season moved outdoors, and she kept winning.
"You know, everything just started falling into place, just by believing in myself," Harrison says.
Next Up: The Olympic Trials
In 2016, Harrison turned pro, and the wins kept coming. She won seven races — in a row. In May, she set a new American record in the 100-meter hurdles. Her time of 12.24 was the second fastest time in history — and within striking distance of a world record that had stood since 1988. Next up? The Olympic trials.
"So everyone assumed, 'Oh, it's going to be a piece of cake for Keni to go out there and make that team.' But getting on the line and actually performing, it was — it was a lot," Harrison says. "And it wasn't a lack of confidence, like it had been in the past, but it was just more of ... just going out there and doing it."
Harrison felt confident through the prelims, but in the semis she came in second. It was the first time anyone had beaten her all season long.
"It was pouring down rain, and coach Flo is trying to say, 'OK, we got one more round. Shake it off. You're going to be fine.'"
But standing on the starting line, the voice inside Harrison's head didn't tell her to win the race. It told her, "Just finish in the top three. Just make the Olympic team." It was the first time in a long time that her goal wasn't to win.
"The gun went off, and I didn't get out as fast as I usually had. I realized I was in second," Harrison recalls. "And then I was just telling myself, 'Oh, just, you know, you're in second place, just stay right here — instead of kicking it into gear and trying to win. I settled for second and then next thing you know I'm in fourth and then fifth and then — "
Harrison finished in sixth with a time of 12.62.
"It was a hard day. A horrible race," Harrison says.
"And afterwards, you had to face people like me," I say.
"Yeah, you know, you had to walk through the mixed zone to get to your bags and things," she says.
In the mixed zone, athletes can't escape the media. And for athletes who've just lost when they were expected to win, it can be torture.
"So, you know, of course, all of them were surrounding me and asking me questions," Kendra says. "'What happened out there? Are you OK? Are you injured?'"
If you watch that YouTube video closely, you can see how hard Harrison's working to keep smiling. Once or twice, her face drops and she starts blinking. And then...
"I think I just walked away," she says.
A New Plan
Harrison had no hope of going to Rio, but she had four more meets in her professional season. So she came up with a new plan. She would break that world record. Nothing else would do.
Two weeks after her disappointment at the Olympic trials, Kendra Harrison was getting ready to go to London for a Diamond League event. She says she was still a little shaken from that loss.
That's when her phone rang. It was a former coach. The two hadn't spoken since high school.
"I couldn't believe it, actually, and she was like, 'Hey, this is Coach Sally.' And I was just like, 'Hi, like I haven't spoke to you in a very long time.' And she was, like, 'Yeah, you know, but I've been watching you and I've been watching your career unfold.'"
Coach Sally was calling with a message.
"She was telling me, you know, 'I felt like God was telling me to tell you to keep going and to not give up on yourself,' so that's all I needed to hear," Harrison says. "I just turned my mind all the way around and only said positive things and spoke it into existence."
So every time reporters in London peppered Harrison with questions about what went wrong at trials, she came back with some version of, "The rest of my season I'm going to go after this world record and win the Diamond League."
Frustration Becomes Celebration
During warm-ups for that London Diamond League event, Harrison ran some of the fastest times her coach had ever seen. He didn't tell her, though. He didn't want to make her nervous.
In prelims, Harrison ran a blazing fast 12.4.
"So, running 12.4, I felt like my old self again. I was like, well, I'm back, and I'm ready for finals," she says.
"I just remember myself pushing off the blocks and feeling really good. And going over the first couple hurdles, I felt myself going faster," Harrison says. "And I kept telling myself, 'Keep going, keep going,' and I just leaned as hard as I could."
Harrison won by a huge margin, but according to the stadium clock, she hadn't done what she'd set out to do. She hadn't broken that world record.
"I remember looking up and I saw 12.5, and I was just like, 'Keni, be grateful that you came out here and you won. And you just beat three of the girls that are going to Brazil,'" she recalls. "So I turned — I just thought positive thoughts."
But the clock was displaying the time for the second place finisher. Harrison had leaned so hard at the line that she had ducked under the timer. And she didn't even notice when her new, official time flashed up on the screen.
"No, I mean, I remember the crowd getting really loud, but I just, I don't know. I was just like, 'Oh, they're just happy that I won,'" Harrison says. "And then I remember Nia Ali tapped me on the shoulder and was, like, 'Look Keni.'"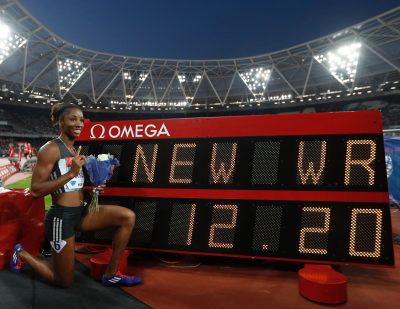 With an official time of 12.20, Harrison was the new world record holder in the 100-meter hurdles.
Harrison called coach Sally back and thanked her. And then, August rolled around.
"Did you watch the Olympics?" I ask.
"Yes," Harrison says.
"And what was that like?"
"It was hard, but I just took it as motivation," she says. "And when I was at practice, all I kept thinking about was, 'The Olympics are on right now, so train hard, because your time will come.'"
The Tokyo Olympics will kick off on Friday, July 24, 2020, and Kendra Harrison plans to be ready.
This segment aired on December 17, 2016.