Latest Show: Equipment Manager's NHL Dream, Baseball In Uganda, More
47:25
Play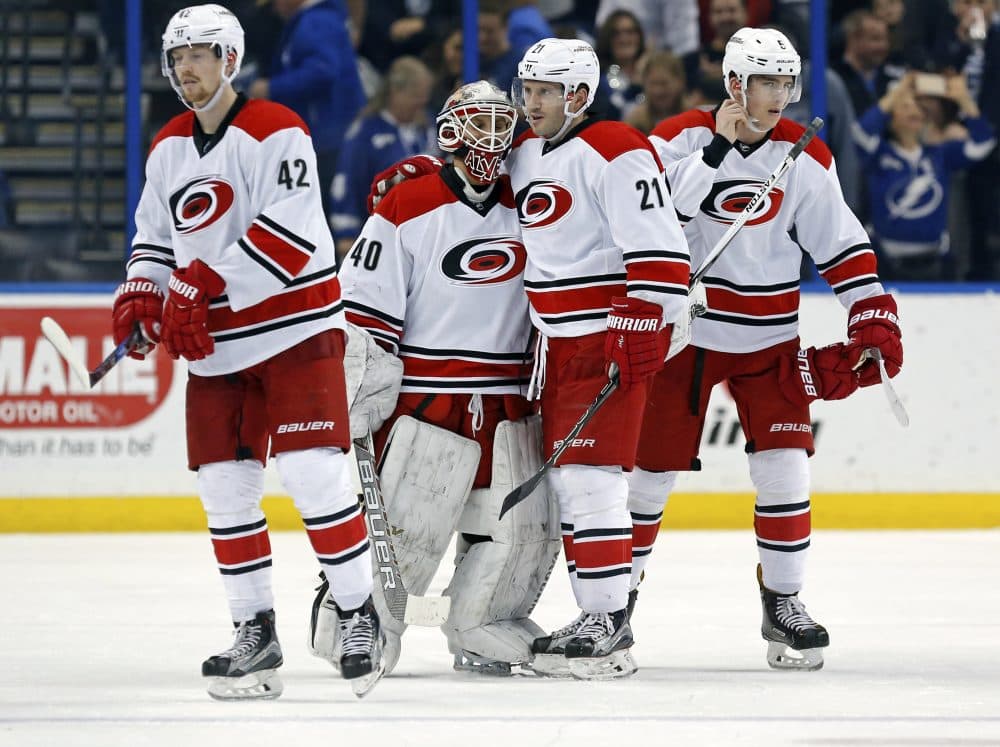 This article is more than 3 years old.
When the backup goalie for the Carolina Hurricanes fell ill, the team needed to find a replacement — fast. They called on their equipment manager. This week on Only A Game, Jorge Alves shares the story of an NHL dream come true. Also, a somewhat aimless college grad finds purpose as an assistant baseball coach — in Uganda. Plus, Imogene Fish fled from Germany before WWII. And in 1952, she competed for the United States at the Winter Olympics. Join us!
Find out how to tune in live here — or subscribe to the podcast on iTunes or Stitcher.
---
An NHL Equipment Manager's Lifelong Dream, Fulfilled In 7.6 Seconds
When the Hurricanes backup goalie fell ill just hours before a game, the team called on Jorge Alves — an equipment manager. For Alves, who spent years bouncing around the minor leagues, it was a dream come true.
Littlefield: 'They Are Not Like Us, These Pro Athletes'
Professional athletes play a different game than the rest of us. Bill Littlefield remembers the moment he learned that. It came when he attended a youth hockey clinic featuring three players from the New York Rangers.
3 Stories: Oregon Players Hospitalized, Allonzo Trier, Sports Gambling
Is enough being done to ensure that college sports workouts are safe? Is the NCAA's policy on performance-enhancing drugs fair? And should the Supreme Court allow sports betting in New Jersey?
After Fleeing Nazi Germany, Imogene Fish Found Skiing — And A Spot On Team USA
In 1940, Imogene Fish and her family fled Germany for the United States. Twelve years after their arrival, Team USA chose Imogene to represent the country at the '52 Olympics in Norway.
Charlie Pierce: The Week In Sports
Bill and Only A Game analyst Charlie Pierce discuss the latest class headed to Cooperstown, the state of the Oakland Raiders, an NHL goal frenzy and the UConn women's basketball team's winning streak.
Rookie Coach Follows Team Uganda To The Little League World Series
After college, Evan Petty wanted to coach baseball. But he didn't have any experience or training. So he moved to Uganda.
This program aired on January 21, 2017.