3 Stories: Hatred For Tom Brady, Golden State Supervillains, Duke Basketball
07:20
Play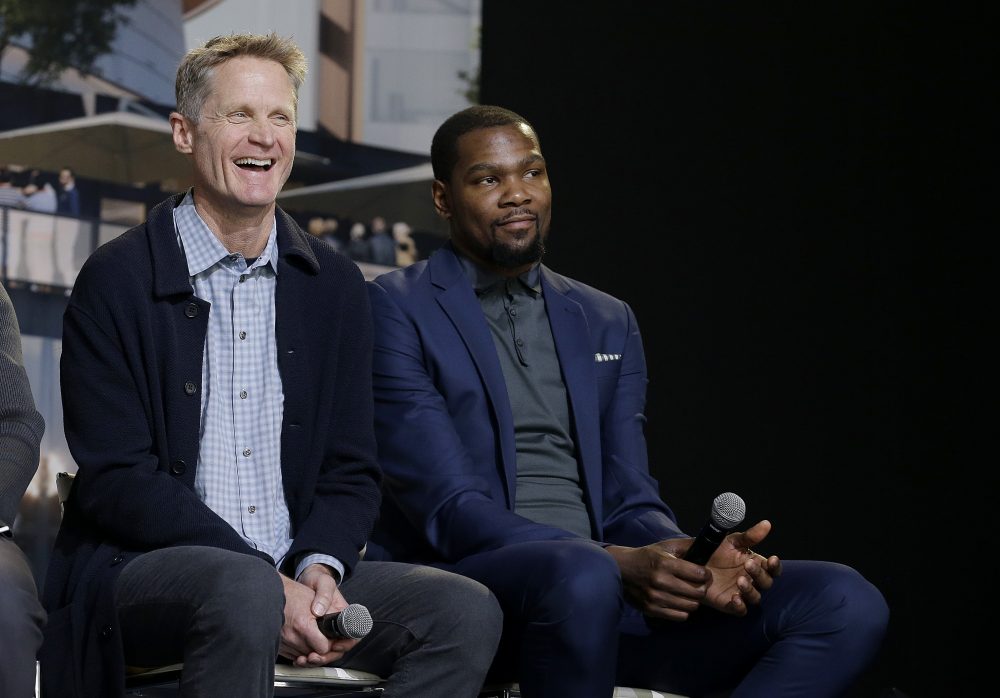 This article is more than 3 years old.
On Jan. 17, the Golden State Warriors broke ground on the Chase Center, their future home in San Francisco (set to open for the 2019-20 season). The ceremony was complete with acrobats, break dancing, augmented reality and golden shovels.
Does this display officially make the Golden State Warriors supervillains? That — and more villainy — on this week's "3 Stories You Should Know."
Sports on Earth's Will Leitch and The Ringer's Claire McNear join Bill Littlefield.
1. Is It Silly To Hate Brady And The Pats?
Whether it's because of Deflategate or the four (and potentially five) Super Bowl championships, Brady has been deemed a villain by many football fans. Will Leitch thinks those fans should reconsider.
I was thinking about the idea that in, like, 20 years my children are going to ask me, "Wow, look at Tom Brady. Look what he did. What was it like to watch him?" And I'm going to have to say, "Oh, well, we all responded by drawing genitalia on his face on Twitter." That's exactly what we did, to respond to the greatest athlete of our time. Remember, Ted Williams was once a great villain. These great villains of their time are already — now A-Rod gets his own TV show, and everybody loves Reggie Jackson now.
2. Warriors' Status On Display
When the Golden Warriors leave Oakland in a few years, they'll be headed to an arena paid for entirely by private funds, according to San Francisco Mayor Ed Lee. And with a lavish groundbreaking ceremony to boot, the wealth of the Warriors is now front and center. Claire McNear says the extravagance adds a new dimension to backlash against the team.
The Warriors have the best record in the NBA, and we're deep into the backlash against a team that just a year ago was America's sweethearts. They've tied themselves to Silicon Valley, and they've made a point of saying they're not just better than you — they're richer, too, and they're glitzier, and bigger and fancier. So I say welcome to the Warriors, the NBA's newest supervillains.
3. Coach K's Discipline At Duke
After the Duke men's basketball team lost against NC State on Monday, coach Mike Krzyzewski banned his players from the locker room and told them they couldn't wear any team gear because they weren't "living up to the standards of the Duke program." Bill Littlefield is puzzled by the move.
Forbidding the players from going into their locker room? I mean, why not make them sit in a chair facing the corner? I just, it feels like Coach K has made a figure fun out of himself, and I don't think that's at all what he intended to do. What happens if Duke loses another game? They make the players turn in their free Nike sneakers and walk around the campus barefoot, I guess.
More Stories You Should Know
This segment aired on January 28, 2017.