3 (Super) Stories: NFL Spin, Meh Matchup, Movie Alternatives
11:20
Play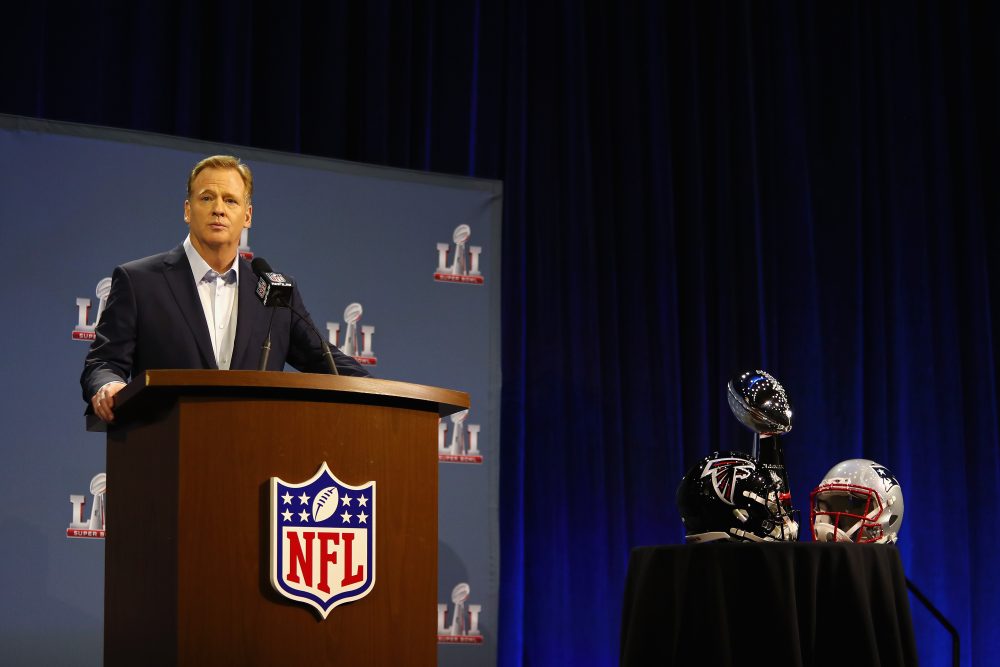 This article is more than 3 years old.
There's really only one, "Super" story on this week's edition of "3 Stories You Should Know." And unless you've been living in a cave with no WiFi, you've already heard about it.
WBUR's Shira Springer and Mike Pesca, host of the daily Slate podcast the Gist, joined Bill Littlefield.
1. Trump, The IOC And The NFL: Shared PR Tactics?
While in Houston for the Super Bowl, Shira Springer has noticed that reporters are asking questions about Deflategate and franchise relocations — but not about head injuries or domestic violence. Shira wonders if this is the result of a strategy from a PR playbook used by the IOC and the Trump Administration:
The NFL, the IOC and the White House seem to employ the same strategy when it comes to spin. Namely, overload the media and hope they don't have time to ask the tough questions and dig deep into controversial issues. Roger Goodell's State of the NFL press conference on Wednesday provided a really good example of that. While Goodell took five questions about Deflategate, a few about franchise relocations and one about loosening restrictions on marijuana use, the 40-minute press conference did not include a single question about concussions.
2. A Boring Matchup?
Mike Pesca typically gets excited by talk of tactics and strategy leading up to the Super Bowl, but this year he's not really feeling it.
I don't care. Why don't I care? Part of it's because I have been uninvested in the NFL all season. I thought it was a boring season. It was an extra-boring postseason. But if ratings are down 8 percent, my interest is somewhere down 38 percent. I know it's not because Colin Kaepernick kneeled. I don't think it's because of head trauma. I've found a way to live with that, whatever you want to call it — justify that, tell myself whatever stories I need to tell.
3. Sunday Night Alternatives
For the dozen or so people who don't want to watch the Super Bowl, Bill Littlefield has some movie recommendations. He hasn't yet seen "La La Land," but he gives high marks to "Lion" from director Garth Davis.
Nice story. Happy ending for everybody. And the Super Bowl, of course, only has a happy ending for one of the two teams, so "Lion" is at least twice as good as that. Go to the early show, leave your phone home, have a nice dinner at a restaurant where there are no TVs and, by the time you get home, you'll have missed the game.
More Stories You Should Know
This segment aired on February 4, 2017.