Latest Show: The Life And Legacy Of Jackie Robinson
49:11
Play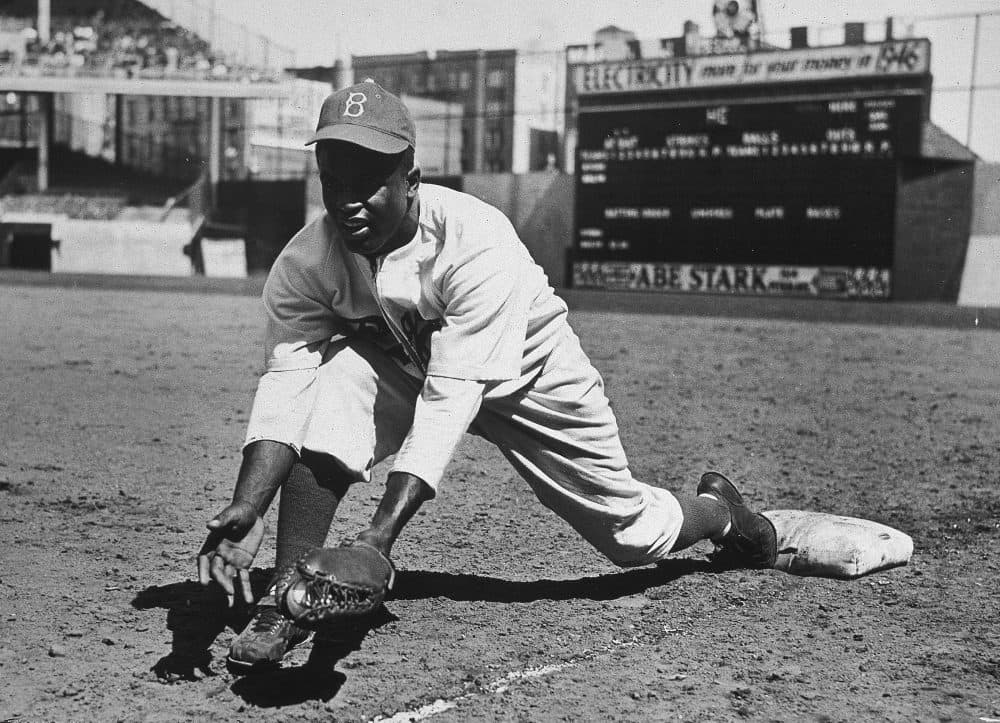 This article is more than 3 years old.
This week on Only A Game, we're celebrating the 70th anniversary of the integration of baseball with stories about Jackie Robinson. We'll learn about the advice and encouragement Robinson gave to Boston politician Ray Flynn when he was just 10 years old. Plus, the story of a decades-long feud between Robinson and former Dodgers manager Leo Durocher. And former Major Leaguer Lou Collier is trying to bring baseball back to the South Side of Chicago. Join us!
Find out how to tune in live here — or subscribe to the podcast on iTunes or Stitcher.
---
A History Of Jackie Robinson's Eight Statues
This weekend, an eighth Jackie Robinson statue will be dedicated outside Dodgers Stadium.
Before Meeting Popes And Presidents, Ray Flynn Was Robinson's 'No. 1 Fan'
During his political career, Ray Flynn served as mayor of Boston and the U.S. Ambassador to the Vatican. But before all that, he was a poor kid growing up in Southie, and Jackie Robinson was his hero.
3 Stories: Triple-Doubles, MLB Domestic Violence, Friendly Raiders
Can Russell Westbrook be the new face of the NBA? How should MLB handle domestic violence counseling? And do the Oakland Raiders have a new image? Julie DiCaro and Kevin Merida join Bill Littlefield.
Jackie Robinson's Complicated — And Changing — Relationship With Leo Durocher
Jackie Robinson and former Dodgers manager Leo Durocher led very different lifestyles and feuded for years. But by the end of their lives, they had more than reconciled.
Charlie Pierce: The Week In Sports
Bill Littlefield and Only A Game analyst Charlie Pierce discuss the the NBA Playoffs, a $500,000 bonus for Moe Harkless, Eli Manning and a Pittsburgh Penguins superfan.
On Chicago's South Side, Lou Collier Tries To Stage A Baseball Comeback
By the 1970s, African-Americans made up close to 20 percent of all MLB players. That number stayed in the high teens through the early 90s. And then it dropped. Former Major Leaguer Lou Collier watched that decline and is now trying to reverse the trend.
Littlefield: Work To Be Done In Honoring Jackie Robinson's Legacy
It's been decades since Jackie Robinson broke baseball's color barrier, but Bill Littlefield says there's still much to be done in the fight for equal rights and opportunity.
This program aired on April 15, 2017.