43-Inch-Tall Sports Fan Sneaks In, Gets Photos, Becomes Millionaire
Play
This article is more than 5 years old.
Want more Only A Game? Follow along on Facebook and Twitter.
---
On Jan. 11, 1976, Mace Bugan recorded a breakfast meeting of the Easton, Pennsylvania chapter of B'nai B'rith, a Jewish service organization.
"The guest speaker will be Mr. Morris 'Mace' Bugen," Mace Bugen says on the recording, "whose topic will be, 'Famous People I Have Met: with scrapbooks and memorabilia.'"
The tape cuts off and then picks up again at the breakfast. Mace is almost ready to start his talk.
"Now some of you fellas, like the doctor and a few others, if you want to push back, I can see your faces," Mace says. "I don't want to talk to the wall."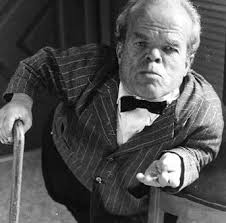 I went to enough small town Rotary Club meetings as a kid to be able to visualize this room full of men, dragging their chairs around to face the podium. But what's harder to picture is Mace Bugen, the man who has no problem barking orders at the members of the Easton B'nai B'rith, and who stands just 43 inches tall.
"I was born in Phillipsburg, New Jersey — that's across the Delaware River Bridge — on June the 12, 1915," Mace tells the B'nai Brith.
Mace was the fourth of five children born to Jacob and Sarah Bugen, Jewish immigrants from Eastern Europe. They owned a small grocery store.
Within weeks of Mace's birth, the Bugens knew there was something different about their son. Doctors figured it out pretty quickly. It was dwarfism.
Doctors couldn't tell Jacob and Sarah how long their son would live. They couldn't do anything to straighten his crooked legs or fix the hump on his back. They suggested that the child be put in an institution.
But the Bugens were having none of that. They raised their son as a part of the community. He helped in the grocery store. He attended school. They had all the same expectations for him as they did for their other children.
But even in the little town of Phillipsburg, New Jersey, his parents' high expectations could only take Mace so far. Teachers treated him as if he was incapable of learning. He wasn't allowed to play sports.
So, how is this a sports story?
"So, Mace always loved sports," says Gabrielle Kaplan-Mayer, Mace's grandniece. "He had two older brothers. And one of his older brothers, Phil, played on the football team in high school and then for Lafayette College.
"And Mace was just — in those days, he wasn't able to play on any kind of team. I think it was always a painful thing for him that he couldn't be, as he said, 'the hero.' And so he wanted to do something else to show that — that he was special."
In 1934, Mace was still in high school. Teachers had finally figured out that he should learn something while he was there, and so he stayed on for an extra year to catch up on everything he had missed.
But his life was about to intersect with one of the most famous men of his age.
The Gate-Crashing Begins
Nearly 750 miles away from Phillipsburg, New Jersey, in Chicago, Illinois, boxer Joe Louis was preparing for his first professional fight. Mace loved boxing more than any other sport, and he decided he had to be there.
"So he convinced his older brother, Phil, to take him to the bus station in Phillipsburg," Kaplan-Mayer says. "His mother did not know anything about this. And I think it was kinda the way — he was 19 years old — that he really asserted his independence."
"He got on a bus, bound to Chicago. The joke was that he paid the child's fare price — this was the Great Depression. And it was an overnight bus, and so the next morning, his stubble grew in, and the bus driver kinda gave him that look."
"The world was set up in a way that was just such a giant obstacle for him everywhere he went. And so, if he was able to use his small size as any sort of advantage, he would do it. He had no issue with that."

Gabrielle Kaplan-Mayer
Mace had never gone anywhere without his family, and no one knows how he found his way from the bus station to the arena where Joe Louis was fighting. He didn't have a ticket, but no matter.
"He would say, he would walk through the legs of the tall people," Kaplan-Mayer explains. "And he went right down front, to the first row. And when they brought Louis into the ring, Mace jumped under the ropes, ran up to him, kissed his gloves. And his famous quote was, 'I wanna wish ya Jewish luck.' They put Mace out of the ring — by that time the crowd was cheering and cheering. They didn't throw him out. He got to stay, watch the fight. Louis won."
Traveling across three states on the child's fare and sneaking into the front row might have been enough for most boxing fans. But it wasn't enough for Mace Bugen. He followed Joe Louis back to the locker room. Someone picked Mace up and placed him on the massage table, right next to the boxer.
"And Mace got his picture with Louis," Kaplan-Mayer says. "It happened that this was all captured on the RKO newsreels, and Mace was seen all over the country."
When Mace got back home to New Jersey, he was a changed man. He knew what he could do to set himself apart — to let people know he was special.
And it worked.
'Hey Buddy, Get My Picture'
"People from Phillipsburg didn't get on the RKO newsreel, so Mace became a celebrity. And he liked that people had seen him on the screen, and perhaps looked at him differently," Kaplan-Mayer says. "So, Mace was hooked. And he bought a camera — cameras were big, it was a lot to lug around — and he started staging his own photos with fighters and ballplayers. He got Joe DiMaggio."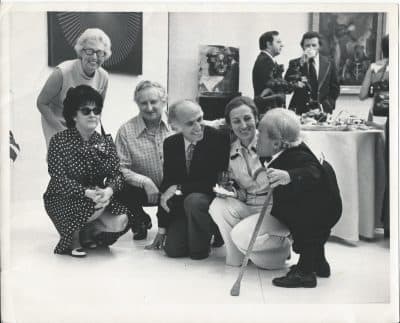 Joe DiMaggio, Muhammad Ali, Meadowlark Lemon, Hank Aaron, Mario Andretti, Willie Mays, Bill Russell — plus actors, musicians, politicians.
Mace even got a picture with Dr. Jonas Salk, the man who invented the polio vaccine.
He never bought a ticket. He never asked permission. If they were giving out press credentials, he'd pretend to be a reporter. If there was a rope, he'd go under it.
"He'd throw his camera at the closest reporter standing to him and say, 'Hey buddy, get my picture,'" Kaplan-Mayer explains. "And it all happened so quickly, everyone was disarmed, and he would get his photos that way."
"I mean in a lot of these pictures, the subject looks startled," I say. "Mace looks like he's barking orders at someone."
"Oh, yeah, but that's how he did it. Mace just kind of inserted himself in those situations."
When Muhammad Ali was training in the Poconos, Mace loaded a group of teenagers into his car and took them on a quest to find Ali's training camp. Mace arrived in the middle of the night. Ali invited him in and made him breakfast.
When New York Knicks star Walt Frazier wrote about Mace in his autobiography, Mace took another group of boys and stood outside the locker room, saying that he was going to sue Frazier for writing about him without his permission. Really all he wanted was an autograph and a photo.
But if he could make it onto the broadcast, that was even better.
This one's from September 27, 1950, when Mace jumped into the ring before another Joe Louis fight.
(Watch Mace make an appearance in the video below starting at around the 1:40 mark.)
They threw Mace out of the ring, but again, they let him stay and watch the fight and get his picture. Mace Bugen took advantage of the fact that no one wanted to say "no" to the guy who was only 43 inches tall. And why wouldn't he?
"He was constantly being disadvantaged, right?" Kaplan-Mayer asks. "In not being able to participate in sports, in the way he was treated in school. The world was set up in a way that was just such a giant obstacle for him everywhere he went. And so, if he was able to use his small size as any sort of advantage, he would do it. He had no issue with that."
Mace's Legacy
If that had been all there was to it, this would just be a story about a man with differences who found the confidence to take on the world through his interactions, however brief, with famous athletes.
And that would be fine.
But this story is more than that, because in the little town of Phillipsburg, where no one was famous, Mace Bugen owned a real estate and insurance business.
"In his office, Mace was so smart, he had a bulletin board," Kaplan-Mayer explains, "and people in the community would stop by. You know, you would stop by Mace's office every week to see what new photos he had. And you'd leave with a new insurance policy. That was part of Mace's business plan."
Mace Bugen, the 43-inch-tall son of Eastern European immigrants, became a self-made millionaire. And that's the man who was invited to speak to the Easton Jewish Community Center chapter of B'nai B'rith on Jan. 11, 1976.
"Would you stand up, Gary, and tell the boys what happened with you and I one time?" Mace asks on his recording.
A man named Gary stands up and tells the story of the night he and his father tagged along as Mace went to see Wilt Chamberlain.
Pretty soon, the "boys" of the B'nai B'rith are swapping stories of the time Mace took them somewhere — or the time they were at the movie theater and Mace popped up on the big screen.
No one mentions his size. Nobody says he did pretty well for himself in spite of his disadvantages. All the stories these men tell speak of generosity and the times Mace shared his brushes with celebrity with generations of Lehigh Valley sports fans.
When Mace Bugen died on October 31, 1982, who could deny that he had been special?
Learn more about Mace Bugen's story in Gabrielle Kaplan-Mayer's book, "The Little Gate-Crasher: The Life and Photos of Mace Bugen."
This segment aired on April 29, 2017.