3 Stories: Marijuana And The NFL, Baseball Chemistry, Headwear Ban
09:52
Play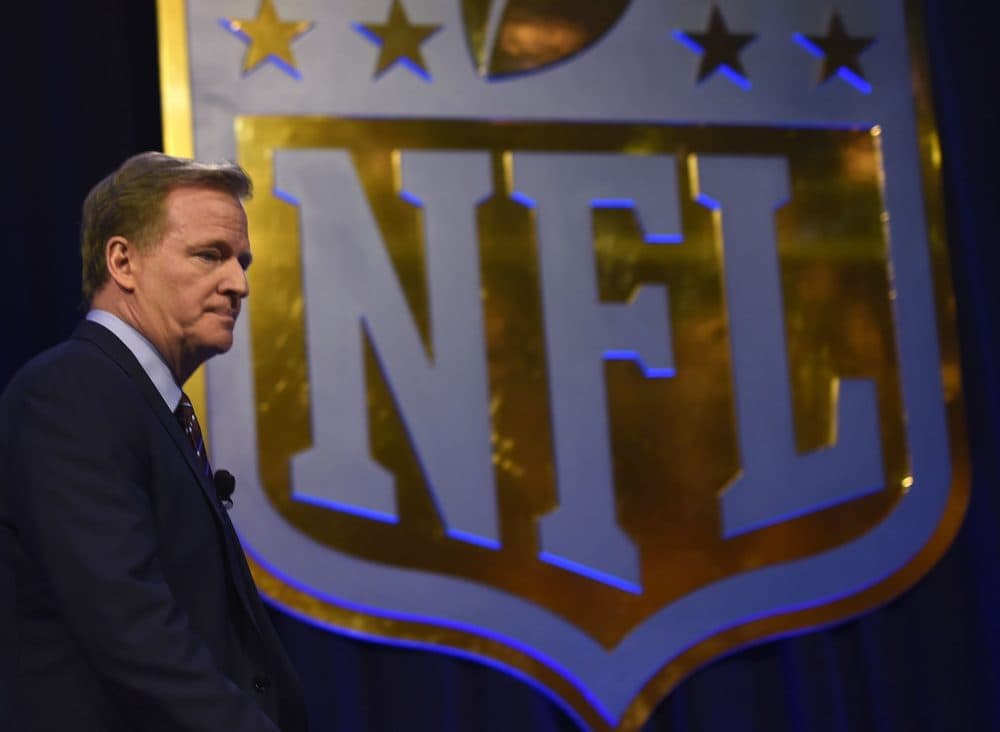 This article is more than 4 years old.
Several states have legalized recrational marijuana in recent years, but the drug is still on the NFL's list of banned substances. Now, some argue it could be a beneficial alternative to painkillers for players.
That story and more on this week's edition of "3 Stories You Should Know." Patrick Hruby of Vice Sports and Cindy Boren of the Washington Post joined Bill Littlefield.
1. NFL's Banned Healing Component
A recent Washington Post article details how some retired NFL players are now experimenting with medical marijuana instead of traditional painkillers to ease football-related pain. Cindy Boren has been following the debate over whether active players should be allowed to use the drug as well.
Players are playing a game that's incredibly painful, so they're looking for anything. And the NFL over the years has pushed prescription drugs, Toradol for instance. And these have long-range effects that really wreak havoc on the system. And players are turning, increasingly, to marijuana. And this is a new science, but it's being shown to have an effect on alleviating pain. ... If you care about the people, then you're going to want what would be the safest way for them to seek pain relief.
2. The 'Science' Of Team Chemistry
Baseball is a statistics-driven sport. But a recent Slate article suggests that team chemistry could become the next hot statistic. Should teams really use math to optimize team chemistry and win more games? Bill Littlefield weighs in.
I think I hate this idea — it's too new for me to be completely sure. But some matters, it seems to me, should remain subjective, even in a game so thoroughly drenched in statistics as baseball is. ... What fun it would be to be a fly on the wall when an agent comes into negotiations and says 'Look at these stats that show that my guy is gonna make your whole team so much better just by being a terrific influence in the clubhouse.' I can't wait to hear the response to that.
3. Religious Headwear Allowed On FIBA Courts
The International Basketball Federation (FIBA) announced Tuesday that it would change its uniform rule which banned players from wearing religious head coverings on the court. As of October 1, 2017, players will be allowed to don this headwear. Patrick Hruby likes the move.
It's a pretty significant move, because before this, players with strong religious beliefs didn't have any options. ... But when you look at the change, it does raise the question which is — why was this even a rule in the first place? FIBA says this was a "safety precaution." But, there's no actual evidence that any player was ever hurt during a game because of headgear.
More Stories You Should Know
This segment aired on May 6, 2017.