3 Stories: Best-Of-Seven Series, 'Hourglass Appreciation Night,' NFL Liquor Ads
10:58
Play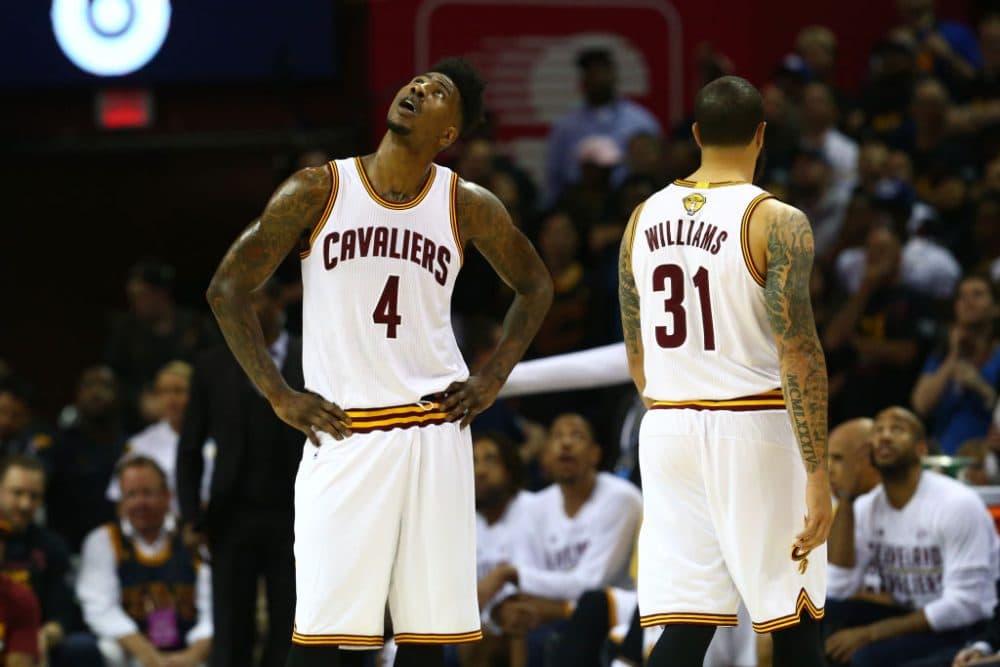 This article is more than 4 years old.
Want more Only A Game? Follow along on Facebook and Twitter.
---
While some think we need to appreciate the Golden State Warriors' unprecedented run of excellence, others are beginning to find it boring. Is there anything the NBA can do to revitalize a lopsided league and make the playoffs more interesting?
That's where we start this week's edition of "3 Stories You Should Know." Mike Pesca, host of the daily Slate podcast The Gist, and WBUR's Shira Springer joined Bill Littlefield.
1. Besting The Best-Of-Seven?
This year's NBA playoffs have been less dramatic than anticipated: Cleveland and Golden State emerged as decisive champions of their respective conferences, and now the Warriors have put on one the most dominant Finals performances of all time. Mike Pesca has a proposition for making playoff series more exciting.
There will be no drama in the Warriors crushing everyone. So what I think, in the NBA — all other leagues should do this, though they never will — is to modify their best-of-seven game series. And a good way to modify this is to not try to get to a sheer number of games ... but just not to ever allow a three-game gap to exist. ... Maybe it will mitigate the fact that Golden State has put together an unstoppable super team that will soon get boring.
2. Sexist Minor League Baseball Promotion
Earlier this week, the Ogden Raptors of the Pioneer League announced plans for "Hourglass Appreciation Night" at the ballpark. The idea? "Remind the world that baseball needs no clock" ... by featuring "18 hourglass-shaped color commentators" in the broadcast booth during a game in August. Shira Springer thinks it might be time for Major League Baseball to start policing these kinds of promotions.
Of course, the social media backlash was swift and loud. The Raptors were rightly called out for this misogynistic marketing ploy. Didn't take long for the team to scrap Hourglass Appreciation Night. But, honestly, it shouldn't have taken social media backlash to get them to cancel it. Major League Baseball needs to take tighter control on what's going on with some of these crazy, in-game promotions because they need to send a message that this isn't how the major leagues does business.
3. NFL To Allow Liquor Commercials During Games
Liquor advertisements will now be allowed during TV broadcasts of  NFL game. What will be the consequences of this change in league policy? Bill Littlefield weighs in.
Advertisers can't show actual NFL players firing down shots or sipping brandy, and there will be no blatant encouragement, they assure us, of marketing to underage drinkers — meaning no commercials for Coca-Cola flavored gin, I guess. As has been the case, ads for products to address erectile dysfunction will continue to be welcome and ads for birth control and condoms will not be allowed. ... And what could possibly go wrong? Combine hard liquor with a chemical enhancement of ... you know what I'm talking about — what possible thing could go wrong and why would anybody need birth control?
More Stories You Should Know
This segment aired on June 10, 2017.