16 Games In 17 Days To Witness Ichiro's 3,000th Hit
08:54
Play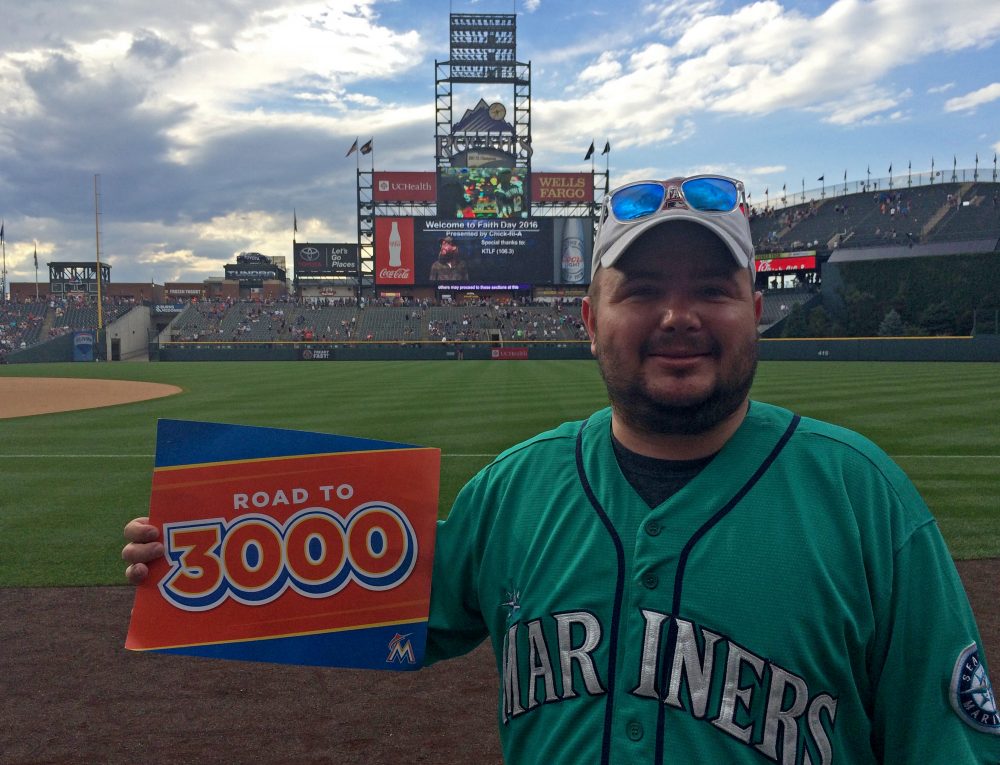 This article is more than 2 years old.
Scroll through the Twitter feed of a 33-year-old guy named Ben Wells — past the photos of the Chicago Cubs-themed sneakers that he and his date wore to a wedding reception in June — and you'll eventually come to a string of videos, all posted around this time last year.
Most of the videos are short. They document a period of extreme fan frustration. But Ben says...
"I would absolutely do it again."
The Road To 3,000 Begins
It all started on Major League Baseball's Opening Day, 2015 — which also happened to be Easter Sunday.
"The Cubs were playing the Cardinals, and had just gotten home from having the family dinner," Ben says. "My dad and a few friends actually came over to my house, and we were watching the game. And ESPN Sunday Night coverage was doing, like, upcoming milestones. And one of the things that they had highlighted was Ichiro being 156 hits away from 3,000."
Ben's fascination with Ichiro Suzuki goes back to his rookie year in Seattle in 2001. So, when the ESPN announcers predicted that Ichiro would make it to 3,000 hits in 2015, Ben knew enough to know better.
"I was just, like, 'That's not gonna happen this year. He hasn't had over 140 hits in a few seasons, and now he's not even an everyday player with the Marlins and their young, impressive outfield,'" Ben says. "'So, he's probably going to have that happen in 2016.'"
Ben had already been to spring training, Opening Day and an All-Star Game. He'd seen his Cubbies in the playoffs. But he'd never seen a major milestone like this.
So, right then and there, with his family and friends as witnesses, Ben Wells announced his plan. In the summer of 2016, he'd do whatever it took to see Ichiro's 3,000th hit.
He started planning right away.
"I actually found a second job," he says.
Ben delivered pizzas at night after working all day at a car dealership. And then ...
"I actually ended up finding a third job and started working on the weekends at a local apple orchard," he says.
Ben drove the apple train, filled with kids, around the orchard for eight hours a day every weekend.
He rarely saw his friends. When he wasn't working ...
"They understood that, 'No, Ben's going to be tired, he's just not going to do anything. So we'll — we'll see him in October,'" Ben says.
As Opening Day, 2016 approached, Ichiro needed just 65 hits. Based on how long it took him to reach 65 hits the previous season, Ben figured the 3,000th hit would come in July.
"Just doing all the nerd calculations, and it was, 'All right, it's gonna be the 24th.'"
And, as it turned out, Miami was starting a 10-game homestand on July 22.
"Cool, 10 games. Homestand. Will be perfect. It'll happen," Ben says.
'When's It Gonna Happen?'
But Ben knew better than to trust the bat of a 42-year-old pinch hitter. Luckily, after their 10-game homestand, Miami would be playing three games in Chicago, not too far from Ben's home in DeKalb.
Ben waited until the last minute to book his flight, but his math had actually worked. Ichiro was four hits away when Ben boarded the plane for Miami.
"Having the 13 games in place, I was pretty confident that it was going to happen, and that I was going to be able to see it," Ben says. "But I show up to the airport and end up with an eight-hour flight delay. So then I'm stuck at the airport and was, like, 'Well, this is what's gonna happen. They're gonna end up starting him. I'm gonna miss that game. I'm gonna just be sitting here at the airport and watching it on a TV.'"
Don't worry. That's not what happened. Ben's flight left O'Hare International Airport at 6:00 a.m. the next morning, and he arrived at his great-aunt's house in Miami with plenty of time to get to the ballpark.
13 Chances To See History
Ben Wells had 13 days to see history. But on Day 1, Ichiro didn't even start. The Marlins were in the hunt for a playoff spot, and manager Don Mattingly had no intention of changing his game plan just so Ichiro could reach that milestone.
"He only got one at-bat, and it was to pinch hit later in the game. And he actually struck out, so he was 0 for 1 that night," Ben says.
For the first three days of Ben's trip, the Marlins only used Ichiro as a pinch hitter. And in those three days, he didn't get a hit.
"And now everybody, even my friends, are starting to text me and even comment on my Facebook posts, like, 'What's going on? Is he going to start? Are you going to be able to see this?'" Ben remembers. "And it's like, 'Nah, it's gonna happen. It'll be OK.'"
Ben says he was still having a good time — exploring the ballpark and meeting people from all over the country who'd come to see Ichiro's milestone.
"So when did you finally get to see a hit?" I ask.
"Ah, the first hit finally happened on the 26th," Ben says. "So they finally put him in the lineup. He was 1 for 5."
Maybe the pressure was starting to get to Ichiro? It was definitely getting to Ben.
"That's when I started getting a little — a little nervous about how long is this gonna be?" Ben says. "Is this gonna happen in these 13 games that I have scheduled?"
The Marlins didn't even use Ichiro on the fifth day of the trip. But the next day, July 27, he inched closer to the milestone.
"Now he's two hits away," Ben explains. "I think it was even before the game was over that the Marlins had tweeted out that he was going to be in the lineup tomorrow."
"So you must have been really confident then, right?" I ask.
"Yes."
But Ichiro went 0 for 4 in that game. He didn't get a hit in the next game, either.
Ben and the Marlins were now headed to Chicago for a three-game series against the Cubs.
Looking Ahead To The Next Stop ... And The One After That
"And so now that it's been 10 games and only two hits, now the thought is, 'Okay, do I need to go to Denver?'" Ben says.
Ben wanted to be optimistic. Ichiro could still — should still — get this done in Chicago. But Ben contacted some friends in Denver to see if he could stay with them, just in case.
"They were just, like, 'Yeah, no, absolutely. Hope to see you,'" Ben remembers. "I was like, 'Well, no offense, but I don't.'"
And to make super-extra-sure he'd be able to follow the team to Denver, Ben went back to work at the car dealership, so that he wouldn't waste any vacation days.
Good thing, too. Because during the three games in Chicago, Ichiro didn't get a single hit. The team had a day off on Thursday. But it wasn't a day off for Ben.
"I was at work and everybody's just, like, 'So you're going to Denver?'" Ben says. "I was, like, 'Yeah, I got the bag packed. I'm going to be leaving after work.'"
Ben drove through the night — 13 hours. He says he pulled over and took a couple power naps along the way.
In the first game in Denver — you guessed it, Ichiro wasn't in the starting lineup. He got one at bat and struck out — again.
But the next day, the 15th game of Ben's trip ...
Ben was so excited about hit 2,999 that he stopped recording before the crowd even had time to react.
No. 3,000
The Marlins kept Ichiro in the game, but he didn't his 3,000th hit that day. And there was just one more game in Denver before the Marlins would leave for another homestand in Miami.
"If it came to it, it was going to be leave the car in Denver, fly down to Miami, hopefully see the 3,000th hit, fly back to Denver and then drive 13 hours to get home," Ben says.
"But luckily, it didn't come to that." I say.
"Yes, luckily it did not come to that."
Ichiro Suzuki's 3,000th hit came in the seventh inning on Aug. 7. And it's this video — not one of his beloved Cubs finally winning the World Series three months later — that Ben Wells has pinned to the top of his Twitter feed.
"For me, it almost felt like an accomplishment at the time, too," he says. "As silly as it sounds, it did. Because this was the 16th game in 17 days."
So, bucket list item accomplished. No need to ever go through all that again, right?
"Um, as the thought comes up, Adrian Beltre is actually close to 3,000 as well," Ben says. "Looking at it, it's possible that he'll be as close as Minnesota. So if that's the case, and it falls on the weekend, I think I might try to see two 3,000s in consecutive years."
This segment aired on July 22, 2017.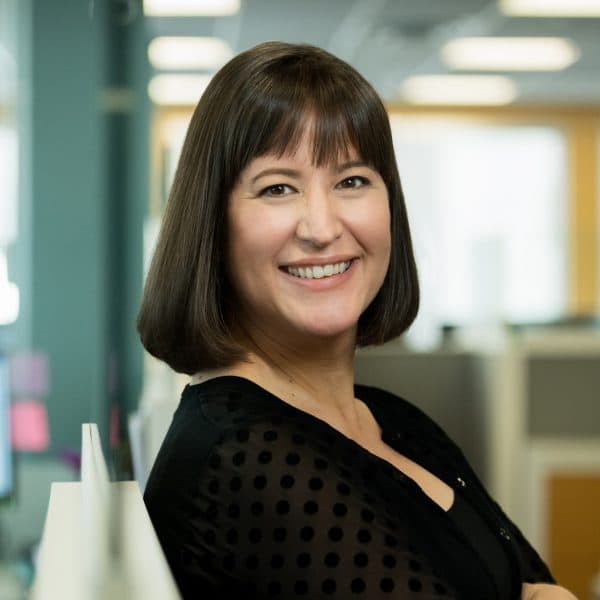 Karen Given Executive Producer, Only A Game
Karen is the executive producer for WBUR's Only A Game.