3 Stories: Kaepernick's Hair, Sports Betting, Boxing Epithets
08:40
Play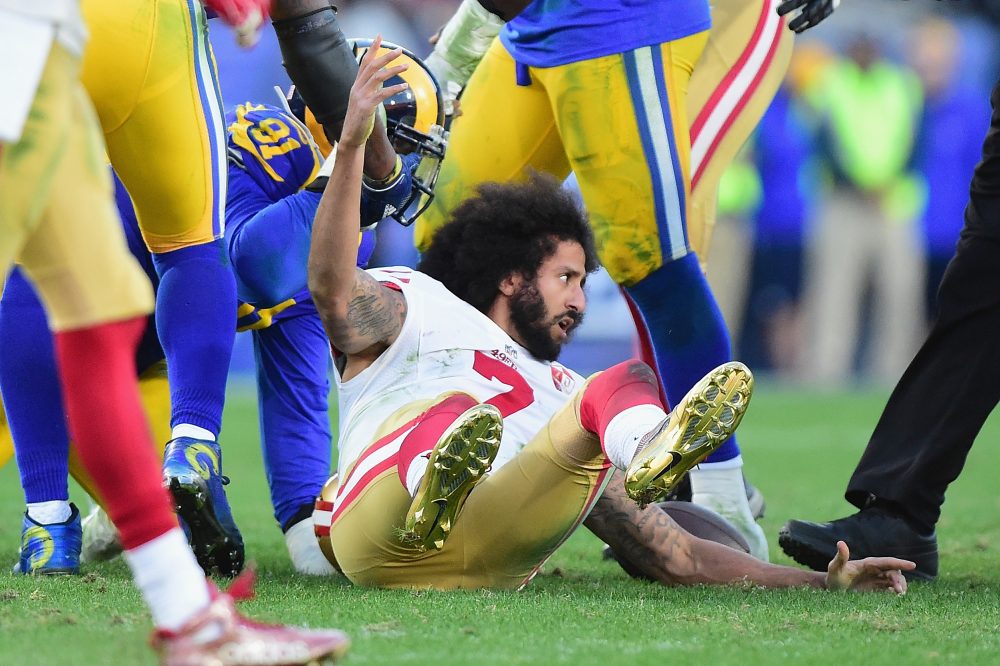 This article is more than 4 years old.
Want more Only A Game? Follow along on Facebook and Twitter.
---
Height, weight, mobility, arm strength and mental acuity are the most common metrics for judging a quarterback's talent. But what if NFL scouts are missing a key trait? What if scouts were to consider ... hair length?
That's where this week's edition of "3 Stories You Should Know" begins. Michael Lee of Yahoo! Sports and Will Leitch of Sports on Earth join Bill Littlefield.
1. By A Hair
Quarterback Colin Kaepernick is still looking for a job as the 2017 NFL season approaches. Many believe his national anthem protests are to blame. But this week, former quarterback Michael Vick suggested Kaepernick might have better luck getting a job if he cut his hair. Michael Lee disagrees.
I think that everyone needs to stop trying to rationalize this and just come to grips and understand that this man has been blackballed by the league. ... I think for the whole time that the protest has taken place people have found other things outside, ancillary factors, to debate. But they're not confronting the main issue. ... That's the only way we're going to make progress is if people confront the truth and not try to dance around it with other things that are just distractions.
2. Fixing Betting Or Fixing Games?
At a conference this week, MLB commissioner Rob Manfred said that gambling would increase "fan engagement." But he added, 'It seems to me that there is a difference between somebody betting on whether the next pitch is going to be a ball or a strike, which is very hard for anybody to affect or control, as opposed to betting on the outcome of the game, which is very different.' Bill Littlefield disagrees.
Suppose I could find a vulnerable umpire, I go to him, I say, 'OK, look, the first pitch to each batter in each of the first three innings is a ball or else your life takes a bad turn.' Obviously I don't care who wins the game. By the top of the fourth, I'm in a limo on the way to the airport.
3. A Fight Where Nobody Wins
Floyd Mayweather retired from boxing with an undefeated record. Many say he was one of the best boxers in history. Now he's come out of retirement to fight Conor McGregor, a UFC fighter who's never boxed professionally. Will Leitch finds the press tour for their fight particularly depressing.
I swear I could actually feel chunks of my soul falling off while watching it. The epithets they've been calling each other have been misogynist, they've been racist — in this kind of cross-promotion 'Boxing against UFC, what's stronger?' And this is what boxing has come to. It's the only way left to sell what's left of this sport. And the sad thing about it is, I'm a little worried it's going to work.
More Stories You Should Know
This segment aired on July 22, 2017.