3 Stories: Josh Rosen, Cutler's Unretirement, Mayweather-McGregor Ticket Sales
09:39
Play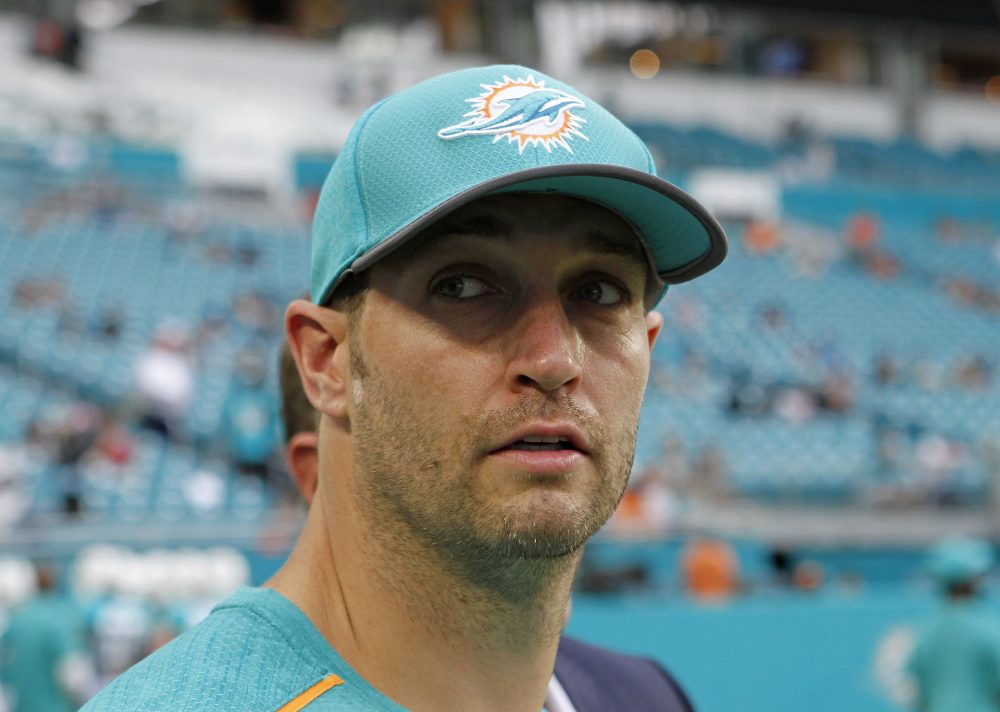 This article is more than 3 years old.
Want more Only A Game? Follow along on Facebook and Twitter.
---
In the United States, universities and big-time sports are intertwined. UCLA quarterback Josh Rosen recently drew some ire when he criticized that arrangement.
That's where we begin on this week's edition of "3 Stories You Should Know." SB Nation's Charlotte Wilder and Mike Pesca, host of the Daily Slate podcast The Gist, joined Bill Littlefield.
1. Josh Rosen Vs. Danny Kanell
In a recent interview with Bleacher Report, Josh Rosen said, "Football and school don't go together. ... Trying to do both is like trying to do two full-time jobs." His remarks caused a Twitterstorm. Former FSU quarterback and ex-ESPN analyst Danny Kanell criticized Rosen. Mike Pesca remembers Danny Kanell seeing things differently 20 years ago.
"This is not, to my mind, that controversial. The NCAA mandates that you can only legitimately practice 20 hours a week, but when you do the math ... it's really 50 hours a week. That's a full-time job. Maybe Kanell is not being hypocritical. Maybe he just forgot what it was like to be 22 years old."
2. 'Cutler Memes' Come Out Of Retirement
The Internet is an unforgiving place. Former Chicago Bears quarterback Jay Cutler knows that firsthand. He is often ridiculed for his on-field play and off-field demeanor. Cutler came out of retirement to join the Miami Dolphins, and Cutler memes un-retired with him. Charlotte Wilder thinks Cutler's first press conference just added fuel to the fire.
"The picture of Cutler at his press conference — he's standing there in front of the backdrop that has — one of the sponsors is AARP. It cracked me up. And he's standing there and he's making the Jay Cutler face. ... The Internet just had a field day with this. And at the press conference he says, 'The good thing is I play quarterback, so I don't have to be in that great cardiovascular shape.' I just really identified with Jay Cutler in that moment."
3. A 'Superfight' Sputters?
Floyd Mayweather Jr.'s upcoming bout with Conor McGregor was billed as a superfight. However, plenty of tickets are still available. Bill Littlefield hopes this is a result of a lack of interest rather than overpriced tickets.
"I am more optimistic than I was last week about the intelligence of the public. Maybe this is all happening — or, I should say, not happening — because the tickets are too expensive. I prefer to think that the glut of tickets so far unsold is the result of a sudden realization on the part of the public that this exhibition between a boxer and a guy who's never boxed before in his life is a fraudulent exercise best ignored."
More Stories You Should Know
This segment aired on August 12, 2017.