3 Stories: NFL Suspension, College Athlete 'Pitfalls,' Triple Plays
Play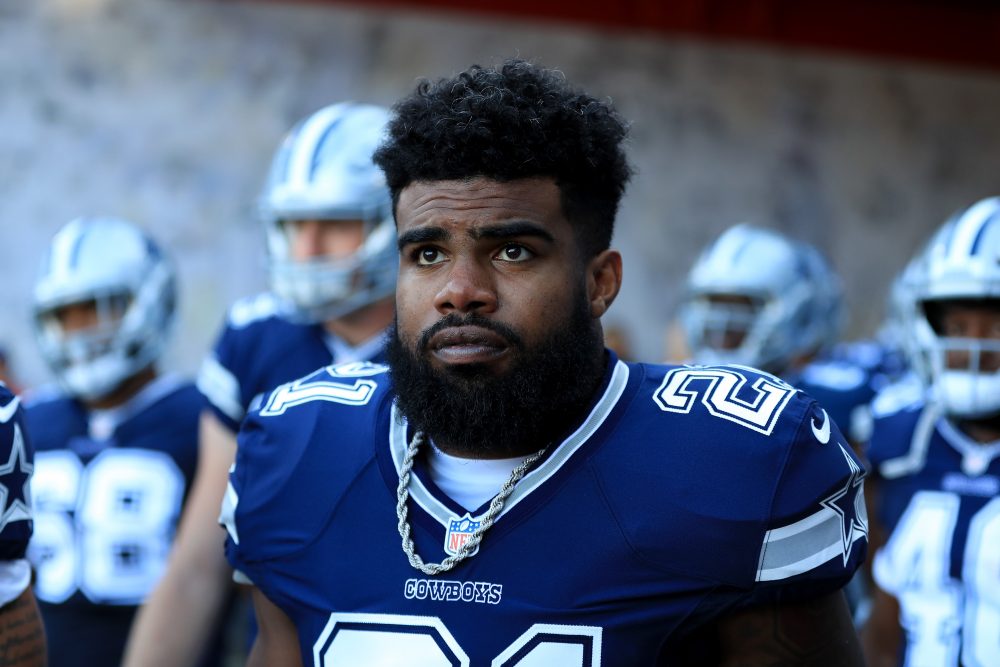 This article is more than 5 years old.
Want more Only A Game? Follow along on Facebook and Twitter.
---
Dallas Cowboys running back Ezekiel Elliott has appealed the six-game suspension handed down by the NFL following a yearlong investigation into domestic violence accusations made by Elliott's ex-girlfriend. The suspension is now under appeal. We start this week's "3 Stories You Should Know" with a look at the fallout and the reignited feud between the league and players union.
ESPN's Don Van Natta Jr. and sportswriter Patrick Hruby joined Bill Littlefield.
1. Elliott's Suspension Appeal
After Elliott's appeal, the NFL accused the NFL Players Association of leaking information to try to discredit the alleged victim. The NFLPA shot back at the NFL, calling that claim "a lie" and saying that NFL owners "should be ashamed for stooping to new lows." Don Van Natta Jr. looks at the long-term implications of the case.
In the last two years, Goodell's player discipline hammer has infuriated two of his most influential supporters: Patriots owner Robert Kraft, who was livid over Goodell's "Deflategate" punishment against star quarterback Tom Brady, and now Jerry Jones. The Elliott suspension has also damaged the already-strained relations between the forever-warring NFL and NFL Players Association. ... The Zeke Elliott suspension — and all its ugliness — instantly makes getting an extension for a new collective bargaining agreement an even longer shot.
2. Minnesota's List Of 'Pitfalls Around College Athletics'
Football players at the University of Minnesota were given a list of 15 "pitfalls" for college athletes. The list recently came out as part of an independent review of how the university handled a sexual assault investigation involving football players. In seemingly random order, athletes were warned against getting parking tickets, plagiarism, using a fake ID and committing date rape or gang rape. Patrick Hruby is critical.
I do think it says something about how and why football coaches, athletic departments, ... sports governing bodies, are just so very, very bad at trying to act as moral arbiters. They're not professionals at this. They're professionals at sports. Nobody would suggest having detectives create game plans, but somehow we constantly want our sports powers-that-be to address problems that are way outside their lanes. And I think we do this because it makes us feel better as fans. You know, it puts everybody who cheers in a place where they keep pretending that sports are escape.
3. Turning A Triple Play
On Tuesday night, the Boston Red Sox pulled off an uncommon feat: a triple play. Bill Littlefield was in attendance at Fenway Park, and the event left him wondering if there's anything in baseball more impressive than a triple play.
I don't think there's any series of acts that more clearly demonstrates how good three players have to be. The guy sitting next to me — season ticket-holder, old friend, probably been to more than 1,000 games — jumped up and shouted when he saw this. Home runs are great, pitching duels are tense. I wonder, though, if there is any sequence of events in baseball more extraordinary and more fun to watch in that split-second way than a triple play?
More Stories You Should Know
This segment aired on August 18, 2017.