Littlefield: Getting Up To Speed On NFL Concussions
Play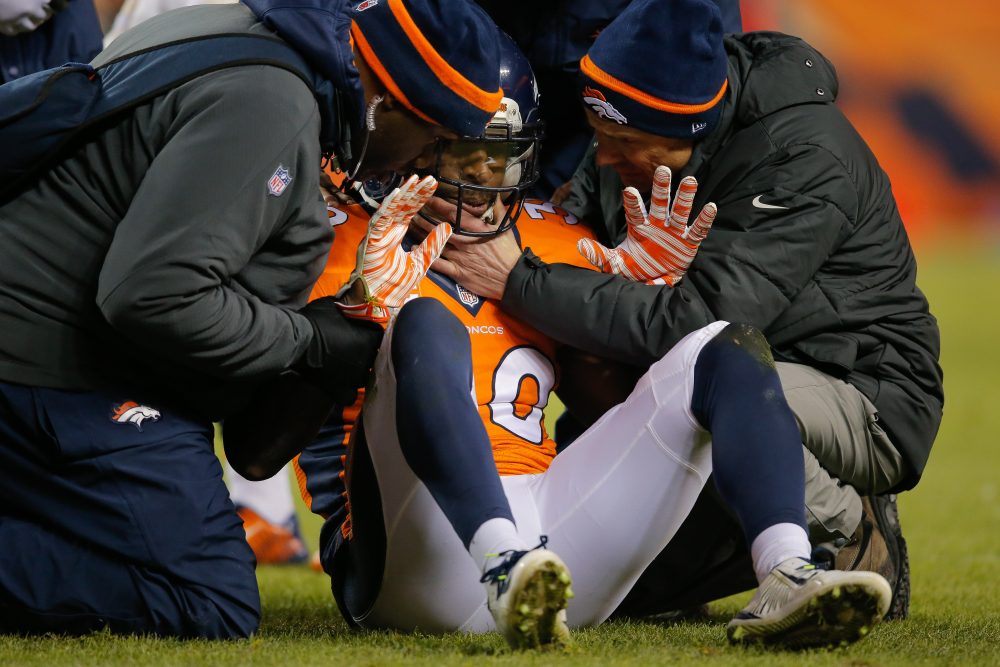 This article is more than 5 years old.
Last year, the National Football League announced a $100 million commitment to research aimed at better understanding Chronic Traumatic Encephalopathy, or CTE. Presumably, that research would concentrate on football players.
This seemed to be a significant step in the right direction. Not so very long ago, the NFL employed doctors who denied that there was any connection between the multiple blows to the head inevitably suffered by football players and the dramatic changes in their brains which diminished and sometimes dramatically shortened their lives.
Against the background of the excitement of the beginning of a new football season, it's worthwhile to examine what that $100 million has purchased so far.
According to a recent ESPN story written by Mark Fainaru-Wada and Steve Fainaru, the only specific study to which the NFL has contributed funds involves head injuries suffered by jockeys.
The distinctions between jockeys and pro football players are numerous. Size leaps to mind. More significantly, jockeys suffer head injuries as a result of accidents, whereas for football players, getting hit is a daily working condition. One of the doctors associated with the study of jockeys has already announced that "there is increasing skepticism around the world as to whether this condition (CTE) actually exists or not." It's a conclusion that the NFL was thought to have abandoned some time ago. It's also an opinion bound to dismay Dr. Ann McKee, the Boston University researcher who has found evidence of CTE in 111 of the 112 brains of former NFL players she has examined.
Dr. McKee told Fainaru and Fainaru-Wada that "the campaign to raise doubts about CTE is 'getting more brutal. It's getting more personal.'" Evidence of that trend? Earlier this month, the NFL ended its partnership with the National Institutes of Health, having provided the institute with about half of the $30 million dollars the league had pledged in 2012.
The NFL has publicized another program costing about $50 million dollars. It will focus on creating a safer football helmet to better protect the brains of players as those brains continue to bounce around in their skulls. Nearly 25 years ago, Dr. Robert Cantu, who may know more about concussions and head injuries than anybody else on the planet, warned that focusing on a better helmet was "naïve." He told Fainaru and Fainaru-Wada that he still regards focusing on helmets as "misguided."
As the 2017 football season begins, "misguided" seems an irresponsibly charitable way to characterize the NFL's approach to the welfare of its employees.
This segment aired on September 7, 2017.