HBCUs And Their Role In Disrupting The College Sports 'Cartel'
Play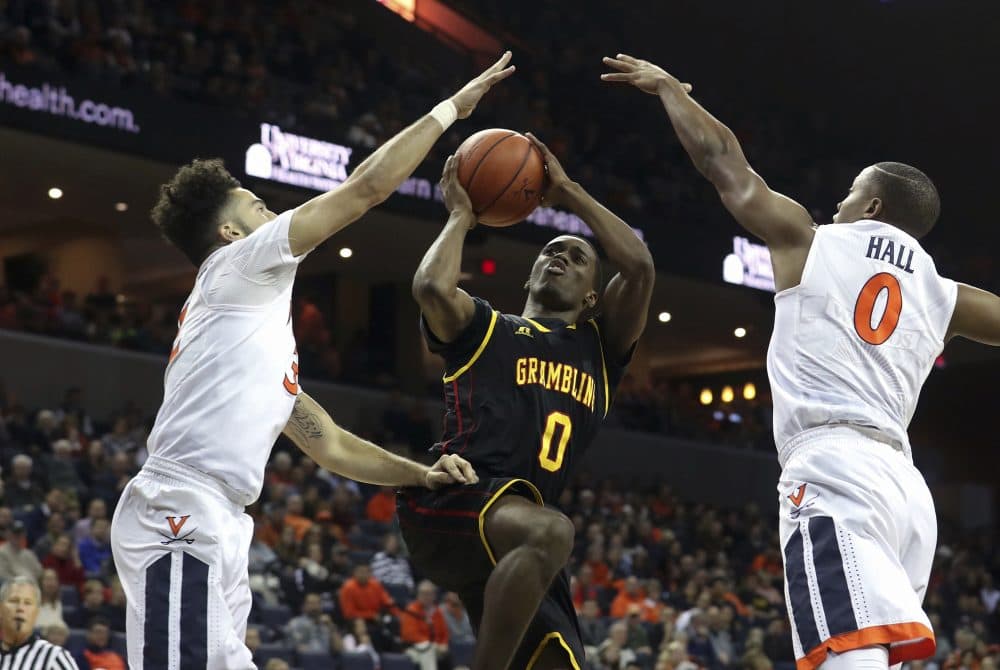 This article is more than 5 years old.
This story is part of Only A Game's special episode about the past, present and future of the NCAA. Find the full episode here.
Grambling Hall of Fame coach Eddie Robinson was often eager to share his philosophy of life and football.
"I just want to stand for whatever's good in our society," Robinson said. "Whatever that is, that's what Eddie Robinson wants to be."
For much of his career, Robinson coached in the Jim Crow South, where colleges were segregated.
That meant many of the country's best black athletes went to historically black colleges and universities or HBCUs. And those football and basketball teams enjoyed national attention.
The Rise — And Fall — Of Sports At HBCUs
Robinson started coaching at Grambling in 1941, when it was called Louisiana Negro Normal and Industrial Institute.
He grew Grambling into a powerhouse — winning nine black college football national championships and creating a pipeline to the pros for more than 200 players.
Some even called Grambling the "black Notre Dame."
Washington Post columnist Kevin Blackistone remembers Sundays growing up in the 1970s when ...
"There used to be a one-hour block on television around 10 o'clock, and the first 30 minutes was all about Notre Dame football, and then the second 30 minutes was a show about Grambling football," Blackistone says.
Big southern colleges and universities wanted to compete. So, eventually, they integrated and started recruiting black athletes. This was the moment Walter Byers, the man who built the modern NCAA, was so proud of.
But in the '60s, '70s and '80s, bigger, richer, primarily white schools siphoned the best black athletic talent from historically black colleges and universities.
And it couldn't have happened at a worse time for those institutions.
In 1984, the Supreme Court ruled that schools should be free to pursue their own TV deals. It wasn't long before TV money for football and basketball games became the biggest source of revenue for big-time college athletics departments.
Story continues below
Subscribe to the podcast
"What that meant was that for HBCUs, as they lost their best talent to these larger schools, they weren't able to cash in on the tens and hundreds of millions of dollars that larger schools were able to do," Blackistone says.
Now, black athletes help the rich get richer in college sports and HBCUs are on the outside looking in. And they've been struggling to survive.
Far From Grambling's Glory Days
Picture mold-covered walls, missing floor tiles, worn-out weightlifting equipment.
That was the state of Grambling's football facilities when players boycotted a game four years ago.
Naquan Smith, a defensive back on Grambling, gave a statement on behalf of his teammates:
"Grambling has given us the opportunity to be a part of its legacy and we are only looking to improve conditions for the university and future student-athletes."
Grambling's situation was about as far as you could get from Clemson's new, gleaming $55 million football complex.
It was also about as far as you could get from Grambling's glory days.
Litigation, Organization, Legislation — Or Competition?
So, what does this have to do with the mess the NCAA is in now?
Well, HBCUs might offer a way out. At least, that's what an economist, a former Nike exec, a sports and entertainment lawyer and a historian think.
Andy Schwarz leads that group. He's an anti-trust economist by day and, you could say, a cartel-busting crusader by night.
He's been on the front lines of the fight against the NCAA for a long time, working on the Ed O'Bannon case, drafting an amicus brief in the Northwestern players' unionization appeal, writing academic articles and going before lawmakers.
"Litigation hasn't worked. Organization hasn't worked. Legislation, there's no way it's going to work," Schwarz says. "I testified in front of Congress and it was amazing to see all these free-market Republicans suddenly get the vapors over the idea of a free market for college athletes."
So, all of Schwarz's frontline experience led him to one conclusion:
"The only thing that was really left was competition."
A New College Sports League
His radical plan? Create a college basketball league. And then pay the best high school and college basketball players to be part of it.
Here's how Schwarz imagines the pitch to prospective players:
"We're going to give you a high-quality education," he says. "But we're also going to throw in, say, $100,000 or $50,000, depending on the athlete, in salary, and we're also going to let you commercialize your image from Day 1. If you know you're coming here, you can be in high school making ads. So, that might appeal to that athlete's wink-and-nod relationship with a shoe company like Nike or Adidas."
It'd certainly take the FBI and federal prosecutors out of the equation.
And the league would compete with NCAA schools for talent, the real "bedrock foundation" of college sports.
"If you don't have a way to come in from the outside, the best way to break up a cartel is to find those schools that are on the inside that aren't really benefiting," Schwarz says. "And within the NCAA structure, those schools are most obviously the HBCUs."
Remember, after southern schools integrated, HBCUs were largely shut out of the booming big-time college sports economy.
And before Schwarz can win over the players, he has to win over the HBCU presidents.
So, that's what brought Schwarz and his team to the Ritz Carlton on Florida's Amelia Island back in August.
"I don't know if I'd ever stayed at a Ritz Carlton before," Schwarz says. "But it was incredibly swanky. Every single time I looked up, somebody was asking me if I wanted anything, which seemed kind of funny, because we were there to talk about a system that was effectively impoverishing people."
Schwarz and his team presented the idea to a room full of HBCU presidents. And it started badly.
"When we got on stage, we were effectively competing with the chicken dinners," he says.
Schwarz explained to the HBCU presidents why amateurism wasn't their friend.
But, as Schwarz and his team went on, the noise and chatter in the room grew louder.
Then, former Nike executive Ralph Greene took over. He talked about how the HBCUs could make money. And the audience quieted down.
"I was able to speak a language that a lot of them were familiar with," Greene says. "With regard to sponsorships and property value and that kind of thing. A school like Grambling and Howard and Hampton — those schools are as old and valuable brands as any other school in the United States. I let them know that."
The pitch to HBCU presidents emphasized how paying players would propel Grambling and Howard and Hampton and others into the ranks of elite college basketball.
Then, there would be a powerful ripple effect: The HBCU brand would be more prominent, more students would apply and some of the school's pressing revenue problems would be solved.
After the presentation, HBCU presidents asked for more details and passed out business cards. One even told Schwarz, "When you have enough people, I'm in."
To be clear, these schools are motivated by the opportunity to make more money, not by the opportunity to deal a blow to amateurism — though that would be a nice bonus.
So, What's Next?
The NCAA cartel-busters are working on a detailed business plan. They're also looking for an investor, someone who can put up around $60 million to cover initial salary offers.
Schwarz is hoping someone like LeBron James takes an interest. Or, maybe Dallas Mavericks owner Mark Cuban. He likes being a disruptor.
"Yes, Mark Cuban comes up a lot," Schwarz says. "And I wish — Mark, if you're out there, call me."
Do we pause now for the phone to ring?
Still, the plan isn't without skeptics. And Kevin Blackistone is among them.
"I think it's impossible for HBCUs, because it's — as of right now they don't have the known talent that can put together those types of television contracts," he says.
But Blackistone believes the model being developed by Schwarz and his team has much bigger potential.
"What I do think it's a perfect paradigm for is college sports in general," Blackistone says.
The most recent NCAA scandals present an invitation to think about cartel busting.
And if the HBCUs don't get the demolition done, maybe they, at least, clear the way for the wrecking ball.
This segment aired on October 14, 2017.