Former Pittsburgh Steelers RB Baron Batch On Art And His Arresting Officer
Resume
It wasn't until after Baron Batch left the NFL that he attracted the attention of the Pittsburgh police department.
One of Batch's favorite things to do is ride his bike.
It's one of the only forms of exercise he can do since tearing his ACL during training camp in his rookie season with the Pittsburgh Steelers in 2011.
It was while riding his bike along one of Pittsburgh's riverfront trails that he stopped to spray paint a message.
"You know, I just got so comfortable with painting on things outside," Batch says. "Like, I just was riding my bike and just tagged the trail."
He didn't stop there.
"I had this tag that said 'all your scars are lovely' down by the wharf. That's where I like ride my bike, and I always get off my bike there and stretch my ankle. I have no cartilage in my ankle. It's just grinding bones. I deal with chronic pain every single day. So, at that spot, you know, I was riding one day and stretching. And that hit me. Like, all your scars are lovely."
NFL Career Cut Short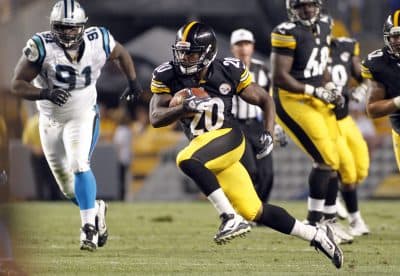 Batch was drafted in the seventh round by the Steelers in 2011. But his injury in training camp meant he was out before the season even began. He played in 12 games the next season, but was ultimately cut by the team. He retired from football in 2013.
His retirement allowed him to follow his true passion.
Batch became a full-time artist.
I met him on a Monday while he was painting an elephant, one of his signature images.
"I'm just like, just like Monday, like Monday work. It's making sure that I have at least, like, four good paintings that are just like my signature, you know, style, just the elephant that I feel comfortable with, like, putting out," Batch explains. "And it's like a warmup, but, you know, I'm getting a product that people really want out of it, and for me it just gets me in a flow."
Batch started his company, Studio AM, about a year after leaving the Steelers.
Young Pittsburgh residents took notice and began sharing his work on social media. Batch relished the attention.
He started doing what he calls "art drops," where he would leave one of his paintings in a public area and post its location on social media — free to the first person who could find it.
"The painting was the honey that drew them there," Batch says. "But, like, the experience and the exhilaration in that is the art. That's what they take with them."
He turned his studio — located in the Pittsburgh-adjacent, Rust-Belt town of Homestead — into a brunch venue and gallery. On Sundays, visitors eat fruit-covered french toast and savory rice dishes while chatting with the artist. It's not the same crowd you'd find at a Steelers tailgate.
Last year, Batch was commissioned for a mural project. He created 20 pieces throughout the city, mostly on the sides of buildings. Many featured his brightly-hued elephants. Their neon pink and yellow trunks cover the garage doors of an abandoned industrial building. A headdress-clad skull with the phrase "rise and shine" covers another.
It was a project he hoped would take his brand to the next level.
"That's a huge component to, like, taking the step to get your art out there," Batch says.
Pushing The Boundaries
As Batch spent more time on outdoor murals, he moved from the surfaces he had permission to paint to … some he didn't.
"You know, I just got so comfortable with painting on things outside, pushed the boundaries too far," he says.
Over the next couple of months, he painted other colorful messages — some on a bridge and a parking lot. It never occurred to him that he was breaking the law.
His friendly pops of color added bits of levity to struggling sections of the city — in some spots he painted on buildings that are literally crumbling away. That marriage of fresh art and old buildings is in many ways indicative of Pittsburgh's renaissance.
"Pittsburgh is just this — this massive urban jungle that is beautiful," Batch says. "But a lot of these spaces just haven't been thought about in a different way and different functionality, and beautifying them and bringing art into those spaces changes the way they're used and seen and the function of them."
Batch was creating some of the most inspired art of his career, but his project was quickly halted when the police showed up.
"We went over to his studio, over in Homestead," says Detective Alphonso Sloan of the Pittsburgh police graffiti squad. "And he was there, and we, kind of, took him by surprise. He wasn't expecting us."
In all, police said Batch caused more than $16,000 worth of damage. They charged him with 30 counts of criminal mischief.
And it was social media, the thing that arguably helped make Batch's art career, that got him in trouble.
"We just read the comments, some of the things that he had posted himself about the graffiti, and pretty much told on himself," Sloan says.
"I would happily break the rules every single time. It's not harming anyone, but it is helping and transforming."

Baron Batch
Batch had to pay $30,000 in fines and legal fees. But he says his arrest also led to a much needed discussion about public art.
Dialogue And Collaboration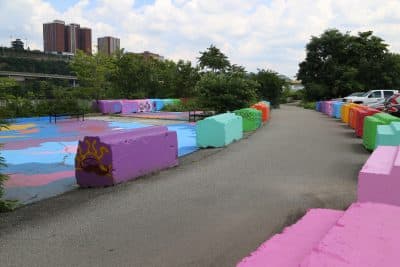 Part of that conversation was with the Friends of the Riverfront. That's the group that manages the trail Batch graffitied. The group gave Batch permission to paint a section of the trail that's lined with concrete barriers that were left behind when a concrete factory closed its doors. Batch and volunteers painted about 20 of the barriers this spring in various shades of blue, purple, orange and pink. They call it the Color Park.
"It was kind of an industrial looking area that, when color was added to it, gives it a whole new vibrancy that it didn't have in the past," says Jeff McCauley of Friends of the Riverfront.
But that's not all. Again, here's Detective Sloan.
"I explained to Baron that I was an artist myself, ever since I was like 13 years old," Sloan says. "And explained to him, you know, like, 'Hey, I admire your artwork. Even though some of it's, you know, it's illegal.'
"You know, he said 'OK, I'm an artist, and you're an artist. How about we get together sometime?' We worked on several projects and the main project was the art show over at Space Gallery."
"I saw it a beautiful storyline to be able to put together that project with my arresting officer," Batch says.
Sloan, Batch and a group of low-income teens created a mural in the downtown gallery. It features a large red heart, held by two hands, and encouraging words such as "power," "positive" and "unique."
Sloan says he thinks Batch has made amends for what he did.
"He offended some people, but a lot of people, you know, when he came out to the show, they were looking for the guy that painted the trail," Sloan says. "Like, 'Hey, that's Baron.' So he kind of has a fan base and a hate base at the same time."
Batch doesn't regret his graffiti or his arrest.
"I would happily break the rules every single time," Batch says. "It's not harming anyone, but it is helping and transforming."
But Detective Sloan hopes Batch doesn't test the city's graffiti laws again.
"We would have to arrest him again," he says. "You know, we explained that. I don't think that he will. But I'm hoping it's just a one-time thing because I hate to arrest someone...you get to work with them and you actually like them."
This segment aired on October 19, 2017.