3 Stories: Blundering Browns, Tips For Astros' Fans, Cavs' Slow Start
08:53
Play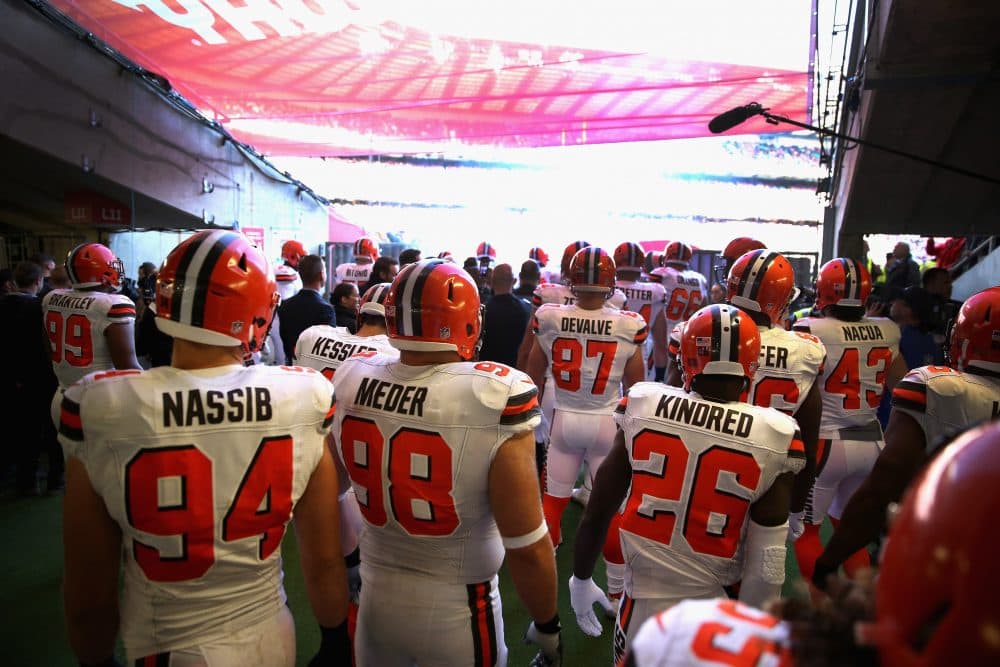 This article is more than 1 year old.
The Cleveland Browns are once again the worst of the worst of the NFL, and there's little reason to believe things will get better soon. But did the Browns outdo themselves this past week?
That and more on this week's edition of "3 Stories You Should Know." The Ringer's Claire McNear and Sports on Earth's Will Leitch joined Bill Littlefield.
1. Houston Astros Fans Rejoice
It took 56 seasons, but the Houston Astros have finally captured a World Series championship. For Astros fans, this marks the beginning of a new life. Luckily, Will Leitch has a "Guide to Glory" for all of those celebrating.
One, no matter how tempted you are to do so — because 2017 is now going to be a number you will remember the rest of your life — do not make it your ATM pin number! No. 2: Do not buy everything with a Houston logo on it right now. You will want to do this. I have a Cubs-fan friend, who was a banker, who bought Cubs World Series wristbands. I have no idea what he's going to do with his wristbands — what he can possibly do with those wristbands. And the last thing is to remember — and this is kind of a more emotional one — to always remember that this is [why] it was all worth it. I mean, lets face it guys, this is a waste of time. Why are we spending all of this time caring about sports? For this moment.
2. The Browns' Botched Trade
In their most recent debacle, the Browns failed to secure a new quarterback before the NFL trade deadline. According to reports, it was Cleveland's fault. Claire McNear can't believe how bad the Browns continue to be, year after year.
The Browns need a new quarterback. They went looking this week, ahead of the NFL trade deadline, and they settled on A.J. McCarron, currently with the Bengals. The two teams settled on a trade minutes before the deadline. But then, as the deadline arrived, word trickled out that the trade, which would reportedly have sent second- and third-round picks in the 2018 draft to Cincinnati, had fallen apart. Not because either team backed out, but because the Browns somehow managed not to submit confirmation of the trade to the NFL in time.

Early reports suggested that they just up-and-forgot to do it. More recently, we've heard that the Browns sent the Bengals vital paperwork via email with minutes to spare, and the Bengals just simply didn't see it in time. Whatever happened, the whole thing is just so Browns. It seems like nothing ever goes right for this franchise, and now the team is finding new ways for it all to go wrong.
3. Are The Cavaliers In Trouble?
The Browns aren't the only ones struggling in Cleveland. LeBron James and Co. have started the NBA season in a slump, losing four games in a row heading into Friday night. Is this cause for concern? Bill Littlefield doesn't think so.
We're seeing stories that say the Cleveland Cavaliers are finished. And one story said, "It's a shame LeBron James' last great years are going to be wasted on a team that's no good." I want to suggest that nobody should write off any team that plays 82 games in the regular season after fewer than 10 games. And also, nobody should predict that a team will win a championship three years in advance of that championship — unless, of course, the team is the Astros and the projector is Sports Illustrated. That's my exception. Otherwise, I want strict rules that go into effect, limiting people saying, "This team is finished," when they've played about a tenth of their season.
More Stories You Should Know
This segment aired on November 3, 2017.