3 Stories: Popovich And Trump, Army Fitness Test Changes, Jerry Jones V. NFL
08:53
Play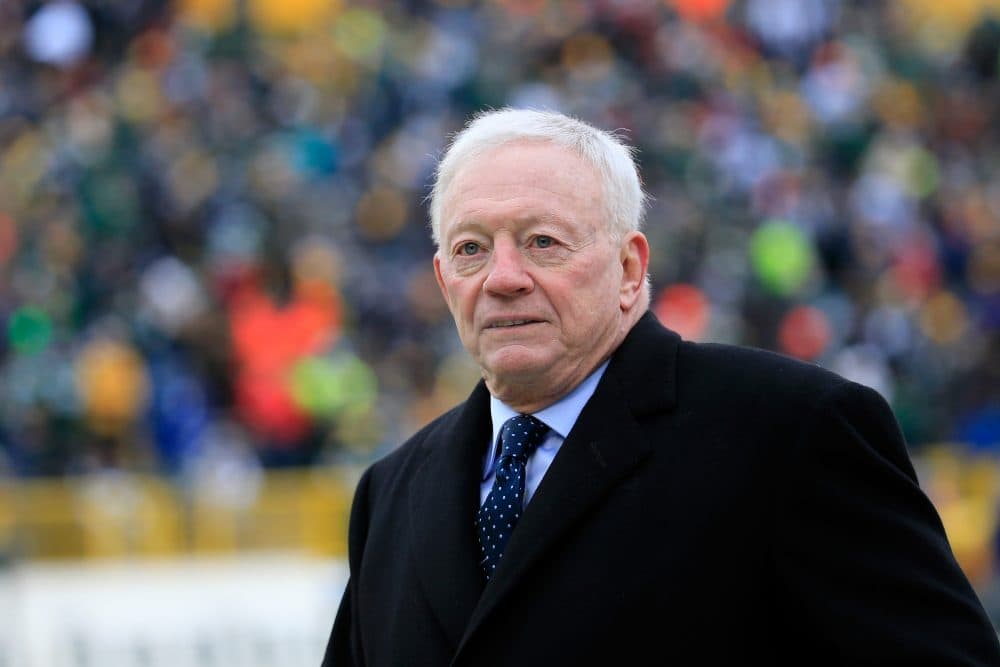 Dallas Cowboys owner Jerry Jones is among those critical of NFL commissioner Roger Goodell for the way he has handled player protests and declining TV ratings, among other issues. Now, Jones is threatening to sue if the NFL extends Goodell's contract. What might this mean for Goodell's reign as commissioner?
That and more on this week's edition of "3 Stories You Should Know." The Wall Street Journal's Rachel Bachman and The Atlantic's Erik Malinowski joined Bill Littlefield.
1. Popovich's Problem With President Trump
Last month, San Antonio Spurs head coach and former Air Force officer Gregg Popovich called President Trump a "soulless coward" and a "pathological liar," following the president's false claims that his predecessors failed to contact families of fallen soldiers. Erik Malinowski wonders how far Popovich is going to take this battle with Trump, and where it will end.
This is a very purposeful campaign by Gregg Popovich, and you've seen this in other corners of the NBA with his protege Steve Kerr of the Warriors and LeBron James and some of the other players in this league. ... I think the Trump administration, their grasp seems pretty tenuous as time goes on. And so, I feel like we're only going to see escalation in the intensity of all of this.
2. Proposed Changes To The Army Fitness Test
A proposed army fitness test would cast aside the situp, and implement new standards for physical readiness. What's more, the new test would eliminate gender- and age-based requirements, creating one uniform expectation for all military recruits. Rachel Bachman takes a closer look at the changes made in the military physical-readiness test.
The current test has been in place since 1980, when people thought that combat was basically obsolete — we'd all have nothing but nuclear battles. So we're moving from, potentially, situps, pushups and a 2-mile run to a six-event test that includes multiple weightlifting events, including a run with 40-pound kettle bells and a dead lift of well over 100 pounds. ... But, another change is even more radical — and I stress these are just proposals, but they're getting close on this — and that would be to eliminate gender-based standards. ... This would be the first army-wide test that did not make exceptions for gender.
3. Jerry Jones Threatens To Sue NFL Over Roger Goodell
Dallas Cowboys owner Jerry Jones has threatened to sue the NFL if the league's compensation committee approves a contract extension for commissioner Roger Goodell. Bill Littlefield asks: Has Goodell "done a terrible job handling the anthem controversy and a terrible job explaining the [TV] ratings declines," as one NFL team executive suggests?
An unnamed team executive — surprising that this guy doesn't want to go on the record — has been quoted as saying that a lot of owners are not happy with Roger Goodell. But it's only Jerry Jones who's talking about suing the league if they plan to continue to employ him.
More Stories You Should Know
This segment aired on November 11, 2017.