3 Stories: Goodell's Contract, Celtics, 'Alternative Facts World Cup'?
08:19
Play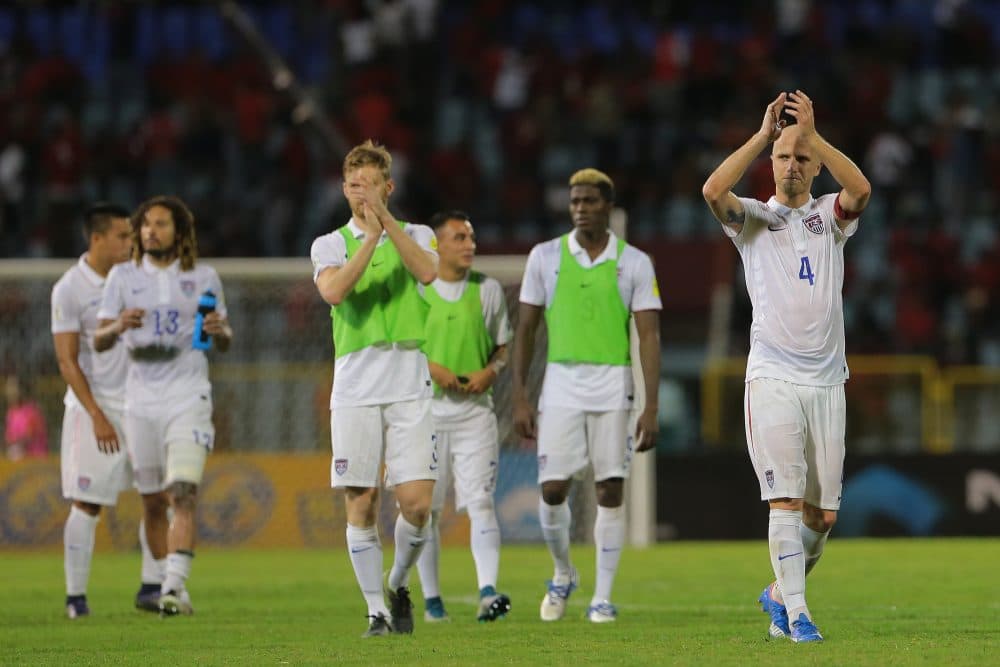 This article is more than 2 years old.
The U.S. men's national soccer team won't be playing in the World Cup next year. But neither will the Netherlands or Italy, which will miss the World Cup for the first time since 1958.
Now, the U.S. Soccer Federation is thinking about hosting a tournament for the nations that didn't make the World Cup. That and more on this week's edition of "3 Stories You Should Know."
Charlotte Wilder of SB Nation and Mike Pesca, host of the daily Slate podcast The Gist, joined Bill Littlefield.
1. Roger Goodell's Contract Extension Controversy
NFL Commissioner Roger Goodell is angling for a substantial pay raise. But some team owners, most vocally Dallas Cowboys owner Jerry Jones, have spoken out against the contract extension, even threatening to sue if it passes. Mike Pesca wonders how the Jones vs. Goodell battle will play out.
No matter what these guys do for each other, there's that scene in the movie — what is it? "10,000 Years BC"? — where our protagonists are watching the Tyrannosaurus fight the Stegosaurus. Like, is there really any loser in this fight?

I think all Jerry Jones wants to do is to say, "You know, Roger Goodell? Maybe you should at least have to work and suffer for your estimated $50 million pay day. Because I don't know if you've noticed this, but the NFL has had a pretty terrible year this year, and I'm going to blame you."
2. Boston Celtics' Great Start
After starting the season 0-2 and losing newly acquired forward Gordon Hayward, the Boston Celtics have rebounded in a big way. They've won their last 14 games and toppled last year's champs, the Golden State Warriors. Charlotte Wilder had a blast watching the game.
If you don't follow basketball, that is the biggest win you can get, especially without one of your star players. They were down 17 at one point — the Celtics were — and I was thinking, 'Ah, you know, of course, the Warriors. You come up against them, and they're unstoppable.' But in the back of my head, I was kinda, like, 'I think they might be able to do it.' And then they did it. They won. And I was just ecstatic. They're fun, they're young, they're exciting. And I have just been absolutely glued to these games as though they were playoffs.
3. 'Alternative Facts' Soccer Tournament For Nations Not In World Cup
The U.S. Soccer Federation is looking into an alternative tournament for nations that didn't qualify for the World Cup. The tournament could include notable teams like Italy, the Netherlands, Chile, Ghana, Ireland and Wales. Bill Littlefield thinks the tournament is a great idea.
None of these teams will have anything else to do come the summer because they were not among the 32 that qualified for the World Cup final in Russia. Some people have called this idea the "Alternative Facts World Cup," which I think is actually pretty funny. I think staging this tournament is a terrific idea. Some people might say, "Oh, come on, they're thumbing their noses at FIFA," which also I think is a pretty good idea. It would be especially fun if Wales were to win the thing as far as I'm concerned.
More Stories You Should Know
This segment aired on November 18, 2017.