Pro Athletes Share Recipes For Success — In The Kitchen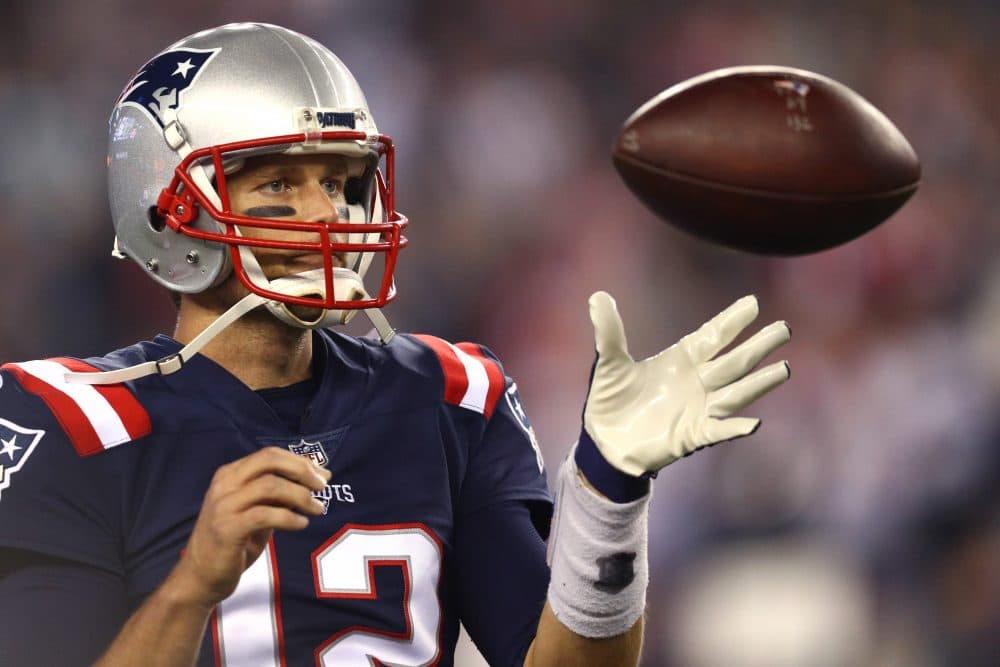 This article is more than 1 year old.
Shalane Flanagan made headlines when she became the first American woman to win the New York City Marathon in 40 years, but did you know she's also the author of a cookbook?
And what better time to explore the crossover between the worlds of sports and cooking than in the days leading up to Thanksgiving?
Here's a look at some pro athletes with skills in the kitchen.
The Right Diet For A Runner
Flanagan says hers is not your typical runner's cookbook. "Run Fast. Eat Slow," which  the Olympic medalist and marathon winner co-wrote with Elyse Kopecky, is a step away from the "lean," "light" and "low fat" of your stereotypical fitness book.
"Run Fast, Eat Slow" encourages runners to eat right and enough, clarifying that a restrictive diet actually does more harm than good.
"It turns out that everything I thought was healthy wasn't," Flanagan said in a 2015 interview. The cookbook actually promotes eating foods with fat, like whole milk, cheese and grass-fed beef, which she says should be a bigger part of a runner's diet.
Amar'e Stoudemire's Tips On Cooking, Equipment And Party Planning
Amar'e Stoudemire, a six-time NBA All-Star, is also a pretty accomplished cook. In 2014, he released a cookbook: "Cooking with Amar'e: 100 Easy Recipes for Pros and Rookies in the Kitchen."
The book may have come as a surprise to basketball fans, and maybe even Amar'e himself.
"I never in my wildest dreams thought I would be the author of a cookbook," Amar'e told Only A Game's Karen Given in 2014, after the release of his book.
Tom Brady's 'TB12 Method'
Avocado ice cream, veggie lasagna, alkalizing green juice. They're all part of the "TB12 Nutrition Manual," Brady's $200 cookbook.
Its notoriously healthy recipes and rigorous standards on what constitutes food (which he says Frosted Flakes are not) have made it one of the most notorious pro athlete cookbooks around. It's also raised some eyebrows:
Brady, a five-time Super Bowl champion and two-time NFL MVP, isn't showing any signs of slowing down. And the 40 year old attributes it to his healthy eating.
Still, the TB12 Method may not be for everyone. Brady's coach, Bill Belichick, said he would not be buying himself a copy of the book.
Bo Jackson, Master Chef
Bo Jackson is among the best multi-sport athletes ever. He was an MLB All-Star and NFL Pro Bowler. But since his retirement in 1994, he's found another serious talent in cooking.
In 2009, Bo told the Los Angeles Times that cooking is the one thing he does better than sports. He continued, "Being from the South, of course I specialize in southern cooking, but I also dibble and dabble in Italian, Asian and a little French cuisine."
He's also launched a couple food product lines: Bo's Bugers and Bo Jackson Signature Sideliners.
It's just another reminder that Bo can do it all.
Natalie Coughlin: Raising Chickens And Wine Labels
Twelve-time Olympic medalist Natalie Coughlin may be best known for her talents in the pool, but she's also quite the chef.
Coughlin has a cookbook slated for release in 2019. She also raises chickens, has an urban garden and says she's starting a wine label in Napa Valley.
Nolan Ryan: Texas BBQ
For tips and recipes for grilling a steak or smoking a brisket, look no further than eight-time All-Star pitcher Nolan Ryan.
In "The Nolan Ryan Beef & Barbecue Cookbook: Recipes from a Texas Kitchen," you can find Ryan's favorite BBQ and Tex-Mex recipes, which he learned while growing up raising cattle and later playing pro ball in Texas.
Though his pitching days are over, Ryan's still raising cattle. He even has his own beef production line.
Randall Cobb Cooks For Kids
Green Bay Packers wide receiver Randall Cobb has kids in mind with his cookbook, "Prevea Gets Cooking with Cobb: Randall's Favorite Kid-Friendly Recipes."
From Derek Jeter's Pancakes To Albert Pujols's Chicken: Recipes Around The MLB
"Diamond Dishes: From The Kitchens Of Baseball's Biggest Stars" boasts a solid lineup. The cookbook is a collection of favorite recipes from current and former MLB players, including:
Derek Jeter's buttermilk pancakes
Dustin Pedroia's pasta primavera
Albert Pujols's home run chicken
Miguel Cabrera's shrimp and saffron risotto
Ryan Howard's macaroni and cheese
Adrian Gonzalez's guacamole
Lance Berkman's Hawaiian pizza