Thanksgiving Leftovers Show
A 61-Year-Old Rookie's Not-So-Swanky Minor League Digs
Resume
This story is part of Only A Game's Thanksgiving Leftovers Show. Find the full episode.
---
In September, we told the story of Evan Katz, who made his pro baseball debut at the age of 61 and, in so doing, fulfilled a dream. In late July, the rookie pitcher/right fielder flew from his home near Boston to Alamogordo, New Mexico, home of the White Sands Pupfish of the independent Pecos League and eagerly awaited his big chance to play in a pro game.
"Alamogordo is in a valley," Katz says, "and to the east of the Sacramento Mountains, and I had rented a house up in the mountains. And there's a tunnel. It's supposedly the only road tunnel in New Mexico. And I was told by the guy I was renting from, 'They're doing work on the tunnel. It's closed from 8 at night 'til 5 in the morning. You're gonna have to take a detour.' "
Katz had dealt with detours before. After all, he was a 61-year-old rookie.
A Change in Plan
"So I said, 'OK. Well, how long can the detour be?' " Katz recalls. "Well, I went to the team dinner, tried to follow the detour, and I was just driving around the desert between towns, not making any progress. So I called the general manager and I said, 'I'm in a bind here. Can I come stay on your sofa?' And she said, 'Well, let me see if I can come up with another plan.' "
Katz must have imagined all kinds of opulent possibilities: The Alamogordo Ritz, perhaps, or the White Sands Four Seasons. 
"As it turns out, she got me a pullout couch to sleep on in the house that was donated to the Pupfish for accommodations for seven players over the course of the summer," Katz says. "So I got to stay in official Minor League accommodations my first night as a White Sands Pupfish."
Official accommodations? Sounds pretty swanky.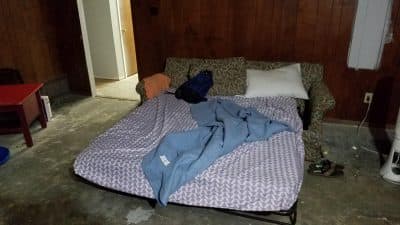 "It was a half-renovated house, with bare walls and paint buckets all over the place," Katz says. "But that added to the experience, because you got to feel a little more of what it's like to be a Minor League player."    
For a guy with a lifelong dream of playing as a pro, perhaps that was worth a lot more than all the amenities of all the luxury hotels in the whole world combined. And, if not, hey, it was only for one night.
This segment aired on November 25, 2017.