A Grand Canyon Hike Offers A Lesson In Humanity
Play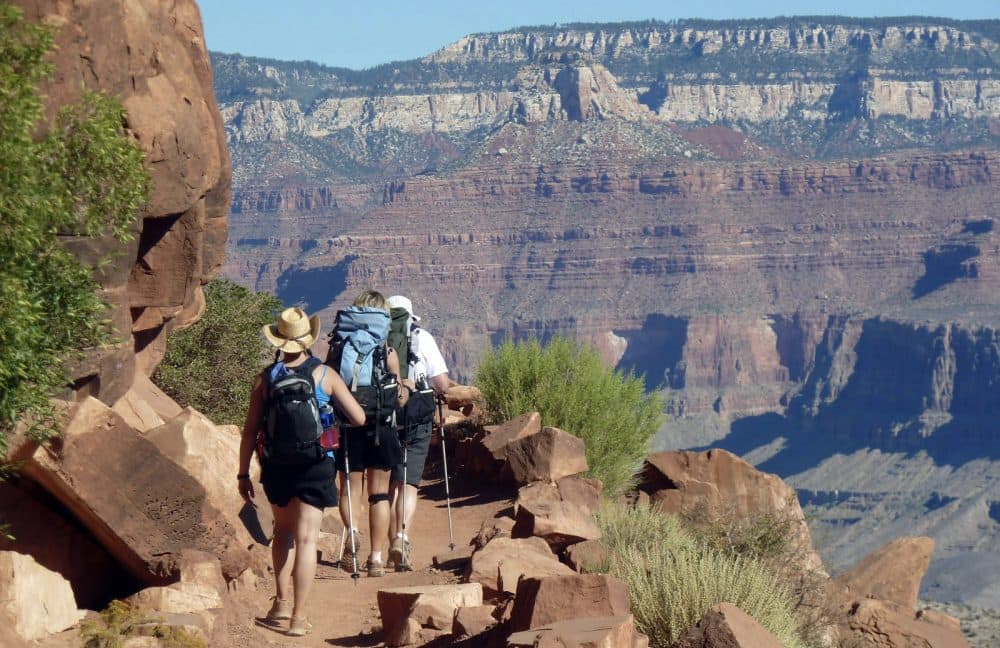 This article is more than 5 years old.
If the backcountry office of the Grand Canyon were a primary care doctor's clinic, there would be posters about the hazards of smoking and the benefits of nutrition. But there's none of that here, because the Grand Canyon isn't interested in whether you've had starch or fiber for lunch, and what kind of saturated fat you need.
Here, the posters break down hiker death by cause: 49 percent from heat, 42 percent from cardiac arrest, 6 percent from hypothermia and — oddly, poignantly — 3 percent unknown. Men die more often than women, of course, and mostly after they're 40. This is not primary care; it's emergency medicine.
My backpack is a medical clinic: ace wraps, moleskin, scissors, tweezers, antibiotic creams, Aleve. There are clothing layers, sunscreen, bug spray, trail mix and protein bars. Headlamp, map, whistle.
All of it weighs less than a plateful of the basic food groups. The heavy stuff is two liters of water: 64 ounces of stone around the neck that lighten only with dutiful drinking. I never finish it, but it feels like drinking is a moral duty as well as a medical requirement. Those posters go to great efforts to educate.
I was far from the backcountry office, 3 miles down the South Kaibab Trail, when another hiker strolled up. My comrade — a young man, a fit man — carried nothing but a cup of coffee in a Styrofoam cup. It had a cardboard sleeve to protect his hands from burning. He was sipping it with care.
We nodded to each other. I could tell that a lot of forethought had gone into that cup of coffee. It was clear his palms weren't going to burn.
The South Kaibab Trail is waterless and shade-less. Warnings had been posted everywhere in the backcountry office and around the trailhead — everywhere. But humankind remains an unlearning species. We love our land wild, but insist on confusing fitness with mastery over wilderness. We are not masters. Hiker by hiker, one by one, the land will always teach us, until we finally learn.
This segment aired on December 2, 2017.