Season's Greetings From Bill Littlefield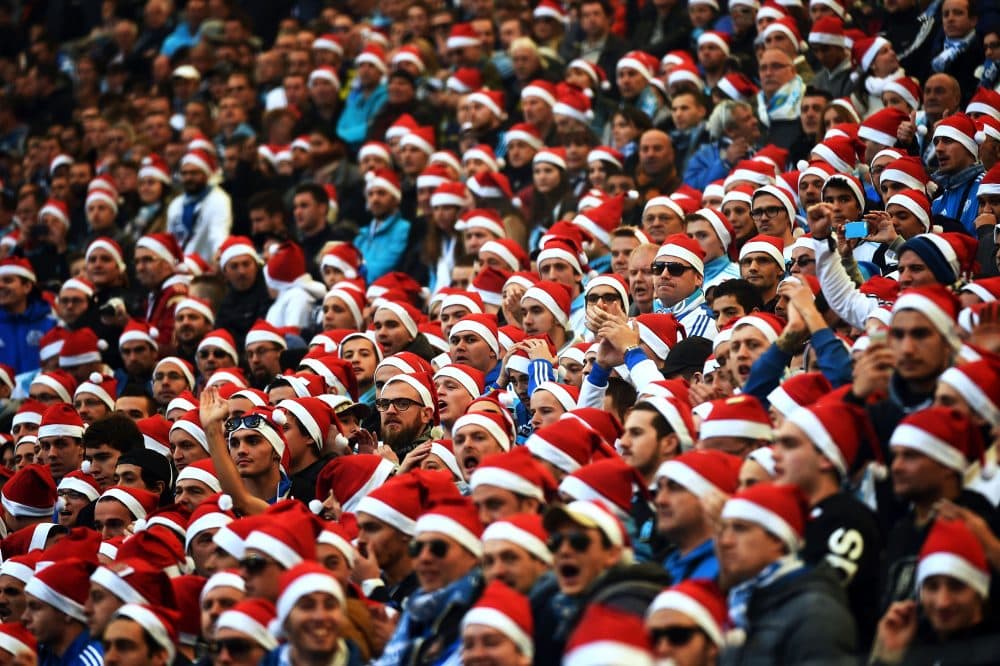 This article is more than 5 years old.
I wish you all pitches as fat and as high
As a big harvest moon in a black background sky,
And umpires who figure, when they make the call,
That if you don't hit it, it must be a ball.
May you have your best year when your contract runs out,
And get signed for 10 million, despite lurking doubt
That you're human and, therefore, worth no more than eight.
Then may you hit .400 and know that you're great.
May the basketball feel it belongs in your hand.
When you drive, may the defense be knee-deep in sand.
May your touch be as fine as a new baby's hair.
When you finish each cut, may your knees still be there.
May the surgeons look elsewhere to fund all their pensions.
May the newspapers lay on you positive mentions.
May each spiral you throw be as straight as a string.
May the guy on the other end catch the darn thing.
May your serves all catch tape, all your shots have their stuff,
And may all your opponents have manners enough
To refrain from embarrassing you or the sport
By whining and wailing all over the court.
May your putting improve, even as your drives fade,
So the gal'ry won't notice the progress time's made,
And when you slow down or decide to relax,
May a Seniors Tour keep you in greens fees and slacks.
May you roll only strikes or, at worst, maybe spares,
Your gutter balls witnessed by no one who cares.
May you kick from the blocks at the sound of the gun,
And finish triumphantly each race you run.
If sailing's your sport, may the winds treat you right.
May you keep warm and dry and be home every night.
And if boxing's the only game where you can find
Real excitement, may you soon recover your mind.
May the horses you bet on run better than mine.
To say they run at all would be more than just kind.
I wish you great seats, and hot franks, cold ice cream,
And a home club that's good enough so you can dream.
And people to sigh with - help carry the load -
When a prince of a player turns into a toad.
And to share it, as well, when the foul ball bends fair
And delirious shouts split the ballpark's charged air.
May you star in the clutch. May you not miss a sign.
Happy Holidays, all, to your home team from mine.