From Susan B. Anthony To Kenyan Schoolgirls, Bicycles Change Lives
Resume
Dianah Mwanika is 19 years old. She lives in Kenya's Western Province. And she's friends with 17-year-old Angela Khaluyila. They go to Bukhaywa Secondary School together.
Dianah wants to study agriculture so that she can help her community avoid food shortages. Angela wants to be a doctor.
A few years ago, Angela's father promised to buy her a bicycle if she studied hard and became the top student in her class.
"So, when I became No. 1 and he did not buy me a bicycle, I felt so angry with him," she says. "He told me that there was no money to buy me the bicycle."
Barriers To Education
School fees are expensive in Kenya. Many families decide there's not enough money to educate their girls. So Dianah and Angela are lucky.
"My family have been very much supportive," Dianah says. "They struggle much to get the fees so that they can pay for me to get the education."
World Bicycle Relief's Matt Pierce has spoken with Dianah's parents.
"They said, quite frankly, that they had a choice: they could either re-roof their home, they could invest in more cattle — I think they had one cow and they thought about expanding that," Pierce says. "And they said, 'No, we've chosen to forego all of those things because we want to invest in our daughter's education, because that will really benefit us in time.' "
Despite the support from their families, Dianah and Angela had a problem. They live far from their school.
"My home is 4 kilometers to and from school," Dianah says. "I used to walk from home to school and it was tiresome. And wasted a lot of time."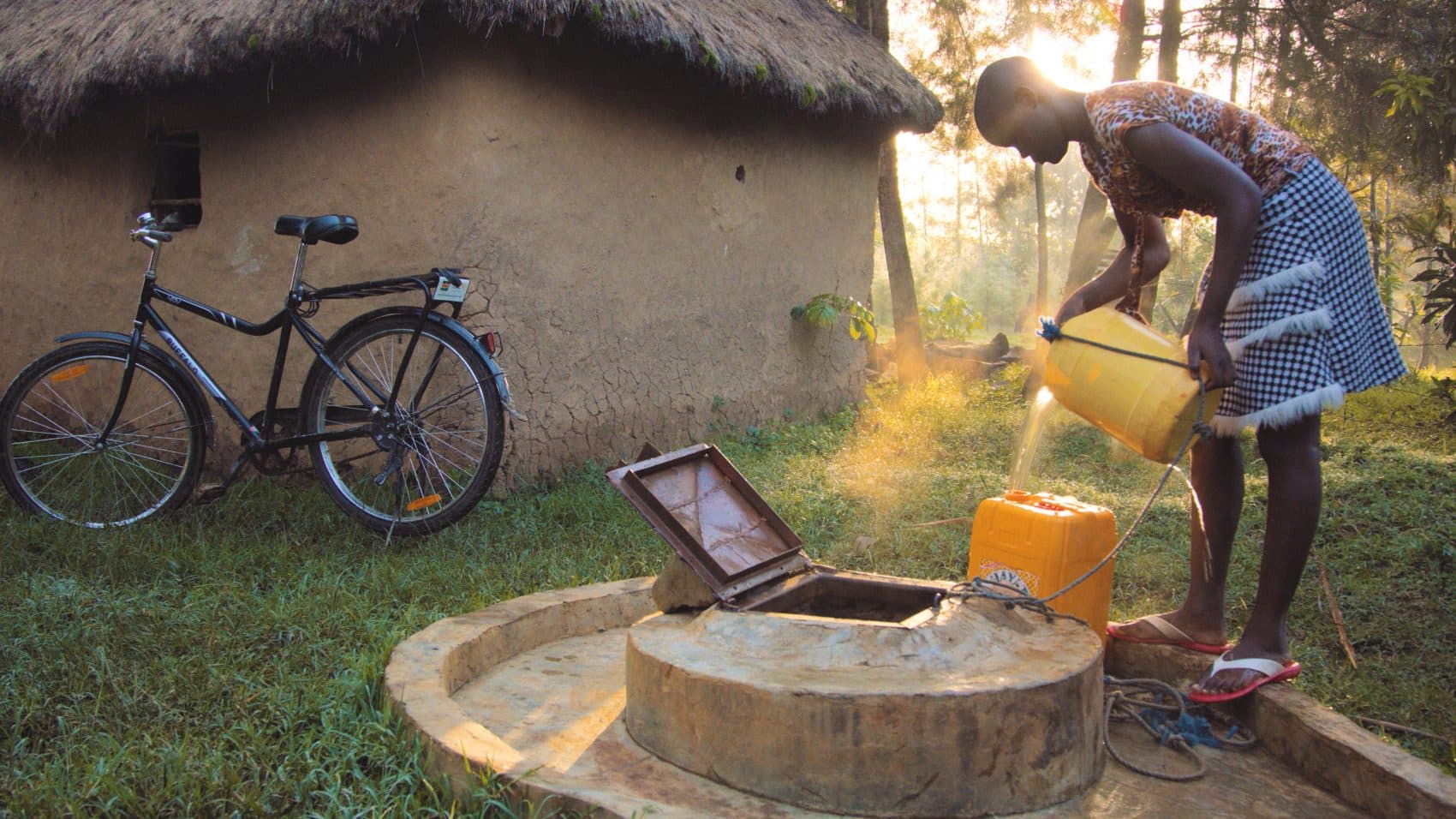 And along the way, there are dangers.
"There is a road that all the students have to travel to get to school," Pierce says.
"On the way, there are very many distractors, those boda boda men," Dianah says.
"These are motorcycle drivers, many of them young guys that maybe dropped out or can't find other employment," Pierce explains.
If the girls are late for school, they won't be allowed in the classroom. And the boda boda drivers know when the girls are running late.
"So they offer students rides to get to school," Pierce says. "So we heard, time and time again, that girls were being mistreated by these boda boda drivers."
"It was very disturbing," Dianah says. "I was very much scared because, after all, they only want to destroy our life by impregnating us."
That's not a euphemism. The boda boda drivers really do want to get these schoolgirls pregnant.
"They know that their life is somewhat capped, topped off, and they want to bring the girls down with them. They don't want to see them soar and fly," says Leah Missbach Day, co-founder of World Bicycle Relief.
One day, not too long ago, the principal at Bukhaywa Secondary School made an announcement.
"People from World Bicycle Relief, they have come, and they would like to donate to us the bicycles," Dianah says. "Those who were interested were to apply."
But there was one catch. World Bicycle Relief would only give out the bicycles according to a set ratio.
"Seventy percent for girls and 30 percent for boys," Dianah says.
That ratio — 70 percent for the girls, 30 percent for the boys — it was an issue. Because even though the parents of the girls at Bukhaywa Secondary School believed in educating their daughters, letting them ride bicycles was something else altogether.
"Because culturally, girls riding bicycles in that area was not common," Pierce says. "So, it's a conversation, it's a back-and-forth, and it's something where we say, 'You know, we're only going to do this program with that ratio.' "
'Bicycles Did More To Emancipate Women Than Anything Else'
World Bicycle Relief doesn't just use that 70-30 ratio at schools where girls are being harassed by boda boda drivers. They use it all over the world. Because, as it turns out, there's a long history of women's lives — in particular — being changed by the bicycle.
And we might as well start that story with Susan B. Anthony.
"Well, that's kind of where I started, so it is a good place to start," says Sue Macy.
A few years back, Macy was researching a book about Nellie Bly. "Nellie Bly was a journalist — one of the first investigative reporters of any gender and one of the first female reporters of the day. And so she was a feminist and she loved to interview famous women.
"So at one point she interviewed Susan B. Anthony, and Susan B. Anthony declared that she stands in salute every time she sees a bicycle."
And this was the part that really caught Sue Macy's attention.
"She said that bicycles did more to emancipate women than anything else in the world. And I thought, 'Why is this feminist icon talking about a piece of athletic equipment?' "
It's one of those quotes you find on the internet and think, "That can't possibly be true."
"Right, right. But it was," Macy says with a laugh. "The 1890s, when the bicycle explosion took place in the United States, women led rather restricted lives."
Women's clothing was restrictive: they wore corsets and long, heavy skirts. Their movements were restricted: unmarried women were rarely allowed to go anywhere without a chaperone. Their physical activity was restricted: they were kept indoors to protect their delicate constitutions.
"And the bicycle changed all that," Macy says. "Suddenly they needed clothes that were more practical for riding a bike. So, for practical reasons, clothing started to get more reasonable, more 'rational,' as they called it then."
And there was something else going on. Women were discovering that they were capable of more than they had ever dreamed.
"Frances Willard, who was the head of the Woman's Christian Temperance Union, wrote a book about how she learned to ride a bicycle at age 53," Macy says, "and she not only learned to ride the bicycle, she learned to take it apart and put it together."
But there was one prominent feminist of the day who didn't learn to ride a bike: Susan B. Anthony.
"She did not. She was older by then, by the 1890s," Macy says. "She never rode a bicycle, but she appreciated it.
"It must have been a thing for her to look out the window and see women riding by," I say.
"Yeah, well, because when you're an older woman who's led the struggle all these years, and then you suddenly see women breaking out, it must have been pretty gratifying."
'They Dream Into A Different And Bigger Future'
But what does Susan B. Anthony have to do with Dianah and Angela at Bukhaywa Secondary School in Western Kenya?
Well, no one's suggesting that Western Kenya today is just like the United States in the 1890s.
But Leah Missbach Day says research shows that by focusing on girls, World Bicycle Relief can have a bigger positive impact on the community than if they were just to hand out half the bicycles to boys and half to the girls.
"When the bicycles start to come into the community and the girls — and the adults — can see how it's working, they dream into a different and bigger future," she says.
When World Bicycle Relief first came to the Bukhaywa Secondary School, Matt Pierce says it wasn't easy to find enough girls whose parents would agree to let them receive a bicycle.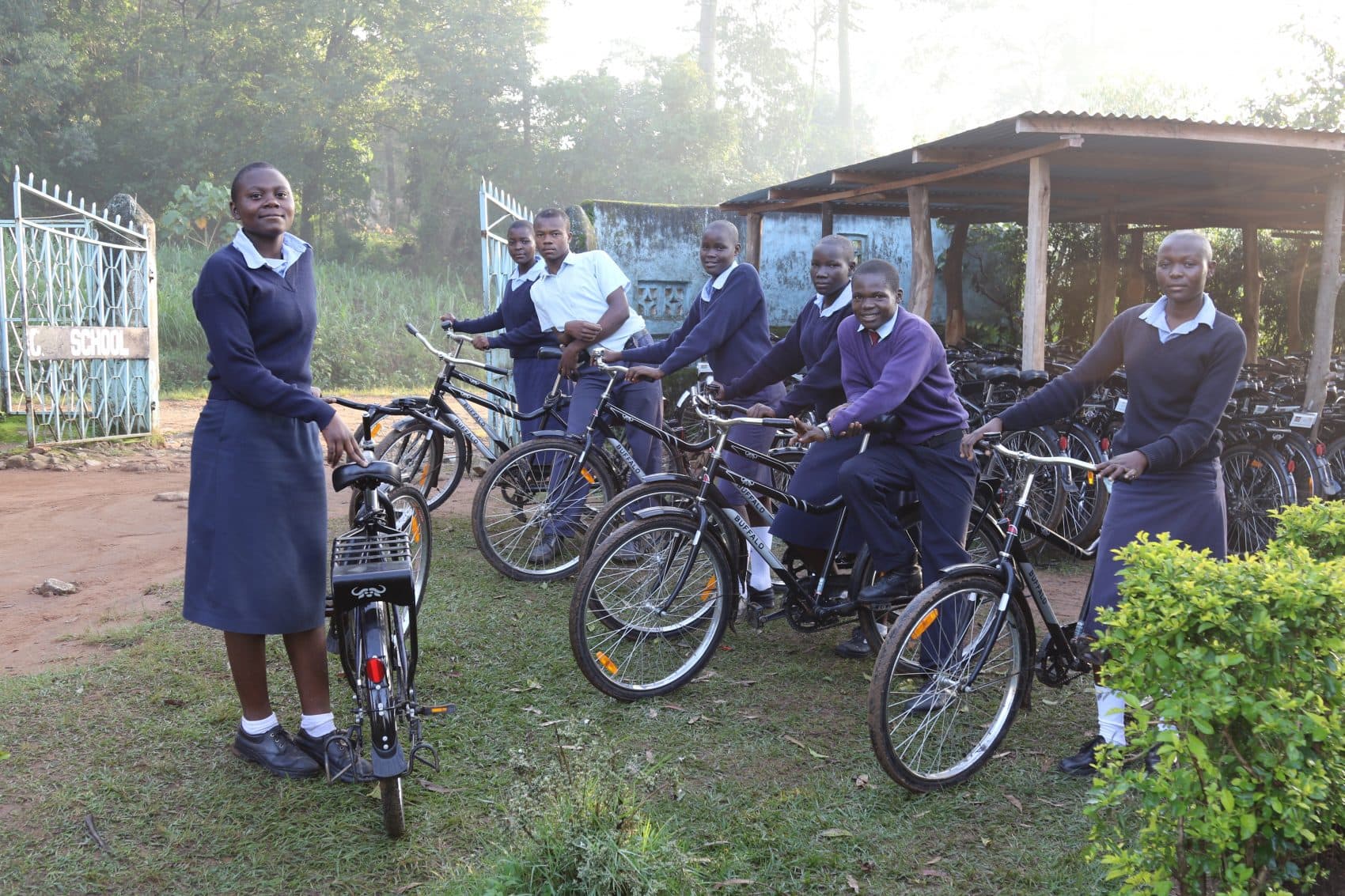 "Girls riding bicycles in that area was not common," he says.
But when World Bicycle Relief came back for the second distribution at the school ...
"The principal and vice principal said that the applications were overflowing," Pierce says.
Dianah and Angela received their bicycles during that second distribution. But even though they had both seen others at their school riding bikes, they still weren't sure they could do it themselves.
"Some of my friends told me that I could get hurt," Angela says. "So that got me worried."
"I saw other girls riding, so I just felt it is simple, and in a few moments, I was able to ride it also," Dianah says.
"So some of the students, we were competing in the road," Angela says. "Because everybody wanted to see that he knew how to ride better than the others."
"On the road, you are competing, everyone is riding the bicycle that day that we are given, so we are feeling like we are flying," Dianah says.
Dianah and Angela both say that their bicycles help them to get to school on time. They make it possible for them to finish their chores and their schoolwork ... and still get a little sleep.
But outside of school hours, the bicycles are changing their community in all sorts of ways. Adults use them to get grain to the mill. One student told World Bicycle Relief that she's used hers to take her grandmother to church on Sundays.
But what about those boda boda drivers, waiting by the side of the road, hoping to bring the young girls down? Dianah says they're not a problem anymore.
"You pass by them very fast and they can't disturb you. So I'm very glad about that."
Read more about the role of bicycles in women's liberation in Sue Macy's book, "Wheels of Change: How Women Rode the Bicycle to Freedom (With a Few Flat Tires Along the Way)."
This segment aired on December 23, 2017.