Littlefield On Cam Newton And The NFL's Alleged Concussion Protocol
Play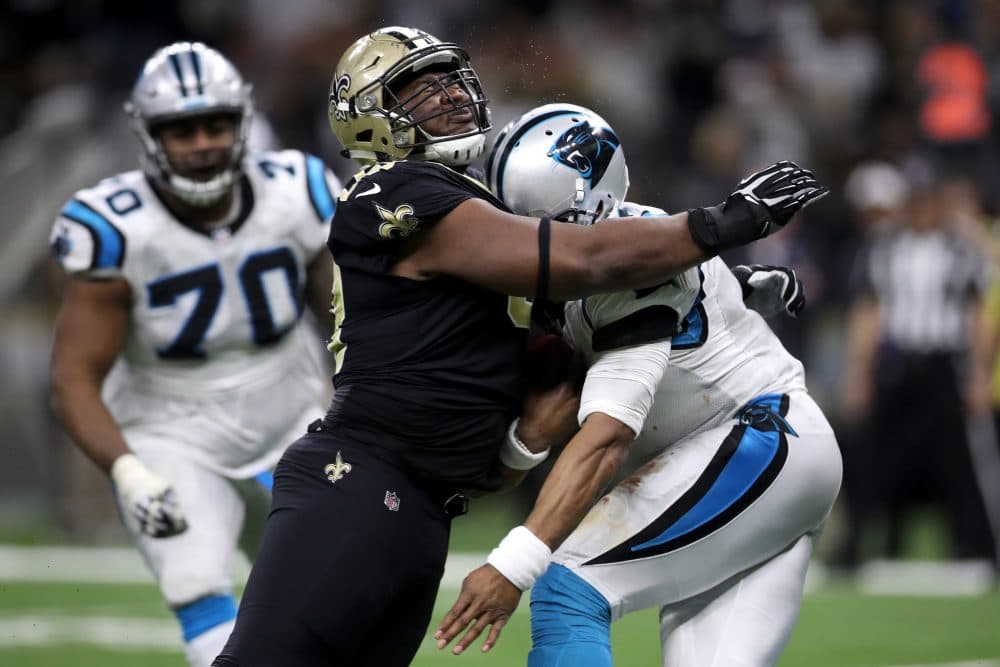 This article is more than 5 years old.
Cam Newton's Carolina Panthers didn't make it past the wildcard round of the playoffs.
Maybe that's for the best, at least for Cam Newton.
He wouldn't agree with me today. He's probably still beating himself up for not managing to push or throw the ball into the end zone one more time on Sunday against the New Orleans Saints, who beat the Panthers by 5 points. But keep the eventual possibility in mind.
Toward the end of Sunday's game, Newton took a hit to the head. Before he'd crossed the sideline on his way off the field, he went to one knee. Newton said later it was because the visor on his helmet had poked him in the eye.
Chris Nowinski found that explanation unlikely. He was watching Newton's progress toward the sideline, and Nowinski concluded that the quarterback had probably suffered a concussion. Nowinski tweeted his opinion to the world, and as he is the co-founder of the Chronic Traumatic Encephalopathy Center at Boston University and very knowledgeable about brain injuries, his opinion should probably matter, even if it's based on watching the play on television.
Cam Newton was subject to the NFL's alleged concussion protocol, by means of which he was judged fit to return to the game, which he did, although no good came of it as far as he and the Panthers were concerned.
But better days may come to the Panthers. Who knows? Maybe they'll win some Super Bowls. Maybe one day Cam Newton will be in the Football Hall of Fame, where a bronze representation of his head would join a bronze representation of the head of Mick Tingelhoff. After a very long wait – 37 years, to be precise - Mr. Tingelhoff, who played for 17 years in the NFL after starring at the University of Nebraska, was voted into the Hall in 2015. That occasion was celebrated by members of his family, and by a number of Mr. Tingelhoff's contemporaries. Some of them are quoted in a story on a website titled Big Red Today, which is full of news about University of Nebraska athletes, past and present. One of Mr. Tingelhoff's college teammates said he was happy for the inductee, but apparently he did not find the ceremony to be entirely uplifting. I say this because after conversing with Mr. Tingelhoff, the former teammate said, "I'm not sure he can fully appreciate what's taking place." Then he said, "it kinda makes me cry."
Mr. Tingelhoff has been suffering from dementia for about a decade.
If the Panthers suddenly get great and Cam Newton makes it to the Hall of Fame, I hope he can fully appreciate what's taking place.
And if he can, who knows? Perhaps it will be at least in some small part because he didn't take quite as many hits to the head as he would have taken if he'd played one or two or even three more games in the 2017-2018 postseason.