Dutch Cyclist Thomas Dekker's Misadventures In Blood Doping
Play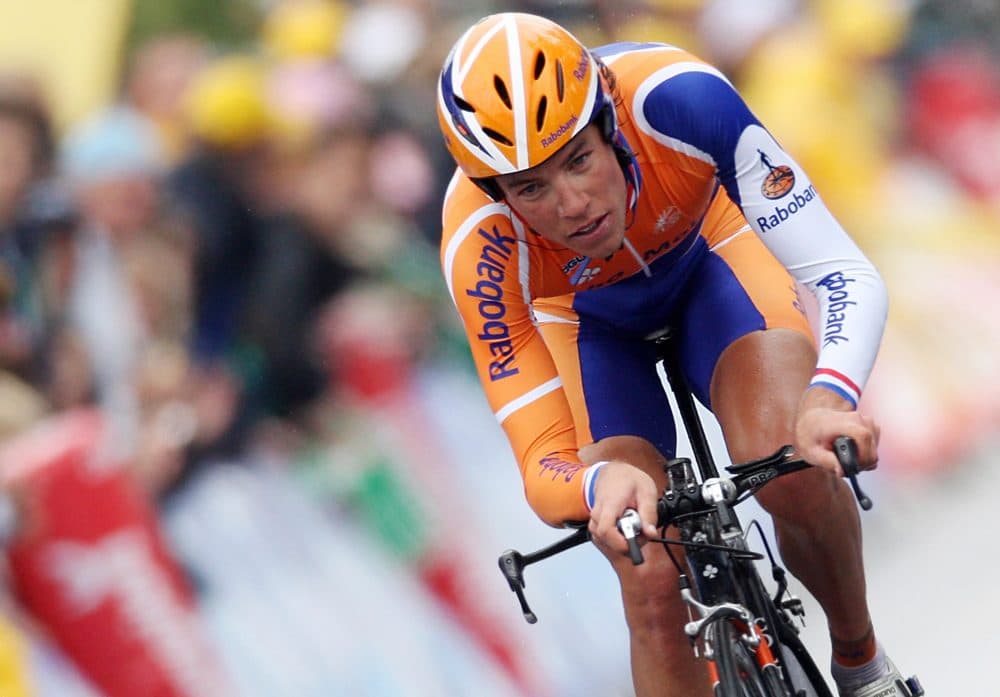 This article is more than 4 years old.
It's easy to assume that people who know early exactly what they want to do with their lives are blessed. Thomas Dekker, a cyclist from Holland, is one of those people.
"I started riding my bike when I was 11 years old. And I had one dream, and it was to become a professional cyclist," he says.
Doping: 'A Family Thing'
Story continues below
Subscribe to the podcast
By the time he was 16, in 2000, Dekker had begun to realize his dream. He was riding for Rabobank, Holland's most prominent professional cycling team. He learned very soon from the team and from his manager that if he wanted to advance in the sport, he'd need help ... and perhaps from this point on, his story is not for the squeamish.
"They also teach me all the things — how to do the doping," Dekker explains. "I found a guy in Spain, in Madrid, and he was one of the biggest doping doctors in the world, probably. My manager was involved, and he was helping me to get to Spain and everything. So it was a family thing."
Dekker says the doctor was Eufemiano Fuentes, who worked with dozens of cyclists and was eventually arrested a couple of times for "endangering public health." One of his specialties was increasing the oxygen levels in the blood of competitors like Dekker. One of the methods Fuentes used is called blood doping.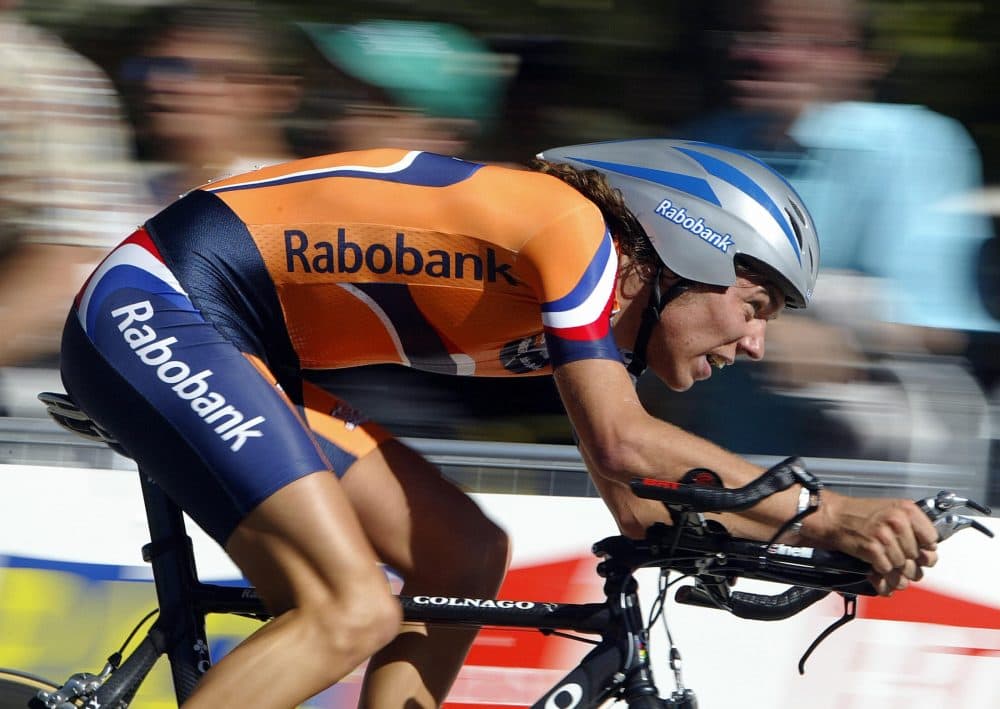 "Blood doping means that you get blood out of your own body, and you store that, and they freeze the blood," Dekker says. "And your body is in kind of a shock. So your body starts to think, 'I got in an accident,' or 'I'm sick. I need to produce the level that I had before, before the blood came out of the body.' "
A healthy athlete's body fairly quickly produces rich, new blood to make up for what has been removed. Thereafter, the athlete's ready for part two of the blood-doping process, which begins when the guy who withdrew the blood — or somebody working for him — shows up at the athlete's hotel room with that blood, which he's been keeping in a freezer in a bag with code number on it.
"And when you go to a bike race, an important bike race, you put the blood bags — you de-freeze them — and you put them back in your body, and you just have extra blood," Dekker explains. "With extra blood you have extra red cells, and you have more oxygen. It's as simple as that."
Disastrous Self-Injection
For Thomas Dekker, the routine was as simple as that for some time. And it worked. He advanced through the ranks of the Rabobank team. When he partied, which he also did like a champ, alcohol was his drug of choice. Lots of it. He knew the blood doping was cheating. He figured everybody else who was any good was doing it.
And then, one day in 2007, before a race called the Basque Tour, a glitch appeared in the system. In the little town in Tuscany where he was living, Dekker was waiting for the guy who'd be delivering the bags and reinserting his blood. The guy showed up on schedule, but he said he couldn't do the whole job.
"And he gave me the bag of blood and all the stuff, and he said, 'I have to go to Rome to deliver some other medicine to other athletes,'" Dekker explains. "So I went back home, and I tried to do it on my own. It took a few hours, because if you put  blood bags back in your own body, those needles are pretty thick, because you don't want to ruin the red blood cells. So after a few hours and a lot of blood, sweat and tears, I got it — finally — in, and I think my arm looked like a heroin addict, but finally I got my blood in. And I was ready to go to the Basque Tour."
Ready and presentable, as long as he wore long sleeves. But hours of trying to jam a big needle into his arm had to create some doubt about the process of becoming a successful pro cyclist, didn't it? I mean, didn't it?
"You know, people are amazingly good in fooling themselves," Dekker says. "So if the blood bag is in, and it's in the garbage can afterward, you forget and you go to the race. You perform at your highest level."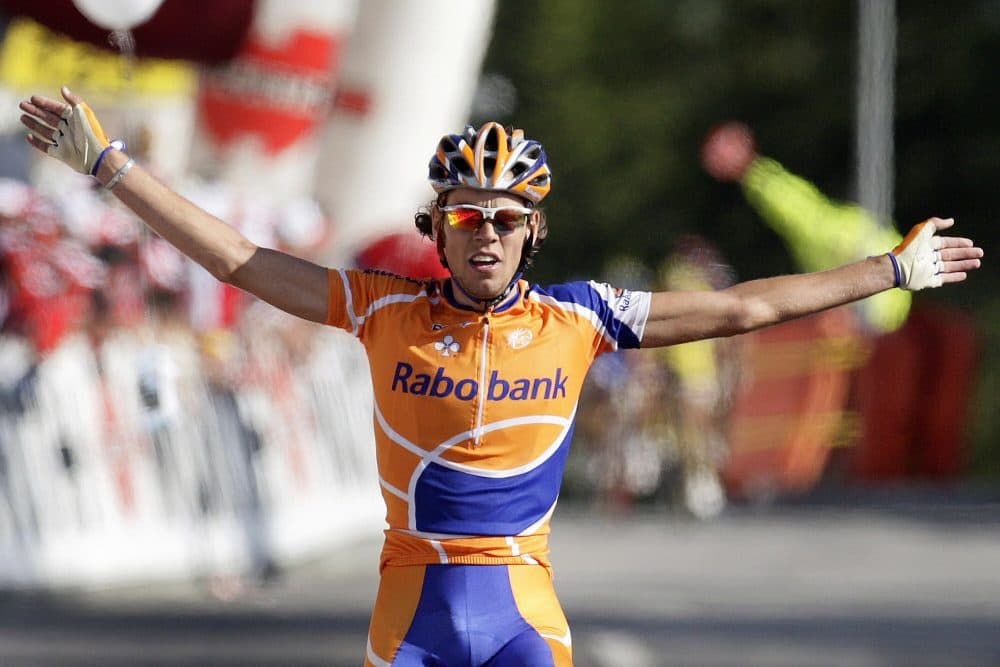 'It's A Mess Again'
OK. Until you have to do it again. Or not exactly the same thing, again. The next time Thomas Dekker had to stick a needle into his own arm, it wasn't to inject blood. It was to inject saline. Because Dekker understood that blood doping could raise the red blood cell count enough to make the drug testers suspicious. Figuring the testers might be coming at around 7:00 a.m. before the Amstel Gold Race in 2008, Dekker got up very early, made his way into the bathroom and went to work diluting his over-rich blood.
"So I'm trying to do the water thing in my arm, like a liter of water, just to be sure that my levels are not going to be too high," he says. "But it's a mess again. I'm sitting on the bathroom floor. I was trying so hard. And the blood was everywhere. And finally, my colleague, my friend, is helping me, and it's a guy who never doped, and he looks at me and he says, 'Thomas, this is — I don't know what you're doing, but this is not good.' And I said, 'Yeah, we can't change anything now, anymore. We need to continue.' And he helped me out. But it was like kind of an operation scene, what was happening over there. I was just cleaning it up with the white towels, and blood everywhere. And, yeah, it looked like a bad movie."
As far as the racing was concerned, the carnage produced a good result.
"I said a few days before that race, 'There are not going to be five better riders that Sunday,' and I finished fifth. So there were only four guys better," Dekker says. "I think, doping-wise, I was not so extreme. Probably a lot of people did it better with better people around them, but the principle of cheating, I think I was not extreme. There was a lot of people doing the same."
"People are amazingly good in fooling themselves. So if the blood bag is in, and it's in the garbage can afterward, you forget and you go to the race and you perform at your highest level."

Thomas Dekker
Descent — And Life After Riding
And a lot of people eventually got caught. And so did Thomas Dekker, though not until just before the 2009 Tour de France. Dekker was riding for a Belgian team at the time, and he says he was riding clean, but the testers re-tested a sample from 2007. It came up positive for EPO, a substance that further enriches the blood. He was suspended for two years.
"I was on a good path. I was not doing anything wrong anymore, but it was too late," Dekker says.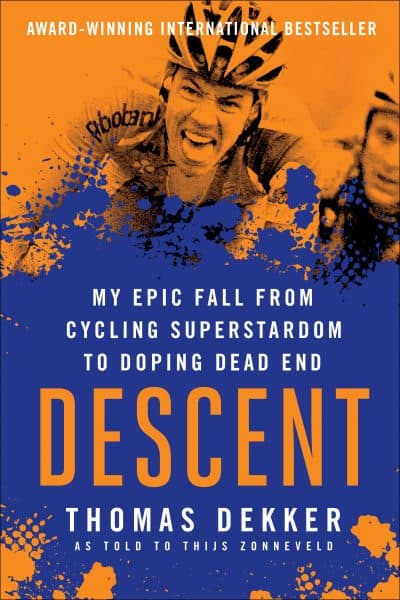 Dekker's cycling career careened downhill for several years after his suspension. He continued to party as if he was still a contender, though those days were gone. He finally acknowledged the obvious, and his career ended in 2014, at which point he had to wonder if knowing at age 11 exactly what he'd wanted to do with his life was the blessing he'd always assumed it to be.
"I was 30 years old, and I didn't finish my high school," he says. "I never thought about something else. And it's a struggle. And what are you going to do next? I never thought about it."
Dekker says he was dead to his former employers and the men who'd managed the teams for which he rode. But, eventually, he began to realize that his love of cycling as a sport had survived. And he's lately re-established a connection to that world. He'll be commenting on the Tour of Italy race in May for one of Holland's newspapers.
"I'm excited about it," Dekker says. "I lived in Italy for six years. I love Italian food. I love the little, cute hotels. I like to be on the road. And, if I can say my honest opinion about a bike race, yeah, I think that makes me happy."
Learn more about Thomas Dekker's life in cycling in his book, "Descent: My Epic Fall from Cycling Superstardom to Doping Dead End."
This segment aired on January 27, 2018.