Littlefield: A Russian Offers A Sled, Brings Camaraderie To Olympics
Play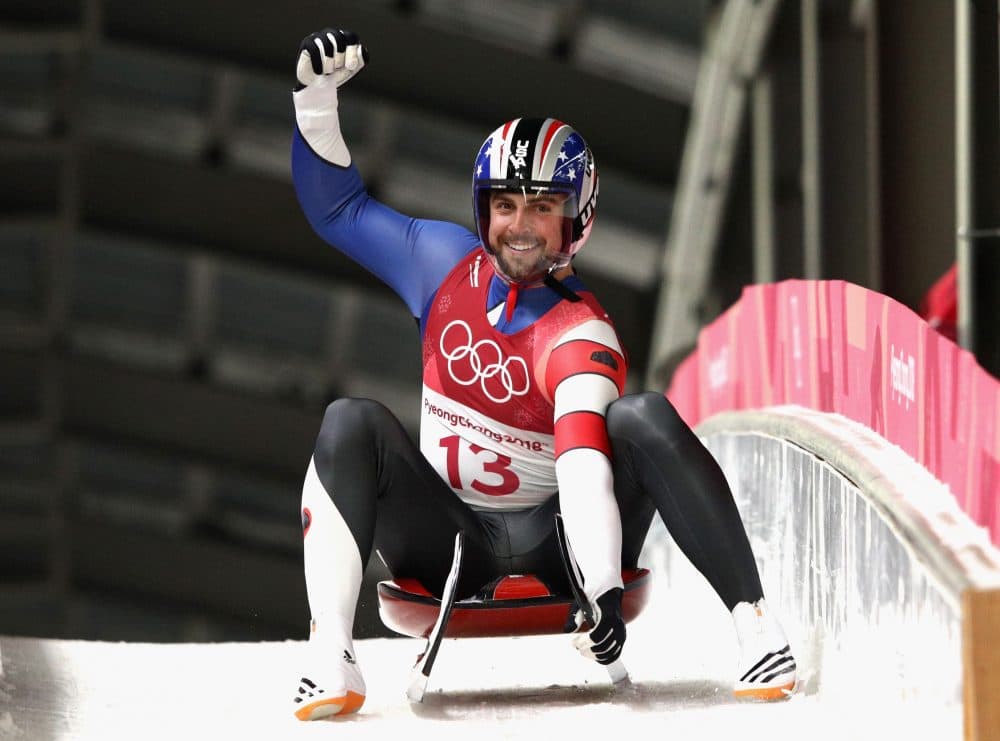 This article is more than 4 years old.
It's too bad Chris Mazdzer didn't use the sled the Russian guy gave him. That would have made the story even cooler.
But the story Nancy Armour told in USA Today this week is pretty cool anyway. It seems that Mazdzer, who is the first U.S. man to win an Olympic medal by sliding down an icy shoot feet first on his back had been in a terrible slump. Well, not a terrible slump, I guess. A luger in a terrible slump would break numerous bones, rethink his position while recuperating and change careers. Chris Mazdzer was in the kind of slump that meant he had not finished in the top five at any race this season.
Lugers apparently constitute a fraternity of sorts. The men competing against Mazdzer began to wonder what was wrong. At a race late last month in Latvia, a Russian luger, whom Mazdzer hasn't named, offered up his sled, reasoning that he wouldn't be allowed to go to the Olympics anyway, so why not help out a fellow athlete from a country that hadn't sponsored doping?
According to Nancy Armour, Mazdzer said, "I guess this goes against every U.S.-Russian stereotype." And I guess it does. It probably also goes against any other national stereotype one might wish to invoke, at least when it comes to elite competition.
Chris Mazdzer tried out the Russian's sled. He probably figured it was at least as likely to help him break his slump as changing his socks would have been. He decided the sled was too big, and though he said he was touched by the offer, he won the silver medal on his own sled.
Being the first U.S. male to win a luge medal is a good story. Winning it on the Russian's sled would have been a movie.
Chris Mazdzer's story isn't unique. John Thomas and Valery Brumel were high jumpers who competed against each other at the Olympics in 1960 and 1964. Thomas was supposed to come home with a gold medal both times. He didn't because there are no sure things at the Olympics, except for cost overruns. Thomas told me years ago that when he came home people called him a quitter, which he was not.
Thomas and Brumel were supposed to hate each other because Thomas represented the U.S. and Brumel represented the Soviet Union, and it was the '60s. But they respected each other and they became friends, and at one point Thomas went to Russia to visit with Brumel. Even though nobody threw him a parade, Thomas said he had a fine time with his friend.
Valery Brumel died in 2003. He was 60. John Thomas died just over five years ago. It would be a little silly to suggest that the spirit they embodied with their mutual respect and friendship is alive and well in the story of the Russian guy who gave his sled to Chris Mazdzer. But not, perhaps, a lot silly.