Role Models: Kareem And Wooden, Jessie Graff And Xena, Ray Flynn And Jackie Robinson
48:18
Play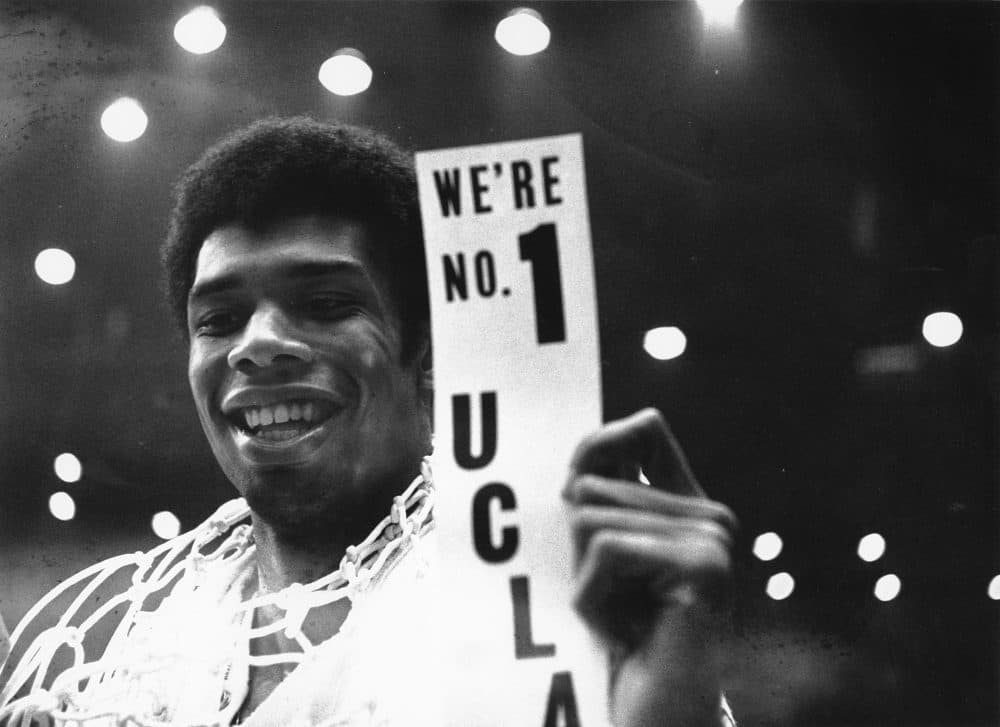 This article is more than 3 years old.
This week on Only A Game, stories about athletes and their role models. Kareem Abdul-Jabbar and John Wooden couldn't have appeared much less alike on the surface. How the two men forged a 50-year friendship. Also, we'll learn about the advice that Jackie Robinson gave to Boston politician Ray Flynn when he was just 10 years old. And, Jessie Graff's journey from aspiring warrior princess to Hollywood stunt double to American Ninja Warrior. Join us!
Subscribe to the Only A Game podcast on Apple Podcasts, NPR One or Stitcher.
---
50 Years Of Coach Wooden And Kareem, Through Racism, Olympic Boycotts And More
On the surface, coach John Wooden and Kareem Abdul-Jabbar couldn't have seemed less alike. But their decades-long friendship taught both men invaluable lessons.
3 Stories: NFL Anthem Policy, Danica Patrick, Sports Gambling 'Integrity Fees'
Lindsay Gibbs of ThinkProgress and ESPN's Don Van Natta Jr. join Bill Littlefield.
Former Boston Mayor Ray Flynn Was Jackie Robinson's 'No. 1 Fan'
Ray Flynn met popes and presidents while serving as mayor of Boston and the U.S. ambassador to the Vatican. But before all that, he was a poor kid growing up in Southie, and Jackie Robinson was his hero.
Charlie Pierce: The Week In Sports
Bill Littlefield and Only A Game analyst Charlie Pierce discuss the Knights-Capitals Stanley Cup Finals. Also, boxer Jack Johnson gets a presidential pardon. And, a television commentator captures a wayward horse.
Jessie Graff Takes On American Ninja Warrior, Becomes Hero
Only A Game's Martin Kessler has the story of how an aspiring warrior princess became an American Ninja Warrior — and became her own hero along the way.
This program aired on May 26, 2018.