My Brother's Athletic Dreams Were My Athletic Dreams
Resume
At the age of 6, my brother started wrestling, and my mother suffered for his sport. Lying in bed at night, I would hear my father accuse my mother of using my brother's meets as a cover for infidelity. If my father was sober, the arguments stayed verbal.
As the younger sister, I was not allowed to play sports. I spent my afternoons in the basement of our ranch home, apron on, spiral notepad and pen in hand, walking from one piece of furniture to another, taking orders from imaginary customers in a subterranean "restaurant." When I wasn't playing at waitress, I wore a towel on my head and pretended to be one of the crime fighting beauties I had seen on TV, casting my cotton locks over one shoulder.
Weekends were for youth wrestling meets. In gyms scattered across Multnomah County, Oregon, I sat quietly in bleachers for hours. I learned to find ice chips my brother could suck on before weigh-ins. I learned the point values for takedowns, escapes, reversals and near-falls. And I learned to hold my breath when he found himself belly up, bridging to keep his shoulders off the mat, waiting for the clock to run out.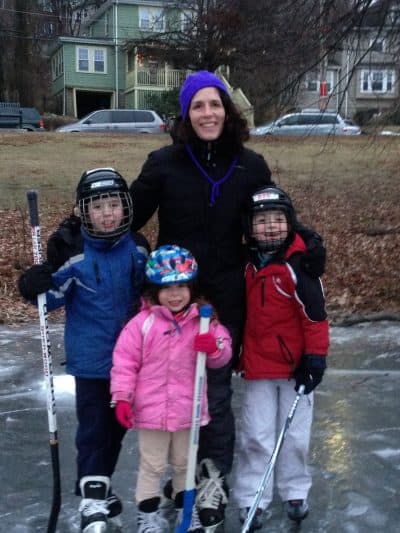 I learned to cheer when the ref raised my brother's hand as the victor. I didn't need to learn to cry when his hand hung limp at his side at the end of a match. That came naturally. Because his dreams were my dreams.
When his athletic career ended at the district championships his senior year, I stormed out of the gym, sobbing. It did not matter that I had started to seed my own dreams by then, playing volleyball and basketball in the years following my parents' divorce. That early spring day, I wept for the end of a dozen-year journey.  I wept because I had always known that his dreams mattered more than mine.
By sophomore year of high school, I was on the varsity volleyball team, and I went on to play at Syracuse University. I didn't know I was the beneficiary of an expansion of opportunities for women through Title IX.
"I didn't need to learn to cry when his hand hung limp at his side at the end of a match. That came naturally. Because his dreams were my dreams."

Deborah Bennett
The last play of my athletic career came at the Big East championships. Stunned by Pittsburgh's relentless tip-and-chip strategy, my teammates and I lay sprawled out as the ball dribbled to the gym floor and the whistle blew. As it sank in that this was my last match — after years of travel team, daily doubles and conditioning — I found comfort in my teammates, especially the other seniors. No family member was there to cry for me.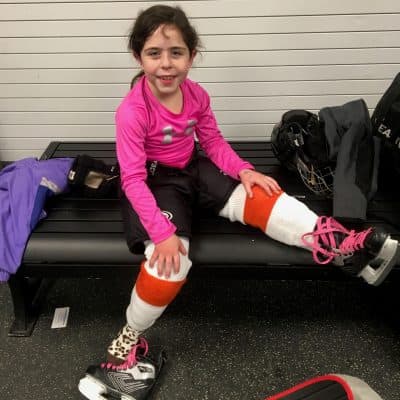 Now I am back in the stands as a hockey mom. An expert at lacing up skates, I am learning about slashing and icing. Sitting next to me in those cold rinks is my 8-year-old daughter. But, just as often, her older brothers attend her hockey games. They all root for each other, knowing the next game it will be someone else's turn.
My daughter asks me uncomfortable questions about sports that I find hard to answer. When we attend college sporting events, she wonders why there are so many more fans at the men's games than the women's, why the cheerleaders are always thin and pretty. My boys ask why men make so much money in professional sports and women don't.
I hope my kids never stop asking difficult questions, that they challenge the norm. For now, I content myself with the knowledge that the needle has moved since I was a child. And that my daughter's athletic dreams are her own.
This segment aired on June 23, 2018.